Ford's Mexico Move
The automaker will transfer its U.S.-based small-car production south of the border "over the next two to three years," its CEO says.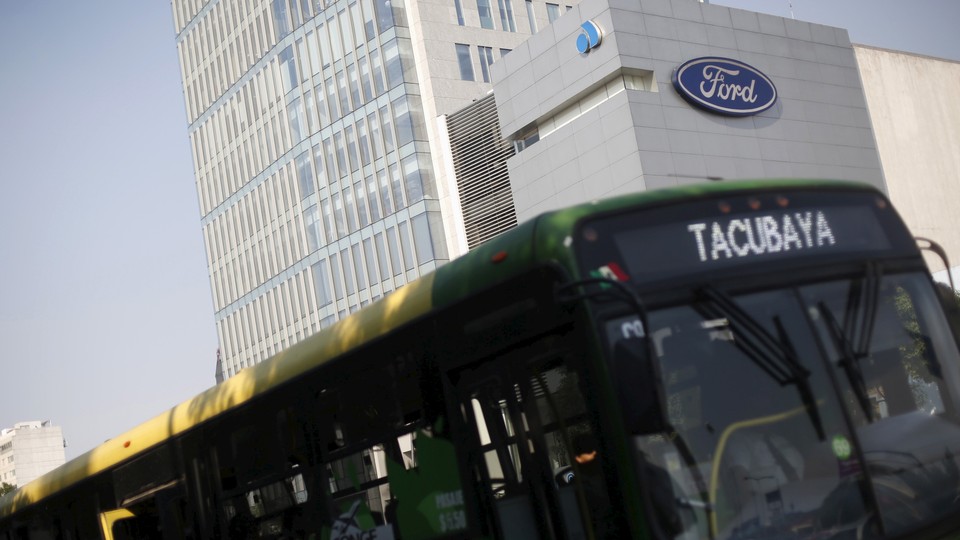 NEWS BRIEF Ford Motor Company will transfer its U.S.-based small-car production to Mexico "over the next two to three years," CEO Mark Fields said Wednesday.
The decision will send production of the Ford Focus and Ford C-Max Hybrid outside of the United States. Both models are currently manufactured at the Big Three automaker's assembly plant in Wayne, Michigan.
A Ford representative told CNN the company plans to transfer production of other vehicles to the Wayne facility, and that no U.S.-based jobs will be lost as a result of the move.
Fields revealed the transfer during an investor briefing in Michigan. The Detroit Free Press has more:
"Over the next two to three years, we will have migrated all of our small-car production to Mexico and out of the United States," Fields said.

The industry has known for decades that domestic manufacturers struggle to make a profit on small cars. Shifting their assembly to Mexico can reduce costs to a point. But some of these cars are over-engineered.

For example, Field said the current Ford Focus can be ordered in 300 different configurations of options and colors. Ford wants to reduce that to 30, which will make the production process simpler and less expensive.
Ford's move will likely provoke more criticism from Donald Trump. The Republican presidential candidate frequently denounced "bad" trade deals and the loss of manufacturing jobs to foreign countries on the campaign trail, and has often singled out Ford's Mexico-based operations. The automaker previously drew his ire in April 2015 after it announced plans to build a $1.3 billion assembly plant there.
"This transaction is an absolute disgrace," Trump told CNBC at the time, two months before announcing his presidential bid. "Our dishonest politicians and the special interests that control them are laughing in the face of all American citizens." He later said he would impose up to a 35 percent tariff on Ford if they refused to bring foreign production back to the U.S.
Ford executives countered at the time by pointing out the company builds 80 percent of its North American vehicles in the U.S., and that it builds more vehicles in the country than any other automaker.