The Fire at the Mosque Where the Pulse Nightclub Shooter Prayed
Security footage shows someone arrive shortly after midnight Monday and set the building ablaze.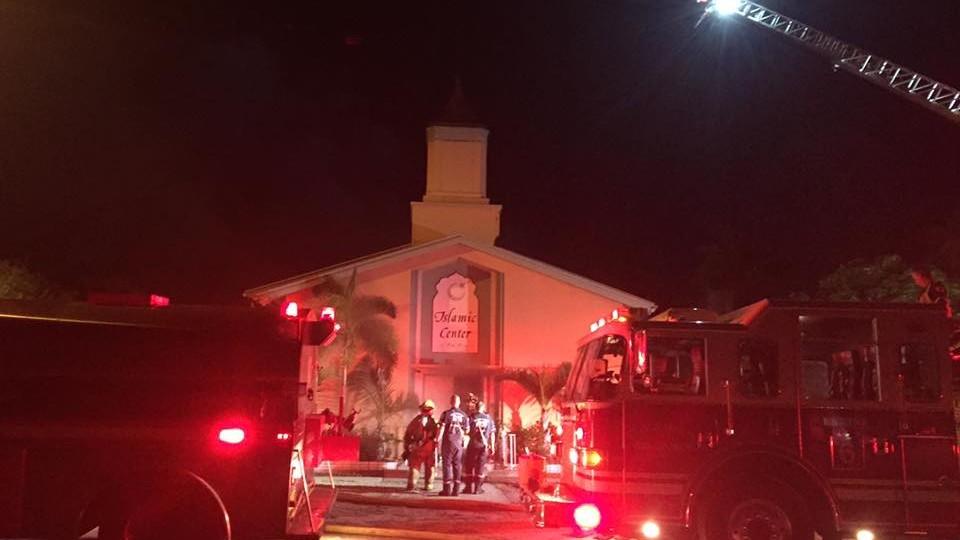 NEWS BRIEF A fire that broke out early Monday morning at the mosque attended by Omar Mateen, the Pulse Nightclub shooter, is believed to have been intentionally set, police say.
Sheriff's officers in St. Lucie County, Florida, said surveillance footage showed someone arrive at the Islamic Center of Fort Pierce just after 12:30 a.m. A moment later, a flash appears, and the buildings is in flames. Firefighters extinguished the blaze; the extent of the damage isn't known. There were no injuries reported.
Here's a video of St. Lucie County Sheriff's Office Major David Thompson talking to reporters early Monday morning:
Mateen killed 49 people and injured 53 others on June 12, when he shot up the Pulse nightclub. It was the worst mass shooting in U.S. history. It is not known why Mateen targeted the nightclub, which was largely attended by members of the LGBT community. The FBI has not confirmed any motive, and though Mateen had pledged allegiance to the Islamic State before the shooting, there's no evidence ISIS directed him or had anything to do with the attack.
Since the shootings and revelations of Mateen's ties to the Islamic Center, the congregation has received threats. In response, mosque leaders hired extra security. But that didn't stop a member of the congregation from being beaten up a few weeks after the shooting.
The attack against the mosque on Monday came just after the 15th anniversary of the September 11, 2001, terrorist attacks. Monday was also the beginning of Eid al-Adha, a four-day Muslim holiday. The sheriff's office couldn't say if the fire was linked to either.