The Iconic Photograph That Didn't Make It Past Facebook's Censors
Nick Ut's Pulitzer Prize-winning photograph that turned the tide of American public opinion against the Vietnam War was removed because of nudity. Facebook later relented.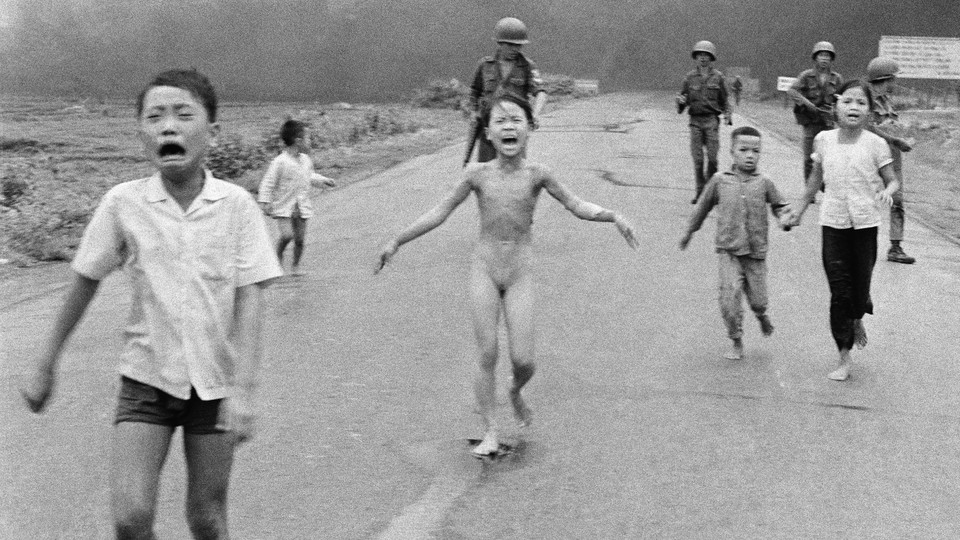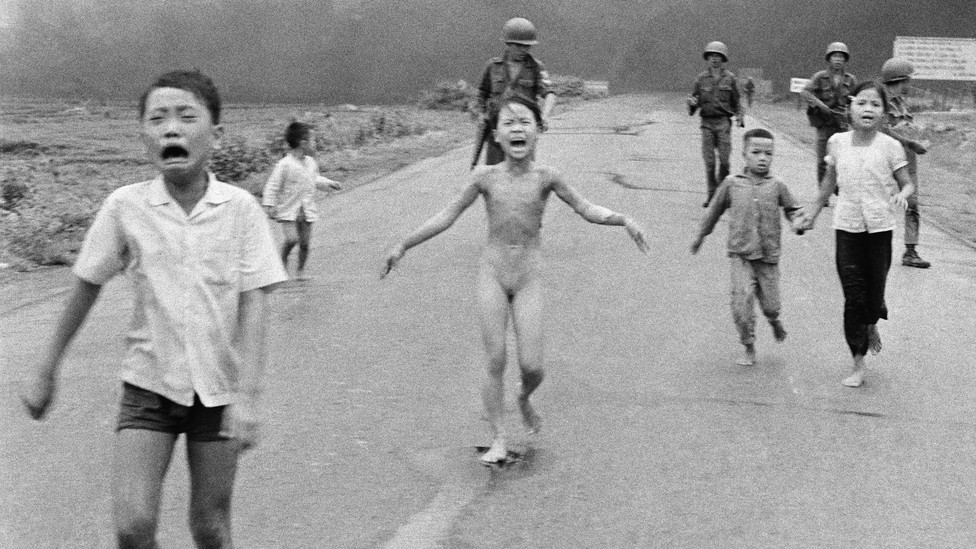 Updated at 3:22 on September 9
NEWS BRIEF The black-and-white photograph is iconic: It shows children, including a naked girl, wailing in pain in the aftermath of a napalm attack during the Vietnam War. Its impact turned the tide of American public opinion against the conflict and won the man who took it, Nick Ut, a Pulitzer Prize. But this week, the photograph did not make it past Facebook's censors.
Tom Egeland, the Norwegian author, recently tried to post historic images from war on Facebook. On Wednesday, Facebook deleted one of those images—the one at the top of this story. When Egeland reacted to the deletion, that post was deleted, too, and his account suspended, according to Aftenposten, a Norwegian newspaper.
Espen Egil Hansen, the editor of Aftenpost, in an open letter to Mark Zuckerberg, the CEO of Facebook, outlined what happened when the newspaper posted its story, with the image, on Facebook.
The demand that we remove the picture came in an e-mail from Facebook's office in Hamburg this Wednesday morning. Less than 24 hours after the e-mail was sent, and before I had time to give my response, you intervened yourselves and deleted the article as well as the image from Aftenposten's Facebook page.
He added: "I am writing this letter to inform you that I shall not comply with your requirement to remove a documentary photography from the Vietnam war made by Nick Ut. Not today, and not in the future."
Hansen called Zuckerberg "the world's most powerful editor," but said the social-network site's actions and policies restricted Hansen's ability to do his job as editor of Norway's largest newspaper—and amounted to an abuse of power.
If you will not distinguish between child pornography and documentary photographs from a war, this will simply promote stupidity and fail to bring human beings closer to each other.
A Facebook spokesman told The Guardian: "While we recognize that this photo is iconic, it's difficult to create a distinction between allowing a photograph of a nude child in one instance and not others."
"We try to find the right balance between enabling people to express themselves while maintaining a safe and respectful experience for our global community. Our solutions won't always be perfect, but we will continue to try to improve our policies and the ways in which we apply them."
Facebook ultimately relented Friday to the criticism of the decision to remove the photograph. Here's its statement:
Because of its status as an iconic image of historical importance, the value of permitting sharing outweighs the value of protecting the community by removal, so we have decided to reinstate the image on Facebook where we are aware it has been removed. It will take some time to adjust these systems but the photo should be available for sharing in the coming days.
Critics of Facebook have had much to criticize in recent weeks about the way the company makes editorial decisions. Facebook's reported firing of human editors, after claims of political bias in the types of stories that were seen on the trending news list, and their replacement with an algorithm resulted in some embarrassment for the company: Several fake-news stories have been shared as real ones, including one Thursday about the iPhone's launch.
You can read Hansen's full letter here.