'You Can't Solve All Europe's Problems in One Summit'
The EU's leaders begin a meeting in Slovakia—their first since the U.K. voted to leave the bloc.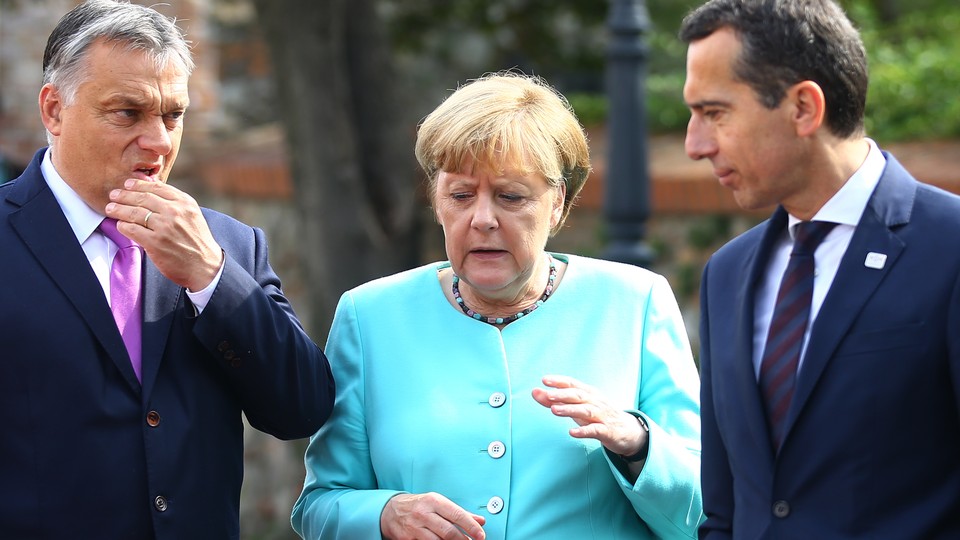 German Chancellor Angela Merkel said Friday the EU is in a "critical situation," as 27 of the bloc's member states began a meeting in Slovakia, their first summit-level gathering since the U.K. voted to leave the European Union.
Buffeted by crises that are unlikely to be resolved until elections next year in France, Germany, and the Netherlands, the 27 EU leaders—Britain's Theresa May isn't attending—will try to forge common ground on issues such as an economy that has struggled to recover after the global recession, security cooperation following several terrorist attacks, and external defense in the face of a resurgent Russia.
"Brexit" won't be discussed, though European leaders have acknowledged the European project is facing an existential crisis following the U.K.'s vote in June. One topic that will most certainly come up is migration. Member states—and their citizens—are sharply divided on the issue of asylum-seekers, many of them Syrian, who have sought refuge in the EU. More than 1 million people have entered Europe since 2015, most of them headed to Germany, which announced an open-doors policy for those fleeing the Syrian Civil War. But the Central and Eastern European EU states—specifically Hungary, Slovakia, and Poland—have chafed at the idea of an EU-mandated quota system that would distribute the migrants among the member states; the EU would fine those states that don't comply.
This week, Luxembourg's foreign minister suggested that Hungary should be either temporarily or permanently excluded from the EU because its actions on the asylum-seekers, among other things, did not reflect European values. But the Hungarian government, and its allies in Slovakia, which is hosting the EU meeting, say it is they who are upholding European values. Last year Viktor Orban, the Hungarian prime minister, said not only would he like "Europe preserved for the Europeans...[but] we want to preserve a Hungarian Hungary." Slovak Prime Minister Robert Fico has legally challenged the EU's quota system, saying his country won't accept a "single Muslim migrant."
The issue of migration is also hurting Merkel, the German chancellor who has been Europe's biggest advocate for the newcomers. Germany alone has taken in more than 1 million people since last year, but terrorist attacks this summer, some of them linked to asylum-seekers, have put Germany on edge, and Merkel's party was pushed to third place by a far-right, anti-immigrant party in recent local elections in her home state. Concerns about migrants has also grown in France, the scene of several major terrorist attacks since 2015, and other countries.
Those concerns, coupled with worries over high unemployment, especially among young people, and EU-imposed economic austerity measures, have pushed voters in several countries toard electing populist, anti-EU parties on both the far right and the far left.
There are other concerns, as well, as the BBC notes:
Central and Eastern Europe want powers back from Brussels. Northern nations view the south as a eurozone liability. Mediterranean countries balk at German austerity edicts. So on Friday they will stick to subjects they agree on and those they feel are relevant to voters' concerns: migration, security and globalisation.

The hard stuff, such as a future trade deal with Britain and how to save the single currency, will be left for another day.
Merkel acknowledged the challenges the bloc faced as she arrived in Bratislava.
"We need solutions for Europe and we are in a critical situation," she said. "You can't solve all Europe's problems in one summit. What we have to do is show in our deeds we can do things better in the realms of security and fighting terrorism, and in the field of defense."
Indeed, earlier this week, Jean-Claude Juncker, the European Commission president, called for a headquarters for a common EU military to complement NATO—and with the U.K.'s absence from the summit there will be no opponent of such a force.
But looming over the summit is the one word that won't be mentioned—at least publicly: Brexit. As one unnamed EU diplomat told The Guardian: "Brexit is a symptom of broader issues. It is not as such the decisive factor, it is a wakeup call."