Another Black Man Shot by Police
Officers in El Cajon, California, originally said the man had a gun, but there's growing doubt he had a weapon.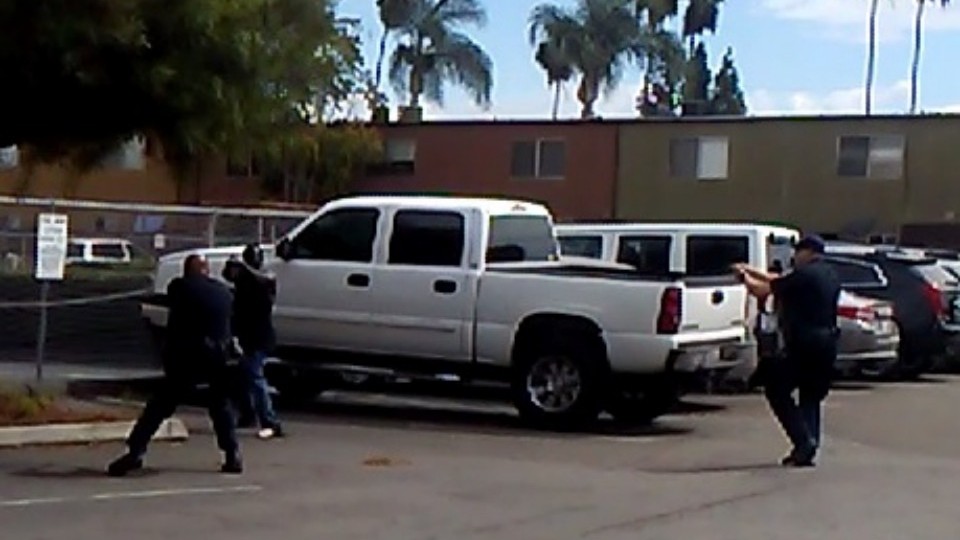 NEWS BRIEF Police in El Cajon, a city 20 minutes east of San Diego, California, shot and killed a black man on Tuesday as family members said he was having a mental breakdown and walked into traffic. The shooting led to overnight protests, which follow similar demonstrations in Charlotte, North Carolina.
Police Chief Jeff Davis initially said responding officers believed the man, who has not been publicly identified, held a gun. But family said he has a history of mental illness. Police received several calls, including one from the man's sister, that he had walked into traffic near a strip mall and was acting erratically. Two officers responded at about 2  p.m., and said the man refused to comply with their orders.
What happened next is the moment in dispute. The police originally said the man held a gun. The family insisted he did not, and The San Diego Union-Tribune has reported that Davis, the police chief, is now saying it was not a gun. He has declined to say what it was.
According to the Union-Tribune, Davis had originally said:
At one point the suspect took out an object from the front pocket of his pants, grasped it with both hands, and "extended it rapidly toward the officers" as he stood in a stance that suggested he would shoot, Davis said.

One officer fired the stun gun as the other fired the handgun, Davis said.
Police officers in El Cajon do not wear body cameras, though they say they have footage of the shooting provided by witnesses. One witness told The New York Times the man was scared to death, "jerking, confused," and held his hands in the air when he turned to run and police shot him. Police dispute that account. Tuesday night the El Cajon Police Department tweeted:
The investigation just started, but based on the video voluntarily provided by a witness, the subject did NOT have his hands up in the air

— El Cajon Police (@elcajonpolice) September 28, 2016
The man was taken to the hospital and later died. A crowd of demonstrators gathered outside the strip mall where police had shot him, and by night the protesters numbered about 200, including leaders from local churches. One protester, India Miles, told the Union-Tribune, "We're tired of innocent people dying. It's one thing if you're guilty and you got a gun at a cop's head, but if you have nothing on you and you're just getting shot for having a seizure or having car trouble, or whatever the case may be, that stuff has to stop."
Police have not released the footage witnesses gave them.
The shooting comes in the wake of other recent instances in Charlotte and Tulsa, Oklahoma, in which officers shot black men, leading to protests. They also come after several high-profile killings of black youth and men by police officers, starting with Michael Brown in August 2014.