The End of Politics for Brazil's 'Frank Underwood'
The Chamber of Deputies overwhelmingly voted to expel Eduardo Cunha for alleged corruption.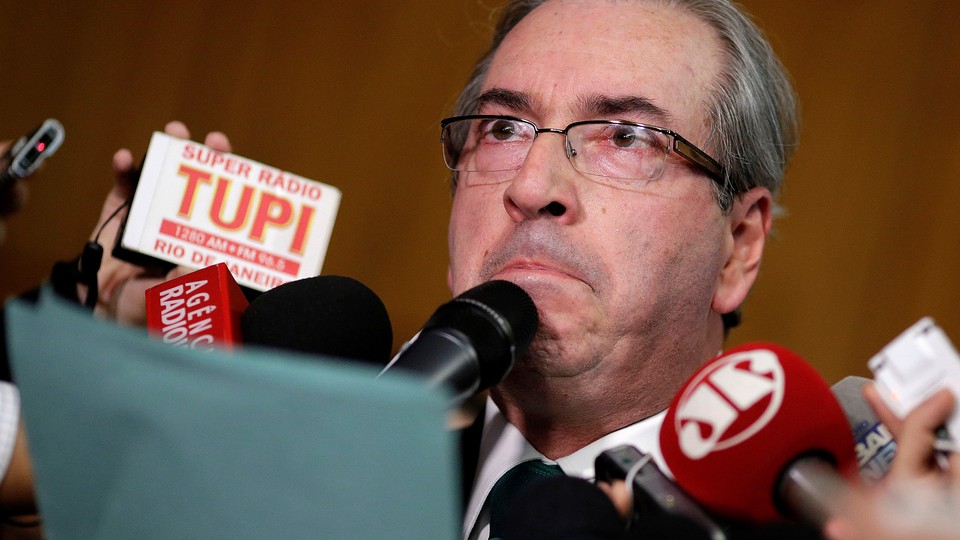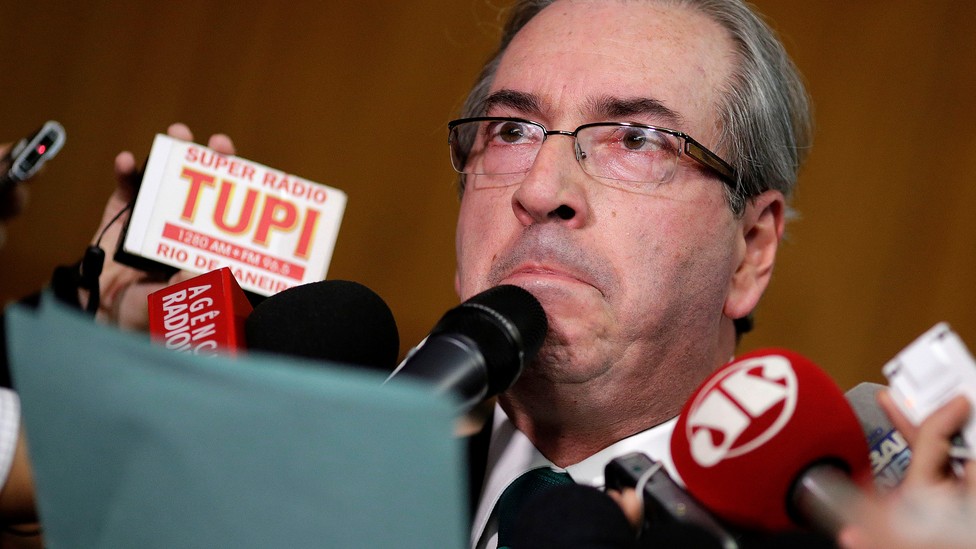 NEWS BRIEF The Brazilian Congress that former House Speaker Eduardo Cunha revved up to oust President Dilma Rousseff has now turned against him. At nearly midnight Monday, lawmakers voted to expel Cunha, a move that could lead to a trial against him for his alleged role in a corruption scandal.
The Chamber of Deputies voted 450 to 10 to dismiss Cunha for perjury, corruption, and obstruction of justice. Cunha has been called the "Frank Underwood" of Brazilian politics—a reference to his supposed trove of political secrets he wields like weapons—and he had once dominated the House that turned on him. For the past year, he has been closely watched by investigators amid accusations he stole $1.3 million from the state oil company, Petrobras, and hid it in Swiss bank accounts. Before Monday's vote, the ethics committee overseeing the investigation reported that strong evidence tied Cunha to those overseas accounts, in which he's accused of laundering millions.
Cunha, as the Associated Press reported, denied any wrongdoing:
"This was a political process because I kicked off the impeachment proceedings. They wanted a trophy," he said at a news conference.

"The current administration adopted the agenda of removing me from office," he said, adding that he planned to publish a book telling about the behind-the-scenes dealings that led to the impeachment of Rousseff.
The vote to oust Cunha also came with a temporary ban on him holding public office. That's significant because it takes away legal protections for sitting lawmakers and sets him up to be tried for the allegations of stealing money and lying about his overseas bank account. Cunha has already been indicted on some of these allegations, including money laundering and illegal currency dealing.
Along with the $1.3 million Cunha is accused of stealing from Petrobras, he is also accused of receiving many more millions in bribes. Cunha came up through political ranks after hosting a radio show on an evangelical station. He became House speaker, and he enjoyed strong public support. But that support began to wane after prosecutors released his family's credit-card statements. Amid the bribery allegations, Cunha claimed only to have made $120,000 each year. But his family's spending habits suggest he's accustomed to a much more extravagant lifestyle than that salary affords. As The Guardian reported:
On a nine-day family holiday in Miami at the end of 2013, the speaker and his family are said to have spent more than $40,000. This included his wife Claudia Cruz's shopping splurges on designer goods – $1,595 on Giorgio Armani, $3,803 on Salvatore Ferragamo and $3,531 on Ermenegildo Zegna – and restaurant bills that often ran to more than $1,000. In the two months that followed, there were similar blowouts in Paris, New York and Zurich.  
In June the investigation of Cunha's income and Swiss bank account was put on hold by his political ally, who was also the vice president of the Chamber of Deputies, during Rousseff's impeachment proceedings. The irony of this, of course, was than while Rousseff was accused of fudging numbers to make the economy seem stronger that it was, Cunha was being investigated for stealing, hiding the money, and lying about it to prosecutors.
There has always been some political reluctance to go after Cunha, because it's said he knows many of his colleagues secrets, including others who've been implicated in the wide-ranging Petrobras scandal. After the vote Monday, he said: "They are charging me the price for leading the impeachment process," Cunha said. "Tomorrow, it will be you."