The Philippine President's Vulgar Warning to Obama
Rodrigo Duterte told reporters the U.S. president should not ask Duterte about his government's war on drugs, which has claimed more than 2,000 lives this summer.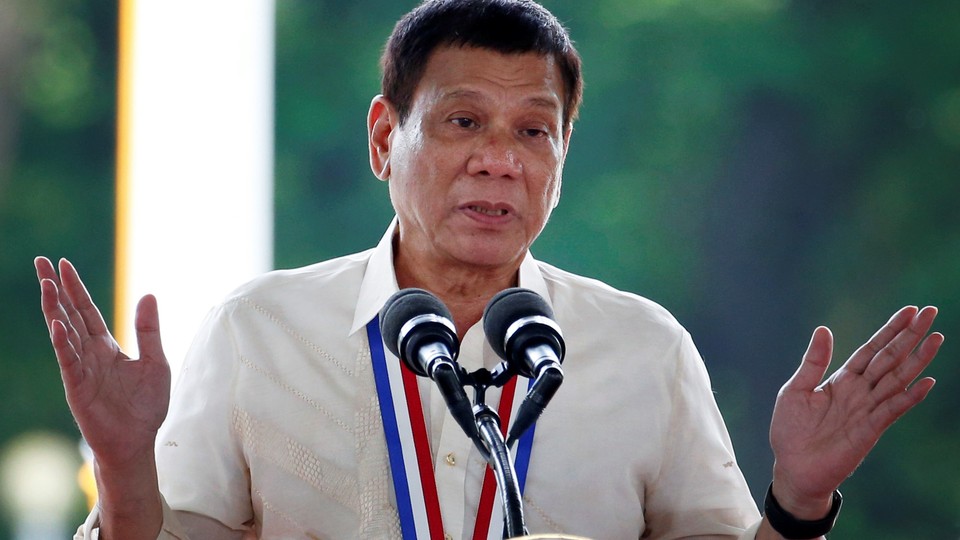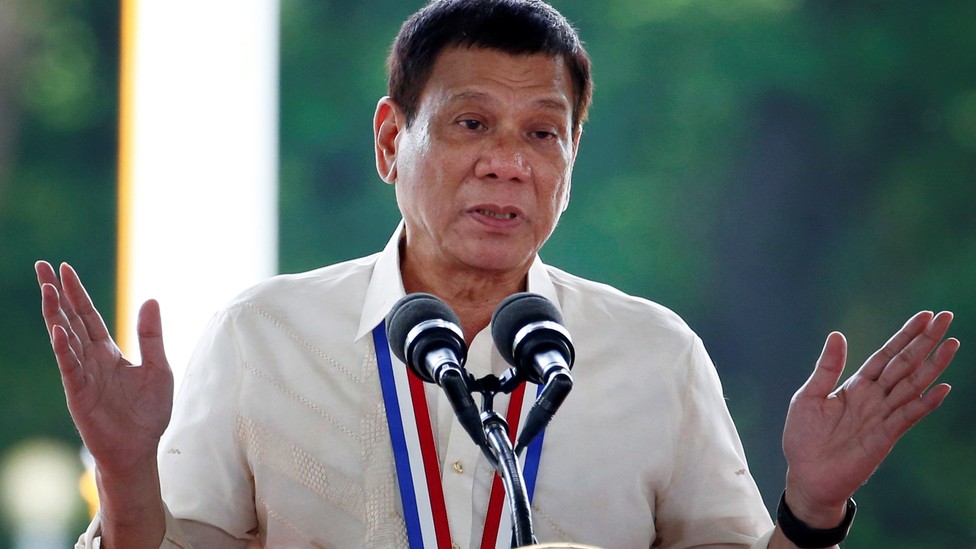 Rodrigo Duterte, the president of the Philippines, doesn't hesitate to swear at public officials in public settings. In May, Duterte called the pope a "son of a whore." In June, he responded to criticism from United Nations secretary-general Ban Ki-moon by calling the organization "stupid" and threatening to withdraw "if you are that disrespectful, son of a bitch." And this week, Duterte warned that if President Barack Obama asked him about his government's recent extrajudicial killings, "son of a bitch, I will swear at you."
Duterte, who took office in late June, made the remarks at a news conference Monday in Manila, the Philippine capital, the Associated Press reported. More than 2,000 alleged drug deals and users have been killed since Duterte launched a crackdown on illegal drug trafficking after assuming office, prompting strong condemnation from the United Nations and human-rights groups.
"I am a president of a sovereign state and we have long ceased to be a colony. I do not have any master except the Filipino people, nobody but nobody," Duterte told reporters. "You must be respectful. Do not just throw questions. Putang ina, I will swear at you in that forum."
"Putang ina" is the Tagalog phrase for son of a bitch.
Duterte spoke before he was scheduled to fly to Laos for the Association of Southeast Asian Nations summit. Obama arrived in Laos Sunday for the summit, becoming the first sitting U.S. president to visit the Southeast Asian country. Duterte and Obama were scheduled to meet there this week, but Duterte's comments may change that.
Obama said Monday night he had been informed of Duterte's remarks, and instructed his staff to speak with their Philippine counterparts "to find out if this, in fact, a time where we can have some constructive, productive conversations."
"I have seen some of those colorful statements in the past, and so, clearly, he's a colorful guy," the president said during a news conference in Hangzhou, China, after the Group of 20 Summit there. He called the Philippines an ally, and said his relationship with the Philippine people has been "extraordinarily warm and productive."
Last month, the U.S. State Department publicly expressed concern over the Philippine government's detention of alleged drug dealers. Also last month, Duterte made a homophobic slur in Tagalog against Philip Goldberg, the U.S. ambassador to the Philippines, and called him "the son of a whore" in televised remarks.
Obama said Monday he would bring up Duterte's war on drugs should the two leaders meet.
"We recognize the significant burden that the drug trade plays just not just in the Philippines, but around the world," he said. But "we will always assert the need to have due process and to engage in that fight against drugs in a way that's consistent with basic international norms. And so, undoubtedly, if and when we have a meeting, that this is something that's going to be brought up, and my expectation, my hope is, is that it could be dealt with constructively."