Did the Philippine President Really Kill a Man With an Uzi?
A former hitman told lawmakers that Rodrigo Duterte, when he was mayor of Davao for two decades, oversaw the deaths of 1,000 people.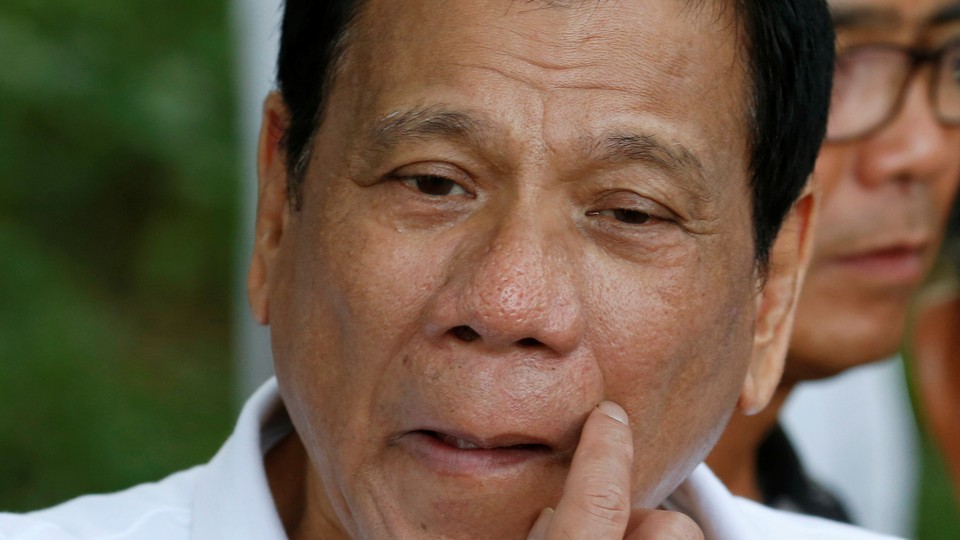 Rodrigo Duterte, the president of the Philippines, is a tough-talking, boastful man known for hyperbole and crass statements. During the election, he promised to fatten the fish of Manila Bay with the bodies of criminals. He has bragged about killing three men suspected of kidnapping and raping a woman. He has called several public figures, including the American president and the pope, sons of whores.
The latest controversy concerns Duterte's time in Davao, a city in the country's south, where he served as mayor beginning in the late 1980s. It emerged Thursday during a hearing by the Philippine senate committee investigating Duterte's recent war on crime, which has killed more than 3,500 people—47 per day—since he took office on June 30. A man testified that while Duterte was mayor of Davao, he ran a hit squad in the city, ordering him and others to carry out extrajudicial killings.
Edgar Matobato said Thursday that as a member of the so-called Davao Death Squad, "we were tasked to kill criminals every day, including pushers and snatchers." Matobato said he fed one man to a crocodile. The death squad regularly dumped bodies into the sea with their stomachs eviscerated so they would sink, he said. He claimed Duterte once unloaded two magazines from an Uzi submachine gun into an agent with the National Bureau of Investigation because the agent accidentally blocked the squad's cars while members were on a mission.
"Mayor Duterte was the one who finished him off," Matobato said.
Matobato also implicated Duterte in the bombings of mosques in retaliation for a 1993 grenade attack on the San Pedro Cathedral. He said Duterte ordered the hit squad to abduct and kill Muslims, whom they buried in a quarry owned by a police officer. By 2013, Matobato said he had grown tired of killing. When he asked to be dismissed from the death squad, he said the members framed him for murder. "I was tortured for a week," Matobato said, offering this betrayal as the reason for coming forward now.
Duterte has denied any connection to vigilantism—both as mayor and as president. Duterte's son, Paolo Duterte, who is vice mayor of Davao, said the man's claims were "all based on hearsays." Former congressman Prospero Nograles also called Matobato a liar, saying four of the men he claimed to have killed were still alive.
The senate inquiry is being led by senator Leila de Lima, a vocal critic of Duterte, who in turn the president accuses of taking money from drug traffickers.
Matobato said Duterte recruited him around 1988 into the "Lambada Boys," an assassin squad in Davao that killed more than 1,000 people. His group later joined policemen and former communist rebels to form the Davao Death Squad, which reported to Duterte, who they referred to as "Charlie Mike." Matobato said Duterte ordered the killing of a radio commentator named Juan Pala, who was gunned down in 2003 by men on a motorcycle. Pala had been a constant critic of corruption in Davao and some of his work focused on Duterte. In June, as Duterte gave a speech that endorsed killing journalists who took bribes from criminals, Duterte mentioned Pala, saying, "I do not want to diminish his memory, but he was a rotten son of a bitch. He deserved it."
Duterte ran for president this year promising to do for the Philippines what he had done for Davao: clear out the drug addicts, round up the criminals, and clean the city of corruption. In the 10 weeks since he assumed the presidency, vigilantes have killed nearly 2,000 people, leaving cardboard signs by the corpses that label them drug dealers. The police have killed another 1,500. Human-rights groups have demanded investigations and international attention to the murders, saying he's connected to 1,400 killings as mayor of Davao.
Human-rights groups have also called Duterte the "Death Squad Mayor," a moniker he seemingly embraced in May during the election, saying in televised remarks, "Am I the death squad? True. That is true."
Matobato's testimony places that comment under scrutiny. But proving any of his testimony will be difficult. As president, Duterte has wide influence and power. Some senators don't like that he rose to office on a populist message, and that he disparaged and taunted the old political guard. But Duterte enjoys diverse and wide support, like from the current vice president, a social activist from the country's liberal party—the party Duterte accuses of trying to unseat him.
Asked if anyone could corroborate his testimony, Matobato said, "No. They're all afraid."