Too Late for an Apology From the Filipino President?
Rodrigo Duterte regrets calling Obama a "son of a bitch," but the two leaders aren't holding their scheduled meeting in Laos.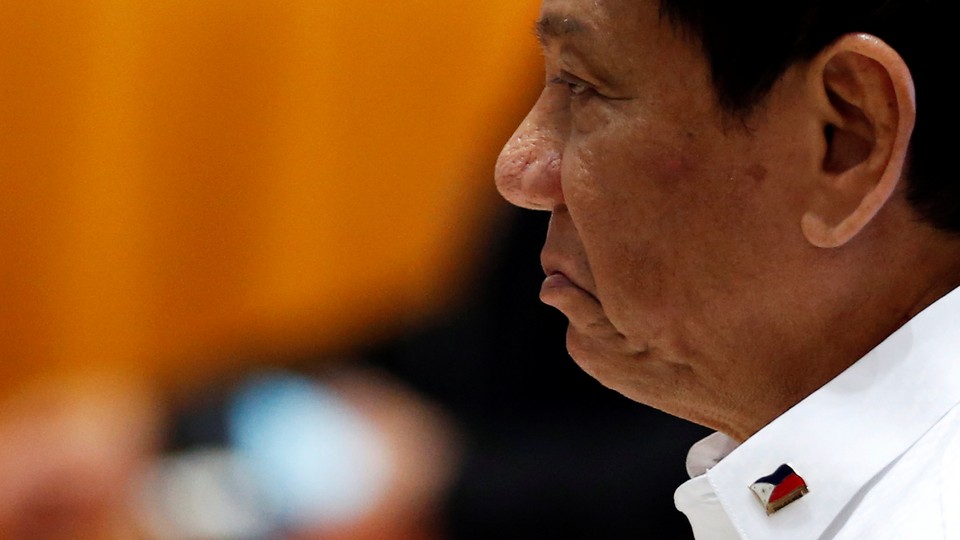 NEWS BRIEF Philippines President Rodrigo Duterte apologized on Tuesday for calling U.S. President Obama a "son of a bitch," but the apology came too late to save their scheduled meeting at the summit of the Association of Southeast Asian Nations.
Duterte made the comment just before he boarded a plane for the conference, which is being held in Laos. A reporter asked the president how he planned to explain to Obama the recent extrajudicial killings and war on drugs that have killed about 2,400 people since Duterte took office in late June. If confronted about the killings, Duterte said, he would tell Obama:"Son of a bitch, I will swear at you in this forum."
By late Monday, Duterte seemed to regret his choice of words, and said he did not want to quarrel with Obama. Duterte has threatened local journalists, the Catholic church, and called the U.S. ambassador to the Philippines a "gay son of a whore." Obama seemed to take the comments about him in stride, saying, "I have seen some of those colorful statements in the past, and so, clearly, he's a colorful guy."
By Tuesday, the Department of Foreign Affairs issued a formal apology for Duterte's remarks: "While asserting the intent to chart an independent foreign policy and promote closer ties with all nations, he expressed his deep regard and affinity for President Obama and for the enduring partnership between our nations."
Local critics chastised Duterte for being rash. As the Philippine Daily Inquirer pointed out:
Magdalo Rep. Gary Alejano said the President should be more cautious in inflaming other countries especially since the Philippines had shared interests with its allies.

"In this day and age, international cooperating is very important, considering the fact that countries right now are intertwined with each other, politically, diplomatically, and militarily," Alejano said.
Much of the international attention on Duterte during his presidential race focused on his unorthodox political style (using profanity and challenging rivals to duels) and later on his threats to kill all the country's criminals. As the former mayor of Davao City for more than two decades, Duterte reduced the crime rate—though some human-rights groups say he did this by working with government-sanctioned deaths squads that killed suspected criminals without trial (Duterte himself has acknowledged to killing three people, presumably without a trial).
At the ASEAN summit Tuesday, Duterte defended the rise in killings. Reuters reported that Filipino officials passed out a 38-page pamphlet, which, in part, read: "We are not butchers who just kill people for no apparent reason."
But any apology was too late to salvage the meeting with Obama, who is likely on his last trip to Asia before he leaves the White House next January. Obama instead met with Japanese Prime Minister Shinzo Abe and with South Korean President Park Geun-hye.