Could Deutsche Bank Collapse?
The German bank's shares reached historic lows this week after a $14 billion settlement request by the U.S.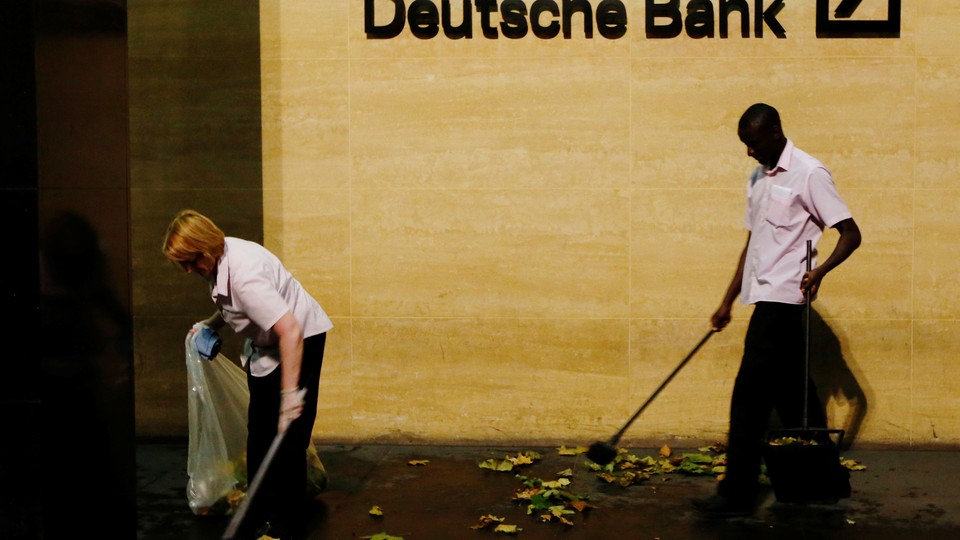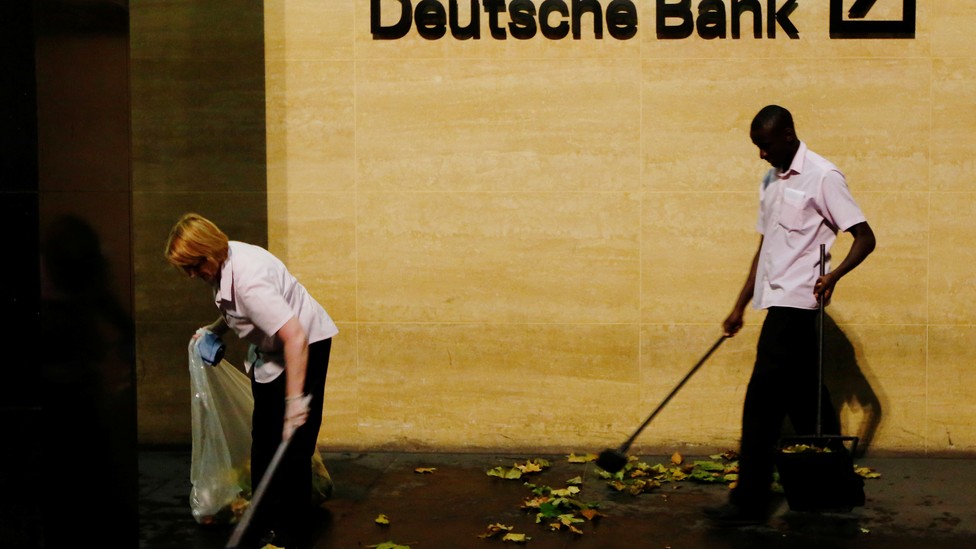 European stocks—battered this week amid concerns over the health of Deutsche Bank—closed up Friday after its CEO said Germany's largest bank had strong financial fundamentals, and news reports suggested it was close to a deal with the U.S. Justice Department over its $14 billion fine.
In a memo to Deutsche Bank employees, John Cryan, the CEO, acknowledged the "bank has become subject to speculation. Ongoing rumors are causing significant swings in our stock price." Indeed, the bank's stock price slumped this week over concerns about its health. Still, Cryan pointed to "strong fundamentals" at the bank, adding: "We are and remain a strong Deutsche Bank." Deutsche Bank shares rose sharply Friday. That rise was also helped by news reports that the bank was close to a deal with the U.S. Justice Department on its $14 billion fine over mortgage-backed securities during the 2008 financial crisis. Agence France-Presse reported Friday that Deutsche Bank would pay $5.4 billion instead. Neither the bank nor the Justice Department commented on the report, which buoyed investors who had been wary after the German government and European banking regulators declined to bail out the bank amid reports it was having a liquidity crisis.
The bank's failure would be significant and have broader implications for Europe and global markets, which have only just recovered from the banking collapse of 2008. The International Monetary Fund said in June: "Deutsche Bank appears to be the most important net contributor to systemic risks" in the global market.
Deutsche Bank has lost ground for years. It once earned much of its money from investment banking, but now deals in derivatives, which are seen as more risky. The Justice Department's $14 billion to settle an investigation into the bank's role in the U.S. housing collapse added to worries about its future. A price tag that high would likely ruin the bank. It's a scenario that has drawn apocalyptic comparisons to the "drawn-out death spiral" of U.S. banking giant Lehman Brothers, which collapsed and filed bankruptcy in 2008.
Lehman became the largest victim of the U.S. financial crisis—induced by the same shaky subprime mortgages Deutsche Bank is being investigated for. Lehman had $639 billion in assets when it collapsed, and it's failure is attributed as the dirge that announced the global financial crisis. It was this lesson that led Deutsche Bank investors to believe that if the worst should happen, Germany would bail the Deutsche Bank out. But German Chancellor Angela Merkel has repeatedly said there would be no bailout, no matter what. With Merkel's latest reaffirmation this Thursday that there'd be no financial lifeboat, Deutsche Bank's stock plummeted, slumping below 10 euro for the first time in history.
Would Merkel really let that happen?
It's hard to say. Market Watch wrote that if Merkel kept her word, it meant she "has no idea how the financial markets work, and no appreciation of how much damage the unfolding Deutsche crisis is already doing to the markets and the eurozone economy." On the other hand, a bailout has been called political suicide for Merkel and would likely ruin her party's chance in next year's election. It would probably swing votes to the right-wing populist party, which increasingly views European adhesion as a risk to Germany.
An alternative to failure would be a bail-in. After the 2008 crisis, the European Central Bank instituted rules that greatly reduce a bank from becoming "too big to fail," and set up bail-in process that forces banks to sell off assets before the government steps in. That, however, would still land Deutsche Bank in trouble. Beyond capital, it would lose trust—and trust from investors is what a bank relies on.
Those who do not believe the sky is falling have said a more likely scenario is that Berlin will pressure the U.S. to lower the $14 billion settlement request. Even without political intervention, that seemed already to be the outcome.