Deutsche Bank's Refusal to Settle With the DOJ
The U.S. demanded $14 billion to settle a lawsuit with the German bank that stems from the 2008 financial crisis.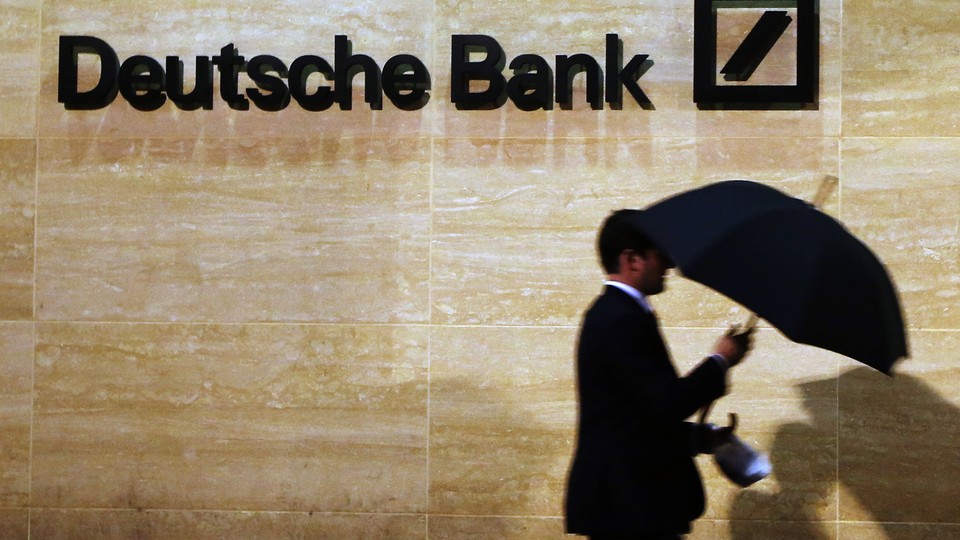 NEWS BRIEF Deutsche Bank said Friday it has no intention of paying the $14 billion settlement the U.S. Department of Justice demanded in order to end its civil suit, which stems from risky mortgaged-backed securities that led to the 2008 global financial crisis.
The figure would be one of the highest settlements paid by a bank to resolve similar lawsuits. But the final amount will probably be significantly less, because the U.S. often begins negotiations with a tough posture and high price. Still, the figure seemed to be much more than Deutsche Bank expected.
In a statement, the bank said:
Deutsche Bank has no intent to settle these potential civil claims anywhere near the number cited. The negotiations are only just beginning. The bank expects that they will lead to an outcome similar to those of peer banks which have settled at materially lower amounts.
Upon news of the Justice Department's figure, Deutsche Bank's stock plummeted 8 percent. The Wall Street Journal reported the news first, and spoke with lawyers for the bank who said they expected $2 billion or $3 billion as a reasonable settlement. That figure is lower than similar settlements reached with other banks, like Goldman Sachs, which paid $5 billion in April. The highest so far has been Bank of America's $16.5 billion in 2014.
The settlement with Deutsche Bank opens a new round in Justice Department lawsuits, because most of the banks that have already settled are U.S.-based. The suit against Deutsche Bank, headquartered in Germany, will likely lead to similar suits against Europeans financial institutions like Barclays, Credit Suisse Group, and the Royal Bank of Scotland Group, all of which are under investigation.
These settlements are all a result of the housing bubble buildup and the ensuing financial crisis. This was caused by banks that promoted bundled mortgages they sold as safe investments, but were actually poor-quality loans with adjustable-rate mortgages that borrowers were unlikely to pay back.