A Former Officer Indicted for Murder
James Burns shot 22-year-old Deravis Caine Rogers in the head on June 22 in Atlanta.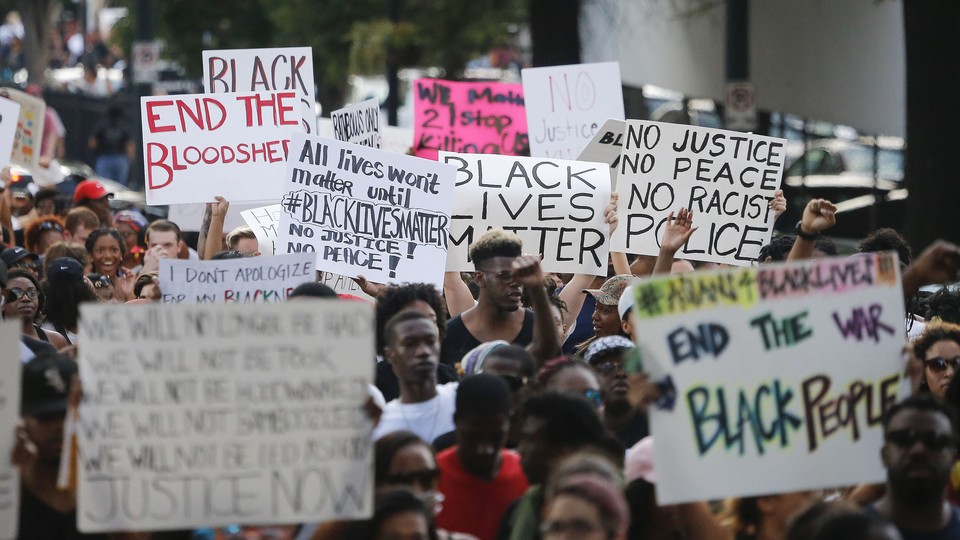 NEWS BRIEF A grand jury in Fulton County, Georgia, indicted a white former Atlanta police officer for murder and other counts in the shooting death of Deravis Caine Rogers, an unarmed black man.
According to the Atlanta Journal-Constitution, the five counts against former officer James Burns, who was indicted Wednesday, included murder, aggravated assault, two counts of violating his oath of office, and one count of making a false statement.
On June 22, Burns shot at Rogers's vehicle and hit the 22-year-old in the head. The Journal-Constitution wrote that Burns was responding to a call from another officer, about a suspicious man on foot at an apartment complex, when he saw a man in a silver Ford turn on the headlights and begin to pull away. It continued:
He tried to pull his patrol car into the middle of the road to block the vehicle. But the Ford, driven by Rogers, maneuvered around Burns' patrol car. The officer then jumped from his vehicle, yelled stop and shot through the passenger side window of the Ford as it drove away. The bullet struck Rogers in lower right side of his head and his car careened down the road before striking a vehicle in the parking lot of Cirque Daiquiri Bar and Grill on Monroe Drive.

Rogers was pronounced dead that evening at Grady [hospital].

Burns told APD investigators that Rogers tried to run him over. But investigators reviewed dashcam video that captured part of what happened. Several witnesses were also interviewed and APD determined the evidence did not support Burns' version of events.
Burns was fired from the force July 1, after an internal investigation determined the shooting was unjustified. A warrant for his arrest for murder was issued July 15.
The Associated Press reported that "Georgia police officers facing grand juries for use of deadly force have traditionally been allowed to sit in on the proceedings, along with their attorneys, and to make an unchallenged statement at the end. That practice, unique to Georgia, drew criticism amid increasing scrutiny of police use of force nationwide."
Although a new law limiting these privileges for police took effect July 1, it was not in effect during Burns's grand-jury indictment hearing because the shooting happened before July 1. The AP added that neither the prosecutor nor defense attorney would comment as to "whether Burns addressed the grand jurors, citing the secrecy of grand jury proceedings."
The indictment follows the early July police killings of Alton Sterling in Baton Rouge, Louisiana, and Philando Castille in Minnesota, both of which were at least partially caught on video and sparked protests around the country. In those cases, the police officers have not yet been charged with crimes. The lawyer for the police officer who shot Castille told PBS in July that he was "not concerned" about criminal charges for his client. The shooting death of Sterling is under federal investigation and, according to Hillar Moore, the East Baton Rouge district attorney, "any consideration of state charges would come after the results of the federal investigation."
The Los Angeles Times reports, "Over the last two years, just a handful of prosecutors and grand juries have criminally charged officers in high-profile shootings, usually citing a lack of sufficient evidence of wrongdoing and high legal standards that protect officers who say that their lives or others' lives were in danger."