An Explosion in the Philippines President's Hometown
At least 12 people are dead and 60 wounded in Davao City, where the country's president, Rodrigo Duterte, was mayor.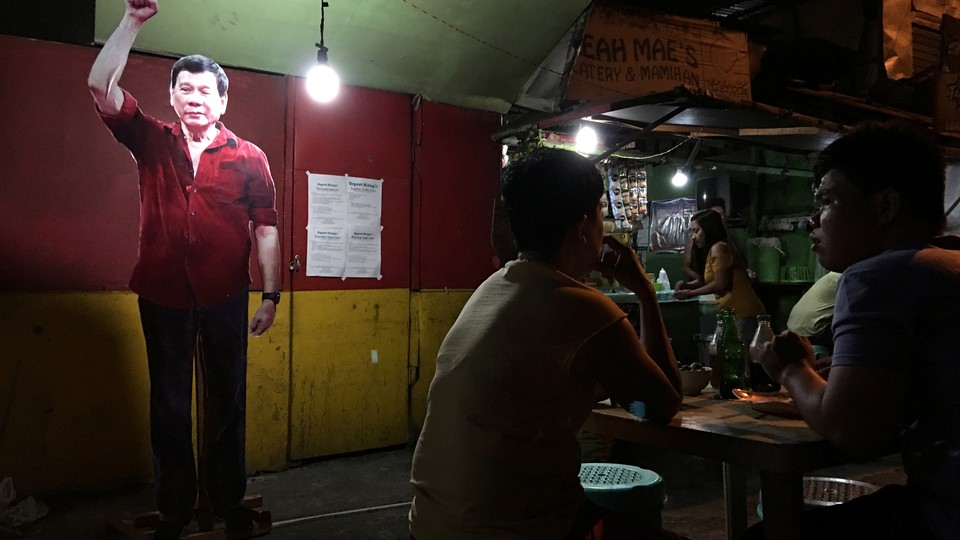 Updated on September 2 at 3:35 p.m. ET
NEWS BRIEF An explosion rocked the hometown of Philippines President Rodrigo Duterte on Friday night, killing 12 people and injuring 60.
There's no confirmation of what caused the blast, but the explosion happened just after 11 p.m. local time in a crowded market in front of the upscale Marco Polo hotel, a place where Duterte is often seen. Duterte travels from the country's capital, Manila, to Davao City in the southern Philippines on most weekends. He was there when the explosion occurred, and had given a press conference earlier in the day. Reuters reports he was safe at a police station. Shortly after the blast, police set up a series of checkpoints around the city.
The area near the explosion is full of ukay-ukay, which are outdoor thrift shops, and many food vendors. It's often packed on weekend nights. This is the aftermath of the explosion:
During his campaign for office, and since he's assumed control of the country, Duterte has often praised the peace and low crime of Davao, where he served seven terms totaling 22 years.
While the city does have relatively low crime, it is in a region Islamic terrorist groups have long used as a jungle hideout. Most notably, last year terrorists kidnapped a Canadian tourist from Davao. In April the militants dropped his severed head in a nearby island's busy town center.
Since Duterte won the presidential election and assumed office in June, he has carried out a war on the country's drug dealers, traffickers, and addicts. This has given rise to hundreds of extrajudicial murders. Combined with those people killed by police, nearly 2,000 people have died in Duterte's war on drugs since he took office.