The Retirement of a Dallas Police Chief
David Brown became a national figure after a gunman killed five law-enforcement officers in Texas last month.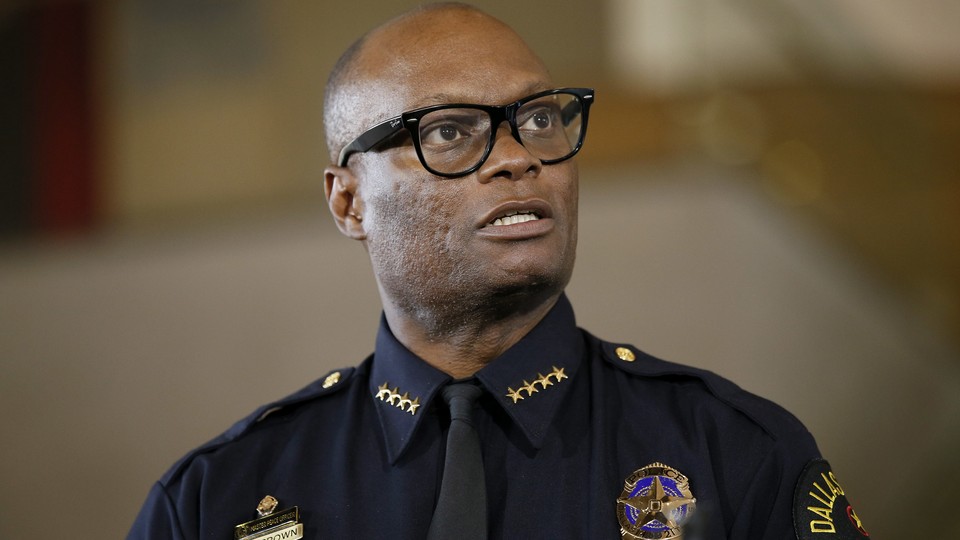 NEWS BRIEF Dallas Police Chief David Brown, who helped guide the city after a gunman killed five law enforcement officers last month during protests against fatal police shootings, announced his retirement Thursday.
"Serving the citizens of Dallas in this noble profession has been both a true honor and a humbling experience," Brown said in a statement. The 33-year veteran of the city's police department said he will leave the job October 22.
He also offered a tribute to the slain officers:
Let's always remember the fallen officers including the five officers on July 7, 2016, and the brave men and women of the Dallas Police Department for their sacrifices to keep Dallas safe.  Their memory will remain with all of us forever.  I know the people of Dallas will never forget the ultimate sacrifice they made on the streets of our city that awful night.
Brown became a recognizable figure in national news after Micah Johnson, a 25-year-old black man, fatally shot five officers in Dallas during a protest against recent police killings of black men. Before he was killed by police, Johnson told officers he was upset by the fatal shootings of  Alton Sterling in Louisiana and Philando Castille in Minnesota, and had specifically targeted white members of law enforcement.
On the morning after the shootings, Brown gave a press conference calling for unity.
"We're hurting. Our profession is hurting. Dallas officers are hurting. We are heartbroken. There are no words to describe the atrocity that occurred to our city," Brown, who is black, said. "All I know is this: This must stop, this divisiveness between our police and our citizens."
In the days after the shooting, Brown also spoke repeatedly about the need for police reform, stricter federal gun laws, and more resources for police departments across the country. According to The Washington Post, during a briefing on July 11 Brown said:
We're asking cops to do too much in this country. We are. Every societal failure, we put it off on the cops to solve. Not enough mental health funding, let the cops handle it. … Here in Dallas we got a loose dog problem; let's have the cops chase loose dogs. Schools fail, let's give it to the cops. … That's too much to ask. Policing was never meant to solve all those problems.
Brown addressed protesters' perception of police as biased, too. He said, per NPR:
We're in a much better place than we were when I was a young man here, but we have much work to do, particularly in our profession. Leaders in my position need to put their careers on the line to make sure we do things right--not be so worried about keeping their job. That's how I approach it. I hope that's an example for others to approach, the way we conduct ourselves as police officers.
He called on those protesting police practices to join the force themselves, saying, "We're hiring. Get off that protest line and put an application in. We'll put you in your neighborhood, and we will help you resolve some of the problems you're protesting about."
Brown's life was marked by tragedy long before the Dallas police shootings. Brown's son fatally shot two men in 2010, one of whom was a police officer, and then was shot and killed by other officers. More than two decades earlier, in 1988, Brown's police academy classmate and former partner Walter Williams was shot and killed while on duty. Brown's younger brother, Kelvin Brown, was killed in Phoenix by drug dealers three years later, according to the Dallas Morning News.
Brown said Thursday the decision to retire "difficult" and thanked the city for the opportunity to serve.
"I became a Dallas cop in 1983 because of the crack cocaine epidemic's impact on my neighborhood in Oak Cliff. I wanted to be part of the solution," he said. "Since that time I have taken great pride in knowing that we have always been part of the solution and helped to make Dallas the world class city it is today."