How Shimon Peres Helped Bring Peace Between Cuba and the U.S.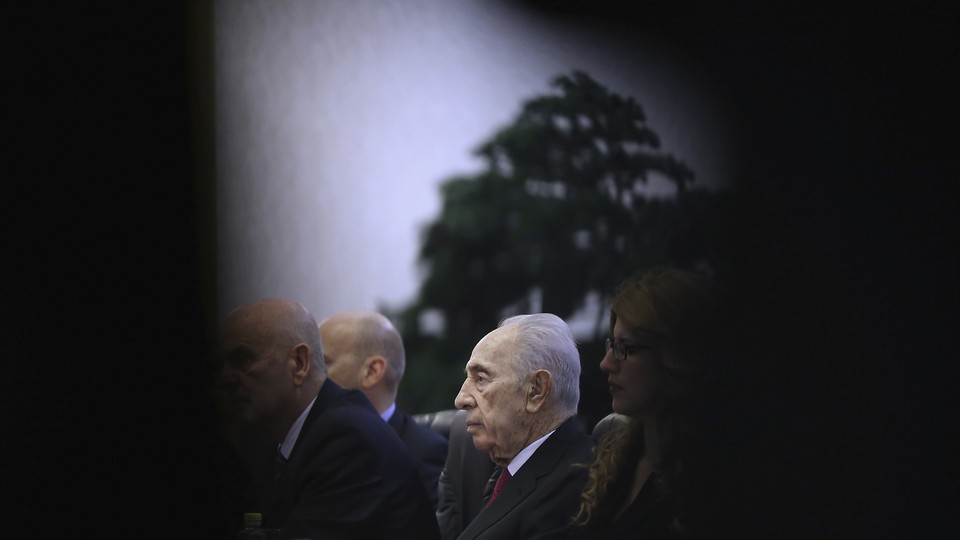 Editor's Note:
This article previously appeared in a different format as part of The Atlantic's Notes section, retired in 2021.
A surprising name came up in conversation earlier this year in Miami. Just before President Obama visited Cuba in March, I headed down to Florida to see how Cuban Americans felt about the normalizing relations between the two countries. For some, it was impossible for them to move on from the traumatic experience of fleeing their home country, forced to relocate to the U.S. after a new communist government seized their parents' businesses and threatened their families. But for others, they are ready to look ahead to a new era.
One of those Cuban-Americans was Mike Fernandez, a billionaire who has become a leading national voice in ending the embargo, frequently meeting with Washington lawmakers. Fernandez, speaking to me at his home in Coral Gables, said that one of the people who inspired him to forgive Fidel and Raul Castro and move forward with peace was Shimon Peres, the Israeli president and Nobel Prize winner.
It was a detail that I did not include in my original article, but one that feels more relevant than ever. With news last night that Peres has passed away, I asked Fernandez about his friend and what he meant for this new era in U.S.-Cuba relations. He writes:
Shimon Peres is a world leader I have admired and respected for decades. It's an odd friendship we made, as I am neither an Israeli citizen nor a man of Jewish faith, but we met by way of a mutual friend many years ago.

I was in love with his mind the night we met, sitting side by side at my friend's home. The elder statesman spoke to me with gracious and powerful words about saving children's lives. "Where in Israel are these children?" I asked. He smiled and said, "I speak of Palestinian children." He had my attention. He was a maestro of peace and unity.

As the years passed, I learned more about him, always in private and always in his somber, low-toned voice. In one occasion, he asked me where in Cuba I was born. I was shocked to hear him say, "I know where Manzanillo is at." How could he possibly know? So I asked. With effort he leaned back and further sank in his chair and told me, "In 1947 or '48, we needed weapons for Israel and we were buying them from anywhere we could. One place was Cuba. I remember being in a ship going to buy whatever we could and we could either drop anchor near Holguin on Cuba's northern coast or Manzanillo on the southern coast. We chose the northern coast." Little did I know.

Last year, I visited with him in May. Our conversation turned, as it often had, to Cuba. I asked him, "Mr. President, would you consider joining an effort to help Cubans reconcile on both sides of the Florida Straits?" He almost jumped out of the chair in excitement. "I would love to," he said. At 92, the idea of putting his energy at work on an issue of peace made him grin.

Within a few minutes, there were half-a-dozen people in his office, planning a strategy. He then turned to me and said, "But it can't be done if there is no forgiveness. Have you forgiven and can both groups move on? If you are focused on the past, you will not succeed. There will be no future."

Today, I have forgiven. Not all have, but many more have crossed that line because an Israeli president instructed a Cuban friend.