Jeremy Corbyn Wins Again
Britain's opposition leader fended off his moderate challenger to keep control of the Labour Party.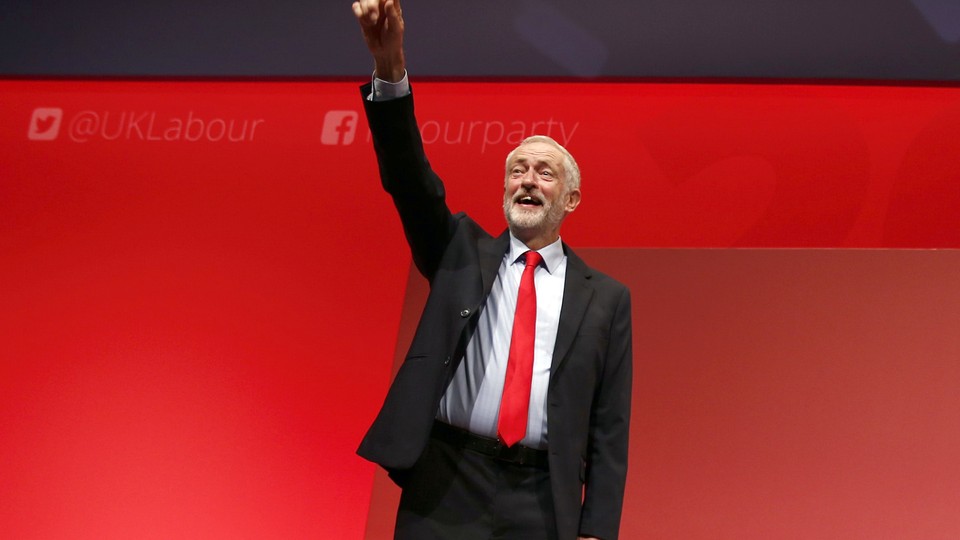 NEWS BRIEF Jeremy Corbyn, the leader of Britain's Labour Party, has decisively won the leadership battle that had fractured the British left since the Brexit referendum in June.
The 67-year-old opposition leader sailed to victory with 61.8 percent of the vote from Labour members, party officials announced in Liverpool on Saturday. Owen Smith, a relative moderate and a former member of Corbyn's shadow cabinet, received 38.2 percent of the vote.
Speaking after the results were announced, Corbyn made a bid for unity after a summer of heated clashes between himself and most of the party's members of Parliament.
"We have much more in common than that which divides us," he told party members. "Let's wipe that slate clean from today and get on with the work we've got to do as a party together."
Corbyn emerged from the contest with a broad mandate from all three tiers of Labour's base. 59 percent of the votes cast by full party members backed him, as did 60.2 percent of those cast by members of the trade unions affiliated with Labour. Among the party's registered supporters, the lowest tier of membership where Corbyn's support is also strongest, he captured a commanding 69.9 percent of the votes.
Saturday's results underscore the extent to which Corbyn has remade the Labour Party in his own image. A veteran backbencher, Corbyn's hard-left stances—and his willingness to express them in the House of Commons—often exasperated the Blair and Brown governments. His outspokenness also made him a hero of the grassroots British left, which joined Labour in record numbers during the 2015 leadership contest and propelled him to an upset victory.
But his leadership never sat comfortably with more moderate members of Labour, including many of its sitting MPs. Some opponents, like former Prime Minister Tony Blair and his allies, criticized him on ideological grounds. Others feared a leftward lurch would send the party back to the electoral wilderness of the Thatcher years, in which Labour lost four consecutive elections before its centrist turn under Blair.
Their frustrations reached a climax in June after the British electorate narrowly voted to leave the European Union. Corbyn, a longtime critic of the EU, publicly backed the Remain campaign but was accused by Labour MPs of halfheartedly campaigning for it. The Leave campaign eventually won higher-than-expected levels of support from traditional Labour strongholds.
Within two days of the results, Corbyn sacked Hilary Benn, his Shadow Foreign Secretary, after Benn began organizing a rebellion again Corbyn. The ouster triggered a cascade of resignations from the shadow cabinet and culminated in a vote of no confidence among party MPs. Corbyn lost, 172 to 40, but refused to resign, leading his rivals to seek a party-wide leadership ballot instead.
Corbyn's next challenge may be even more formidable. Britain's next general election isn't scheduled until 2020, but Prime Minister Theresa May, a Conservative who took office after winning her party's own leadership battle, could call one even earlier, perhaps to secure a popular mandate ahead of the Brexit negotiations expected to begin next year.
If she does, Labour could face an uphill battle to retake Downing Street. British opinion polls have given May and her Conservatives a large, consistent lead over Corbyn and Labour in a hypothetical election match-up.