The New Normal of Colin Kaepernick's Protest
Several players from across the NFL protested the playing of the national anthem in one form or another.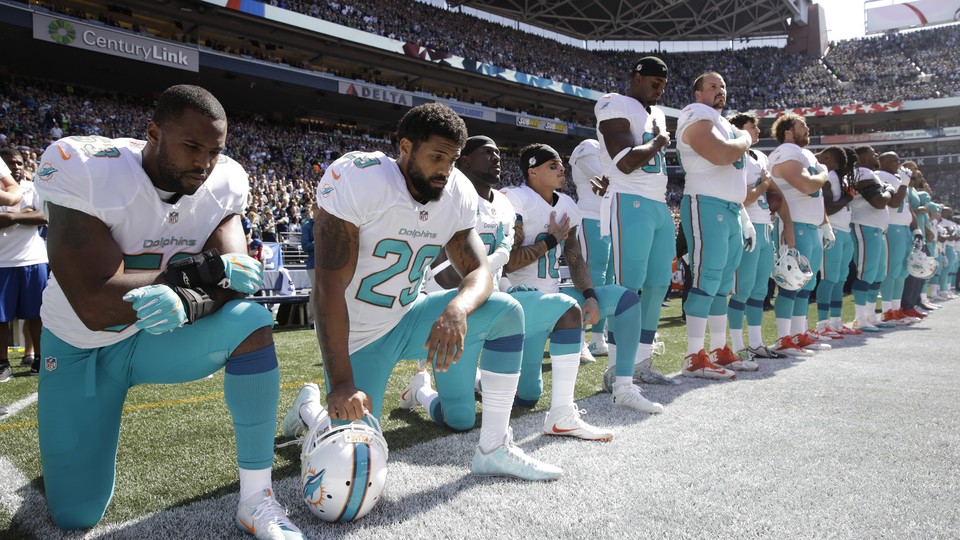 NEWS BRIEF In a day marked with 9/11 tributes and field-sized American flags, several football players from around the league chose to join in Colin Kaepernick's protest of national anthem.
As "The Star Spangled Banner" played in Seattle before the Seahawks's game against the Miami Dolphins began, the entire Seahawks team stood with interlocked arms to promote "justice for all people." On the other side of the field, Arian Foster, Michael Thomas, Jelani Jenkins, and Kenny Stills of the Dolphins took a knee, just as the San Francisco quarterback did last week.
After the game, Jenkins said:
I chose to get involved to see if I could create change, raise awareness. I want to make it clear that there is no disrespect to the military or to police officers. I'm not about that. I would like to keep moving forward in the right direction with everybody: equal rights, equal opportunity. It doesn't seem that it's happening. That's why I took a stand.
Players weren't just kneeling during the national anthem. Several, including Martellus Bennett and Devin McCourty of the New England Patriots and Marcus Peters of the Kansas City Chiefs, chose to raise their fists in the air. Peters afterward said he "was just stating I'm black, and I love being black [and] I'm supporting Colin."
Their protests echoed one of the most famous moments of political activism in sports history, when John Carlos and Tommie Smith, two black sprinters, raised their fists during a medal ceremony at the 1968 Olympics in Mexico City.
The Kansas City Chiefs joined the Seahawks in locking arms before their game. In a statement, the Chiefs players said their decision came after several long discussions. They add:
It was our goal to be unified as a team and to be respectful of everyone's opinions, and the remembrance of 9/11. It's our job a professional athletes to make a positive impact on our communities and to be proactive when change is needed. Together we are going to continue to have conversations, educate ourselves and others on social issues and work with local law enforcement officials and leaders to make an impact on the Kansas City community.
According to Robert Klemko, a reporter with MMQB, around 70 NFL players were on a group text discussing ways to protest during games. Bennett, Foster, and Kaepernick are some of the athletes in that group.
Since the season started last Thursday, dozens of players have joined Kaepernick in one form of protest or another, starting in the season opener between the Denver Broncos and Carolina Panthers, when Broncos linebacker Brandon Marshall took a knee during the playing of the national anthem.
What started with Kaepernick sitting during the playing of "The Star Spangled Banner" during a preseason game a few weeks ago has sparked a national debate and participation among his fellow athletes.
The protest is not just limited to football. Last week, women's soccer star Megan Rapinoe knelt during the national anthem before a National Women's Soccer League game in Chicago. The protest has also spread to college sports, including among three West Virginia University Institute of Technology women's volleyball players, an Indiana State University football player, and a University of Tulsa football player.
Kaepernick takes the field Monday night against the Los Angeles Rams, where he is likely to repeat his protest.