The Deadliest Month for Chicago in 20 Years
In August, 90 people were killed and 472 shot. The city this year now has more homicides than New York and Los Angeles combined.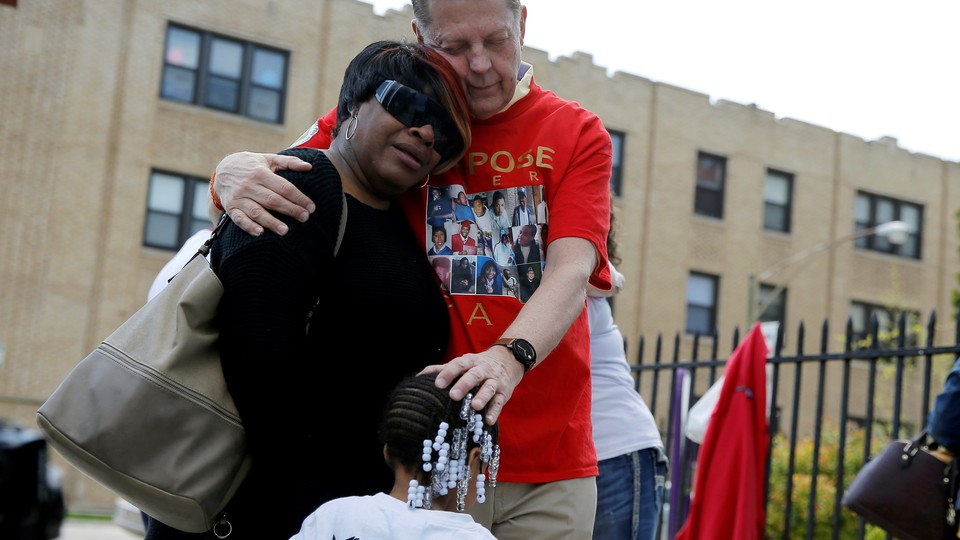 NEWS BRIEF Elijah Sims would have turned 17 on Wednesday. Instead, his family and community members mourned the Oak Park, Illinois, boy's death at an evening vigil two days after he was shot in the head and killed on the South Side of Chicago. He was only one of the 90 people killed in August, making it the deadliest month for the city in two decades.
His mother, Sharita Galloway, according to the Chicago Tribune, told the crowd at the vigil:
Please stop the shooting. You're killing innocent people. He was my baby boy. I felt my baby's last heartbeat.
In 384 shooting incidents last month, 472 people were hit, Chicago police say. August surpasses October 1996 (85 dead) as the deadliest month in recent decades.
Michael Pfleger, a Chicago priest and voice in the anti-violence movement in the city, pleaded with federal authorities on Wednesday to declare a state of emergency, freeing up federal funds to hire more police. In protest, he poured a gallon of fake blood on the street, spelling "SOS."
Chicago is the deadliest major city in the United States. CBS Chicago notes:
Another horrible distinction for Chicago: the total number of homicides so far this year is more than New York City and Los Angeles combined. So far, at least 487 people have been slain in Chicago this year, compared to 490 all of last year. New York has had 222 homicides, and Los Angeles has had 176, and both cities have much larger populations.
Homicides, Chicago police say, are up more than 50 percent this year. More than 2,800 people have been shot so far in 2016. Ten of those shootings happened Wednesday, when an additional three people were killed throughout the city.