Brock Turner's Three-Month Jail Sentence
The former Stanford University student convicted of sexually assaulting an unconscious woman will serve half of his original punishment because of "good behavior."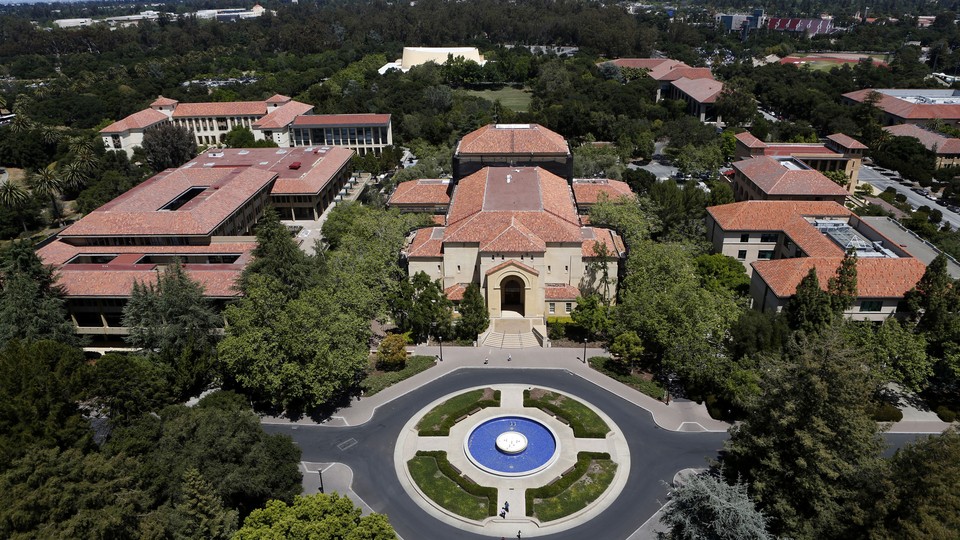 The former Stanford University student convicted of sexually assaulting an unconscious woman outside a fraternity party last year will be released from jail Friday after serving three months of his six-month sentence.
Brock Turner, who turned 21 last month, is being set free early from the Santa Clara County Jail for "good behavior." Turner, who withdrew from Stanford after he was arrested and charged last year, is expected to return to his hometown in Ohio. He must complete a three-year probation period, undergo random drug and alcohol testing, and register as a sex offender.
Turner's victim, who was 23 at the time of the assault in January 2015, has chosen to remain anonymous, as is her right. It was her statement to the judge, read during Turner's sentencing hearing in June, that turned the California case into international news and sparked debate over sexual assault on college campuses, sentencing laws for sex crimes, and media portrayal of such cases. In the 7,244 word-letter, the woman described in painful detail how Turner's actions robbed her of "my worth, my privacy, my energy, my time, my safety, my intimacy, my confidence, my own voice." The statement was widely circulated online, praised for its candidness and bravery and held up as a powerful example of what happens when sexual-assault victims seek justice against their attackers. But justice in this case, many felt, wasn't served.
Prosecutors asked for six years in prison, in line with the two-year minimum guideline for each of the three felony counts of which Tuner was convicted in March by a unanimous jury: assault with intent to commit rape of an intoxicated woman, sexually penetrating an intoxicated person with a foreign object, and sexually penetrating an unconscious person with a foreign object. The judge, Santa Clara County Superior Court Judge Aaron Persky, gave Turner six months in county jail with three years' probation. The first news reports of Persky's reasoning said the judge believed a harsher punishment—a prison sentence—would have a "severe impact" on Turner, a Stanford freshman who, as headline after headline put it, was on the school's swimming team and maybe even had Olympic potential.
The backlash was swift. The denizens of the internet called for news organizations to publish Turner's mug shots instead of flattering school photos. They wondered aloud whether Turner would have received the same treatment if he weren't a blonde-haired, blue-eyed student at a prestigious university. They signed an online petition to recall Persky, who is running unopposed for re-election in November. They pilloried Turner's father, Dan Turner, who wrote a letter to the judge that boiled down Turner's crimes to "20 minutes of action" and blamed his actions on "the dangers of alcohol consumption and sexual promiscuity." They said this case showed why so many women may choose not to report sexual assaults to police. Vice President Joe Biden wrote an open letter to Turner's victim, saying, "I do not know your name—but I know that a lot of people failed you that terrible January night and in the months that followed."
On January 18, 2015, at about 1 a.m., two male Stanford graduate students riding their bikes through campus discovered  Turner on top of a woman near a dumpster. When students approached Turner, he fled, leaving the woman, unconscious and partially naked, on the ground. One of the students chased him and held him down while the police was called. Turner and the woman had attended the same party that night, and their blood-alcohol levels were two to three times the legal limit. Turner said the victim gave consent to have sexual contact with her, but the woman testified she had no memory of the interaction. During the sentencing hearing, Persky said he believed Turner's account.
Persky, a Stanford alumnus, has since removed himself from presiding over any criminal cases. The movement to recall him, started in June by a Stanford law professor and other members of the local legal community in, is growing.
The Turner case inspired legislation in California that would expand the state's legal definition of rape—which describes it as "an act of sexual intercourse," or penile penetration—to include all forms of sexual penetration. Lawmakers have also introduced legislation that would require mandatory prison sentences for sexual assaults in which the victim is unconscious or is in incapable of giving consent because of intoxication. Both bills cleared the state legislature in late August and have reached Governor Jerry Brown's desk, but his office has not said whether he will sign them.
At Stanford, school officials announced last month a ban on hard liquor at campus parties. They published a webpage titled "Female Bodies and Alcohol" that described the varying effects of alcohol on men and women. According to ThinkProgress, the page originally said "research tells us that women who are seen drinking alcohol are perceived to be more sexually available than they may actually be," but the content was quickly deleted.