The Petrobras Scandal's Biggest Target
Former President Luiz Inacio Lula da Silva faces corruption charges in the largest scandal in Brazil's history.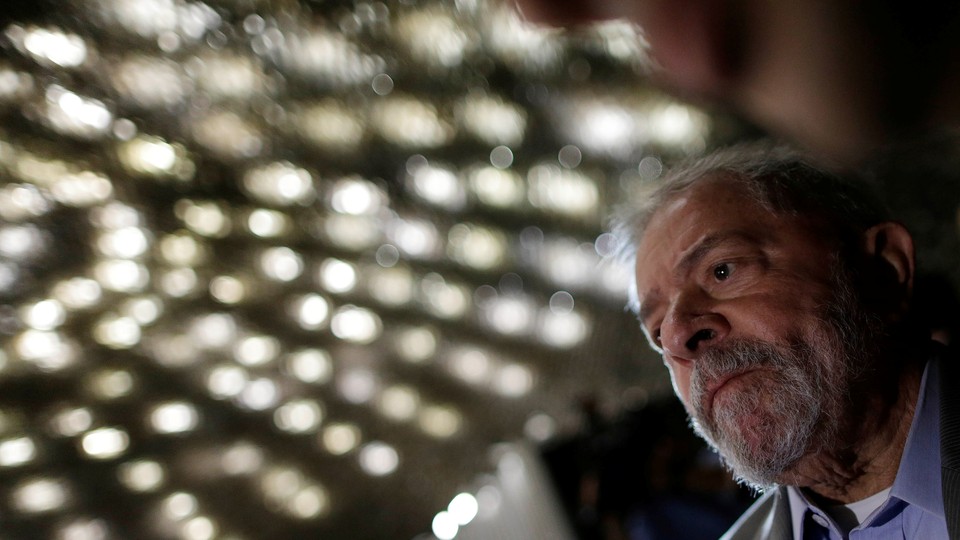 NEWS BRIEF Luiz Inacio Lula da Silva, the man who remade modern Brazil as its president from 2003 to 2010, has reportedly been charged in the country's biggest-ever corruption scandal. The development comes two weeks after Dilma Rousseff, his political protege, was removed from office over a separate scandal.
Prosecutors allege that Lula, as he is widely known, and his wife did not disclose they owned a luxury, three-floor apartment in Guaruja, a resort town near São Paulo, that was built by a construction company implicated in the Petrobras scandal, which has ensnared some of the biggest names in Brazilian politics. Lula, his wife, Marisa Leticia, and six others have been charged in connection with the scandal, according to Reuters.
Politicians across the political spectrum, including from Lula's Worker's Party, have been implicated in a money-laundering scheme at Petrobras, the state-run oil firm and largest company in Brazil. In 2014, investigators uncovered an alleged decade-old, secret network of bribes and kickbacks at the energy firm, in which executives overcharged the company for construction contracts and funneled the extra cash to themselves, others, or politicians.
Brazilian police first alleged in March that Lula had benefitted from the Petrobras scheme. Last month, police recommended prosecutors bring the corruption charges against Lula and his wife for accepting bribes and laundering money. They alleged Lula received 2.4 million reals, or more than $700,000, in perks from the construction firm that built the Guaruja residence. Lula has denied any wrongdoing, and says he does not own the apartment in Guaruja. But the scandal is a serious blow to both his legacy, as well as that of his handpicked successor, Rousseff, who was removed from office last month because of a separate scandal—this one involving allegations she fudged budget figures ahead of presidential elections to make the economy seem healthier than it was.
Rousseff had served on Petrobras's board of directors at the time of the alleged crimes, but she has not been directly implicated or charged with any wrongdoing. In March, while still in office, she named Lula her chief of staff, a Cabinet position that would grant him immunity from prosecution. A prosecutor in the Petrobras scandal then released tapped phone calls that suggested Rousseff gave Lula the job to help shield him from prosecution in the scandal. Days later, Brazil's highest court suspended Lula's nomination. The impeachment proceedings against Rousseff also began, marking the beginning of the end of her presidency.
In June, Eduardo Cunha, the legislator who led the impeachment movement against Rousseff but was later kicked out of office himself, was charged with money laundering in the same scandal. Lawmakers voted this week to ban him from running for public office.