Bob McDonnell Goes Free
Two months after a Supreme Court defeat, the U.S. Justice Department moved Thursday to dismiss its corruption case against the former Virginia governor and his wife.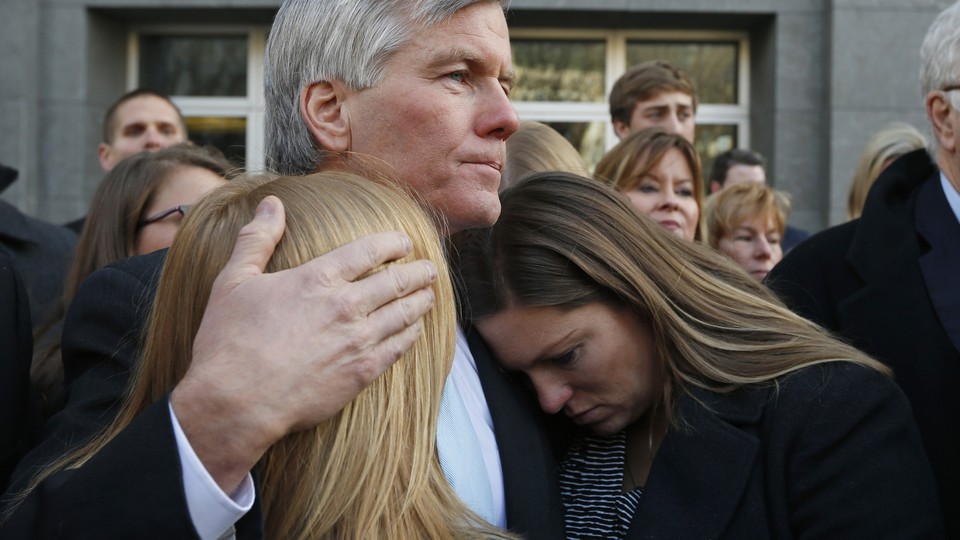 Updated at 6:57 p.m. ET
Federal prosecutors won't retry former Virginia Governor Bob McDonnell and his wife for corruption charges after a stinging defeat at the U.S. Supreme Court in June, the Justice Department announced Thursday.
"After carefully considering the Supreme Court's recent decision and the principles of federal prosecution, we have made the decision not to pursue the case further," the department said in a statement.
McDonnell, who served as governor from 2010 to 2014, and his wife, Maureen, were indicted days after he left office for accepting more than $175,000 in gifts from Jonnie Williams, a Virginia businessman who owned a tobacco-based nutritional-supplements company. Williams sought McDonnell's help in getting studies on his supplements done at Virginia's public universities by arranging meetings with researchers and, according to federal prosecutors, provided lavish luxury gifts in exchange.
A federal jury found both McDonnells guilty in September 2014. He received a two-year prison sentence, while she was sentenced to a year and a day behind bars. Neither of them served their sentences during their appeals, in which they argued federal corruption laws were unconstitutionally vague.
The U.S. Supreme Court unanimously sided with McDonnell in June. In his opinion for the Court, Chief Justice John Roberts said the government's broad interpretation of what counted as an "official act" under the statute could include ordinary business by elected officials.
"The basic compact underlying representative government assumes that public officials will hear from their constituents and act appropriately on their concerns—whether it is the union official worried about a plant closing or the homeowners who wonder why it took five days to restore power to their neighborhood after a storm," Roberts wrote, citing possible damage to democratic participation.
But the Court also expressed its disdain for the behavior at hand. "There is no doubt that this case is distasteful; it may be worse than that," the chief justice added. "But our concern is not with tawdry tales of Ferraris, Rolexes, and ball gowns. It is instead with the broader legal implications of the Government's boundless interpretation of the federal bribery statute."
The high court's ruling, as well as its earlier decisions on campaign-finance reform statutes, raised concerns about the erosion of anti-corruption laws. Shortly before oral arguments in McDonnell v. United States last spring, my colleague Garrett Epps noted an increasing reliance upon the First Amendment as a "safeguard for any elected officeholder canny enough to disguise ever-so-slightly the exchange of money for favors."
The new First Amendment definition of corruption, McDonnell argues, must now leach into the corruption statutes. If someone gives a striving governor $100,000, and a vacation, and a ride in a cool car, and a nice watch, and nice clothes for his wife, of course that governor will feel "general gratitude," as well he might. And if that "general gratitude" leads him to make calls to government officials who may be able to help the benefactor make billions, or to lend out the Governor's Mansion, well, that's not corruption but just good manners. Unless the governor says something like, "I, Robert McDonnell, Governor of Virginia, hereby sign a binding executive order that state policy now favor my pal Jonnie Williams because he gave me money," then, no harm, no foul.
After the Justice Department's announcement, McDonnell issued a statement thanking his friends and family, as well as the Supreme Court for their ruling.
"Today, I express my appreciation to the U.S. Department of Justice for applying the correct rule of law articulated by the Supreme Court, and asking for these cases to be dismissed," he said. "I thank them for doing justice for me, my family, my friends, my Commonwealth and its servants, and for all those involved in the democratic process."
McDonnell also added that his "wrongful" conviction was "based on a false narrative and incorrect law."