Jeff Bezos's New Rocket, Built to Carry Payloads and People
The founder of spaceflight company Blue Origin announced Monday the design of an orbital rocket called New Glenn.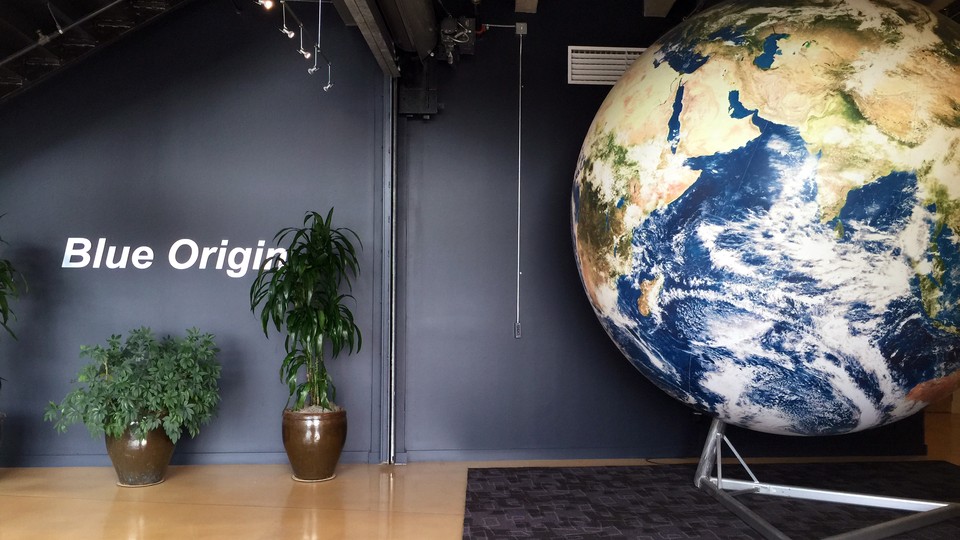 NEWS BRIEF Blue Origin, the aerospace company founded by Jeff Bezos, has unveiled the design of a new rocket that will carry satellites and astronauts to space, fly back to land on Earth, and stand almost as tall as the rocket that launched Americans to the moon nearly 50 years ago.
Bezos said in an email Monday that the orbital rocket, known as the New Glenn, will be ready for a test launch before the end of this decade. The rocket is named for John Glenn, the first American to orbit the Earth.
Here's a look at New Glenn, alongside other rockets—past, present, and in development:
New Glenn will measure 23 feet in diameter, with 3.85 million pounds of thrust. It will be powered by seven Blue Engine 4 rocket engines, which Blue Origin has spent more than four years developing, that burn liquefied natural gas and liquid oxygen. The same kind of engine will power the new Vulcan rocket (pictured above) from United Launch Alliance, the joint venture of Boeing and Lockheed Martin, which is scheduled for test launch around 2019.
The New Glenn family will include two variations. The two-stage version of the rocket will be 270 feet tall. The three-stage version will stand 313 feet high, with a "high specific impulse hydrogen upper stage" that will allow the rocket to fly further into space, beyond low-Earth orbit.
The image Bezos shared on Twitter was meant to drive the point home—to both the public and his competitors—that the New Glenn will be huge. The rocket will also be powerful; with 3.85 million pounds of liftoff thrust, the New Glenn will surpass the United Launch Alliance's Delta IV Heavy, the most powerful rocket in operation, at 1.6 million pounds. SpaceX, Elon Musk's spaceflight company, seeks to surpass them both; its Falcon Heavy, whose first launch is scheduled for November, will generate 5.13 million pounds of thrust at liftoff. Here's some more perspective on power, from Eric Berger at Ars Technica:
By way of further comparison, the space shuttle's main engines had an individual thrust of 470,000 pounds. Along with its solid-rocket boosters, the shuttle had 7 million pounds of thrust at launch. The Saturn V rocket, with five F1 engines, had about 7.5 million pounds of thrust. So Blue Origin's very first orbital rocket will have slightly more than half the thrust of the rockets that carried humans to the Moon.
Bezos said Monday his company's reusable rocket, New Shepard, "has taught us so much about how to design for practical, operable reusability." In November 2015, Blue Origin launched New Shepard—named for Alan Shepard, the first American in space—and returned it to Earth for a soft, vertical landing, becoming the first to successfully land a reusable rocket on the ground after launch. But observers—especially Bezos's competitor, Musk—pointed out that while New Shepard reached the boundary where outer space is understood to begin, it did not enter orbit.