What an Unarmed Black Man Was Holding When He Was Shot by Police
Police say Alfred Okwera Olango pointed a vaping device before he was killed in a San Diego suburb Tuesday.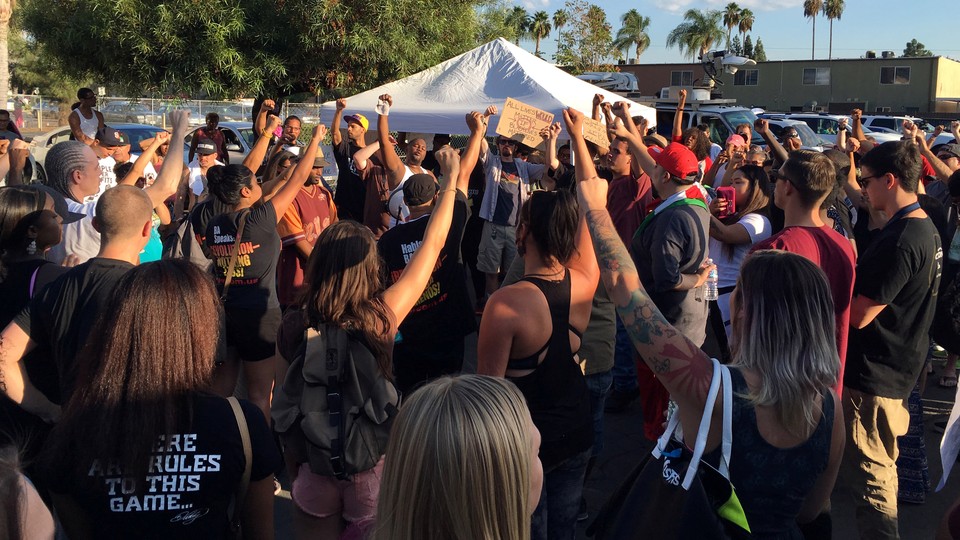 NEWS BRIEF The black man who was shot and killed by police in a San Diego suburb Tuesday was unarmed, police now say.
Alfred Okwera Olango was confronted by El Cajon police while acting erratically and concealing his hands in his pants pockets. After ignoring several commands and pacing around, he "rapidly drew and object from his front pants pockets, placed both hands together on it, and extended it rapidly toward [one] officer, taking what appeared to be a shooting stance," Police Chief Jeff Davis said Tuesday. An officer then shot Olango, while another fired a Taser.
Late Wednesday, police identified the object Olango pointed at an officer as a vape smoking device. In a statement, the department described the device:
The vape has an allsilver cylinder that is approximately 1" diameter and 3" long that was pointed toward the officer.
Olgango's sister told officers the man suffered from a mental illness and needed help. Cell phone video captured after the shooting showed her crying, yelling toward police:
I called for help. I didn't call you guys to kill him.
Protests soon broke out near the scene of the shooting, and continued Wednesday. Bill Wells, the mayor of El Cajon, attempted to ease concern in the community Wednesday afternoon at a press conference. He said:
I saw a man who was distraught, a man who was acting out like he was in great pain. I saw him get gunned down and killed. If it was my son, I would be devastated.
The mayor said the city will launch an investigation into the shooting with assistance from the FBI. Police have yet to release video of the shooting. The department did release a photo showing Olango in a shooting stance just before he was shot.