Bayer and Monsanto's Mega Merger
The two giants will become one company in a $66 billion deal, which includes debt.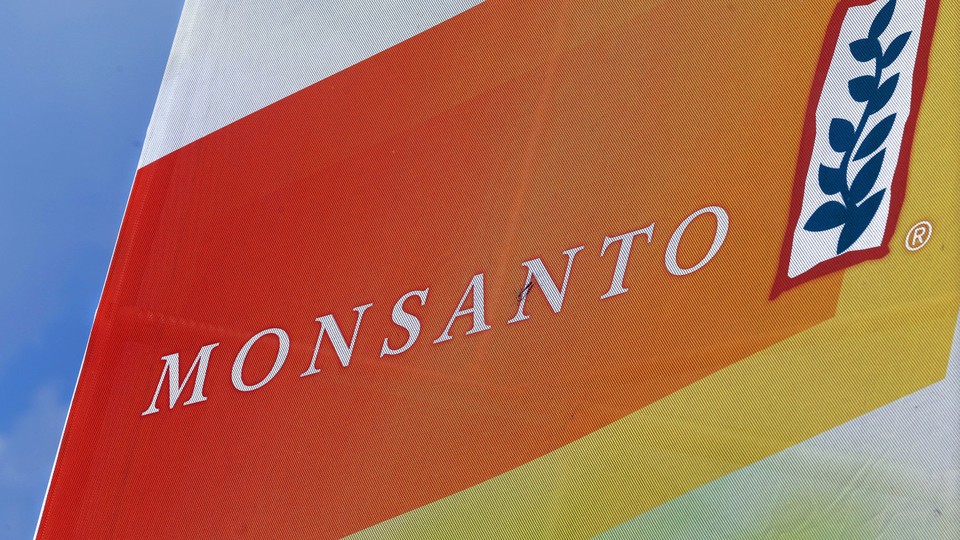 Bayer and Monsanto have agreed to a $66 billion merger, including debt, to create one of the world's largest agrichemical companies, the companies announced Wednesday.
Under the deal, Bayer, the German chemicals and pharmaceuticals giant, will pay $128 for each share of St. Louis-based Monsanto, a 44 percent premium over Monsanto's share price on May 9, when Bayer first made its written offer. It's also 21 percent above Monsanto's closing price in New York on Tuesday.
Werner Baumann, Bayer's CEO, said the deal would deliver "substantial value to shareholders, our customers, employees and society at large." The comments were echoed by Hugh Grant, Monsanto's chairman and CEO: "We believe that this combination with Bayer represents the most compelling value for our shareowners, with the most certainty through the all-cash consideration."
As we'd reported back in May:
The proposed deal, which is subject to regulatory approval in Germany and the U.S., comes amid several high-profile mergers in the industry, including the still-to-be-approved $130 billion merger between Dow Chemical and DuPont, as well as ChemChina's acquisition of Syngenta, the Swiss firm. Monsanto itself had last year offered to buy Syngenta, but was rebuffed.
If regulators don't allow the deal to go through, Bayer has agreed to pay Monsanto a break-up fee of $2 billion. More from Bloomberg:
The transaction caps a dramatic reshaping of the crop and seed industry. A year ago, the sector had at least a half-dozen global players. After Bayer and Monsanto tie up, creating a leader with $26 billion in combined revenue from agriculture, that number will shrink to just four.
The deal would also shift what Bayer, which, among other things, makes Aspirin and Alka Seltzer, is known for: Agribusiness will replace healthcare as its biggest revenue earner. But Monsanto's focus on genetically modified crops has put the deal under scrutiny in Europe, where such crops are viewed with deep suspicion. Still, if the deal goes through, Bayer gets access to, in the words of Bloomberg, "more than 2,000 varieties of seeds for crops such as corn, soybeans, and wheat." Bayer had already developed seeds for rice, cotton, and oilseed.