The Detention of a Bahraini Human-Rights Activist
The U.S. has called on Bahrain to release Nabeel Rajab, who is facing up to 15 years in prison over tweets criticizing the Gulf monarchy's government.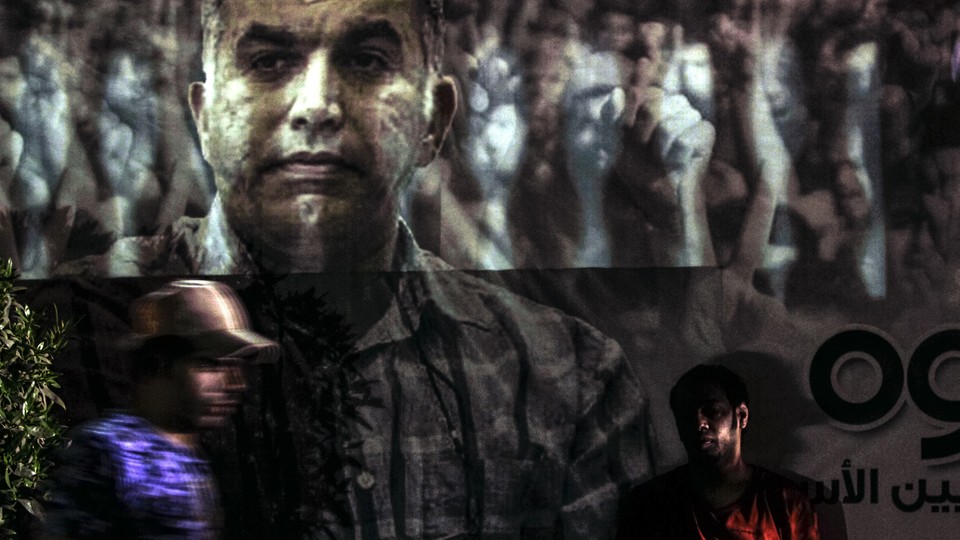 NEWS BRIEF The U.S. State Department has called on Bahrain to release the human rights-activist Nabeel Rajab, who is currently facing 15 years in prison for posting statements on Twitter that Bahraini officials say are critical of government. Authorities reportedly handed down more charges Monday after Rajab published a letter in The New York Times criticizing the country.
"We're very concerned—both about his ongoing detention and about the new charges filed against him," State Department spokesman Mark Toner said Tuesday. "We call on the government of Bahrain to release him immediately."
Rajab was arrested in June 2015 for tweeting criticism of both the Saudi-led coalition's military operations in Yemen, of which Bahrain is an active member, and the condition of detainees in Bahraini prisons. The Gulf monarchy accused Rajab of deliberately spreading "false or malicious news, statements, and rumors," a crime which carries up to 10 years in prison. He also faced charges of "offending a foreign country," which carries a possible two-year sentence, and "offending national institutions," which carries up to three years in prison. Rajab faces 15 years in prison. It's unclear how more charges will affect the potential penalty.
The latest charges against Rajab came Monday after the activist published a "Letter From a Bahraini Jail" in the Sunday edition of The New York Times. Bahraini officials say the op-ed includes "false news and statements and malicious rumors that undermine the prestige of the kingdom," the Times reported, citing the Bahrain Institute for Rights and Democracy, a watchdog group. Rajab wrote:
The government has gone after me not only for my comments on Yemen, but also for my domestic activism. One of my charges, "insulting a statutory body," concerns my work shedding light on the torture of hundreds of prisoners in Jaw Prison in March 2015. The State Department has highlighted the same problem, but last year lifted the arms embargo it had placed on Bahrain since the repressions that followed the 2011 Arab Spring protests, citing "meaningful progress on human rights reforms." Really?
...
Recent American statements on Bahrain's human rights problems have been strong, and that is good. But unless the United States is willing to use its leverage, fine words have little effect. America's actions, on the other hand, have emboldened the government to detain me and other rights advocates: Its unconditional support for Saudi Arabia and its lifting of the arms ban on Bahrain have direct consequences for the activists struggling for dignity in these countries.
Human Rights Watch, where Rajab is a member of the organization's Middle East advisory committee, called on the Bahraini government to suspend its prosecution of Rajab, arguing the charges against him violate his right to freedom of expression.
"Bahrain keeping Nabeel Rajab in a prison cell for criticizing abuses shows the ruling Al Khalifa family's deep contempt for basic human rights," Joe Stork, the deputy Middle East director for Human Rights Watch, said Sunday in a statement. "States that claim to support peaceful activism should use the Human Rights Council session to demand Rajab's immediate release. And they should push Bahrain to lift the restrictions placed on Nabeel's colleagues."
Rajab said he is one of 4,000 political prisoners currently detained in Bahrain. The Gulf country has the highest prison population rate per capita in the Middle East.