Australia's Same-Sex Marriage Debate
Fifty-seven percent support legalizing it, though many disagree on how the government should do it.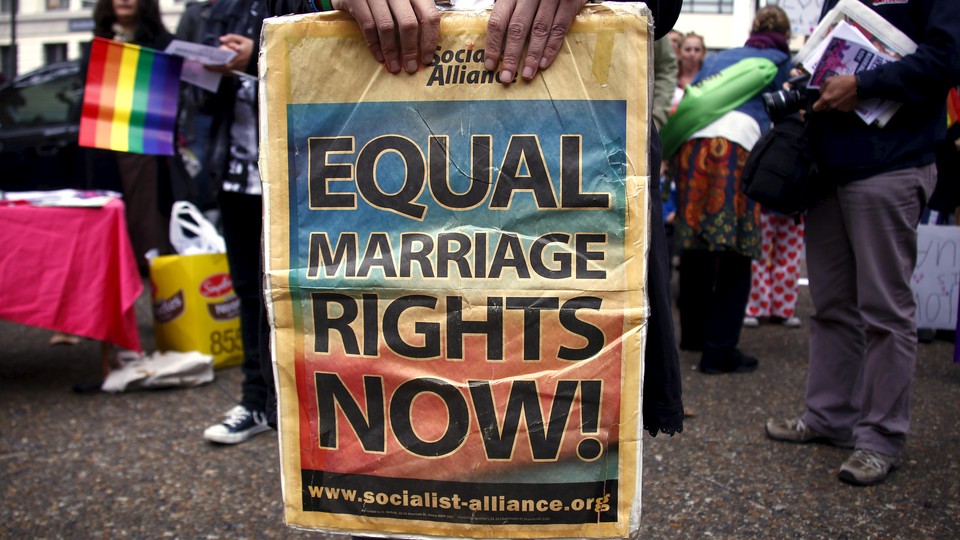 NEWS BRIEF Malcom Turnbull, the Australian prime minister, introduced legislation Wednesday to enable a public plebiscite on same-sex marriage in February. But without the support of the opposition, center-left Labour Party, it remains unclear if such a vote will take place.
"Our opponents argue that the Australian people are too immature and to reckless to be trusted with this debate," Turnbull said of the plebiscite in a statement Wednesday. "This insults and disrespects the Australian people."
Turnbull, the leader of Australia's conservative Liberal Party, has advocated for giving all Australians a say in whether existing laws on same-sex marriage, which is illegal in Australia, should be changed. Though the vote, which would be compulsory for all voting-eligible Australians, is non-binding, Turnbull said a "yes" vote would respected by Parliament.
Opposition leaders have voiced concern over the plebiscite, arguing instead Parliament should legalize same-sex marriage without a referendum, which they say would only result in a divisive—and expensive—public debate. The state-run Australian Broadcasting Corporation reports the Cabinet has agreed to allocate $7.5 million each—$15 million total—to the "yes" and "no" campaigns.
Bill Shorten, Labour's parliamentary leader, condemned the plebiscite and accused Turnbull of being a "fraud on marriage equality," suggesting his party would block the vote, which requires support from at least nine senators to pass the Senate.
"I am gravely concerned about the plebiscite and over the coming days and weeks, we will be sitting down with people affected, families and mental-health experts about the harm a plebiscite will cause," Shorten said Tuesday in a statement. "Malcolm Turnbull has no idea of the harm this could inflict on so many people and their families."
Several LGBT groups echoed similar concerns in a joint statement Wednesday, calling on Parliament to respect the views of the majority of Australians who support marriage equality by legislating in their favor, instead of deferring to a national vote. They said:
Our shared goal is simple—we want marriage equality as soon as possible at the lowest cost. … The Government proposes a plebiscite which we believe is unnecessary, costly and divisive, when the law can be changed through a straightforward vote in parliament. No Australian should have to witness a national debate on their worth or the value of their relationship.
According to a study by Essential Report, 57 percent of Australians support changing the law to permit same-sex marriage, with 28 percent voting against and 15 percent voting as unsure. The majority of those supporting same-sex marriage are between the ages of 18 and 34, and overwhelmingly belong to either the Green or Labor parties.
Australia is one of the few Western countries where same-sex marriage isn't legal.