The Knife Attack Outside Israel's Embassy in Turkey
A man shouted at security officers, charged the gate with a knife, and was shot in the leg.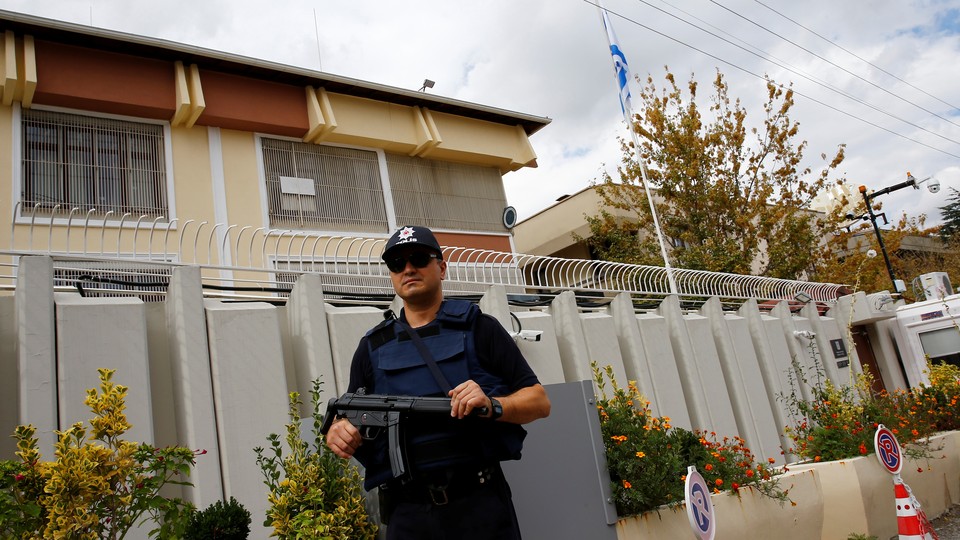 NEWS BRIEF A knife-wielding man who tried to stab a security guard at the Israeli Embassy in Ankara Wednesday was shot in the leg by Turkish police. There's no evidence the man was linked to a wider plot.
The man carried a foot-long knife wrapped in newspaper and shouted: "I will change the Middle East!" and "Allahu akbar" at officers in front of the embassy. He ran toward the gate and a security officer fired a warning shot, then shot the man in the leg. The attacker was later identified as a 41-year-old from Konya, a city in central Turkey. A bomb squad is examining a bag the man is suspected of leaving behind.
Reuters reported the Ankara governor's office released a statement on the man, saying:
According to initial examinations ... (the man) appears mentally unstable, no criminal record or organizational links have been found.
Here is a video of the scene after the man was shot, published by The Times of Israel:
Turkey is on edge because of several terrorist attacks in recent months and a failed coup against the government of President Recep Tayyip Erdogan. In March, a car bomb claimed by Kurdish militants killed 35 people in Ankara, and less than a week later the Islamic State is believed to have killed four people in a suicide bomb attack in the same city. In Istanbul, in June, another car bomb linked to Kurdish militants killed seven police officers and four people. At the end of the month a bomb at the Ataturk airport killed more than 40.
Relations between Turkey and Israel have been on the mend in recent months following several years of estrangement over the Israeli raid in 2010 on a flotilla bound for Gaza. Ten Turks were killed in that raid. Turkey, which is officially secular, is one of the few predominantly Muslim countries to have diplomatic relations with Israel, and prior to the flotilla raid Turkey was a popular tourist destination for Israelis.