Has Anything Changed With Arizona's Immigration Law?
Immigrant-rights groups and the state have come to a settlement over the legislation once called the toughest in the country.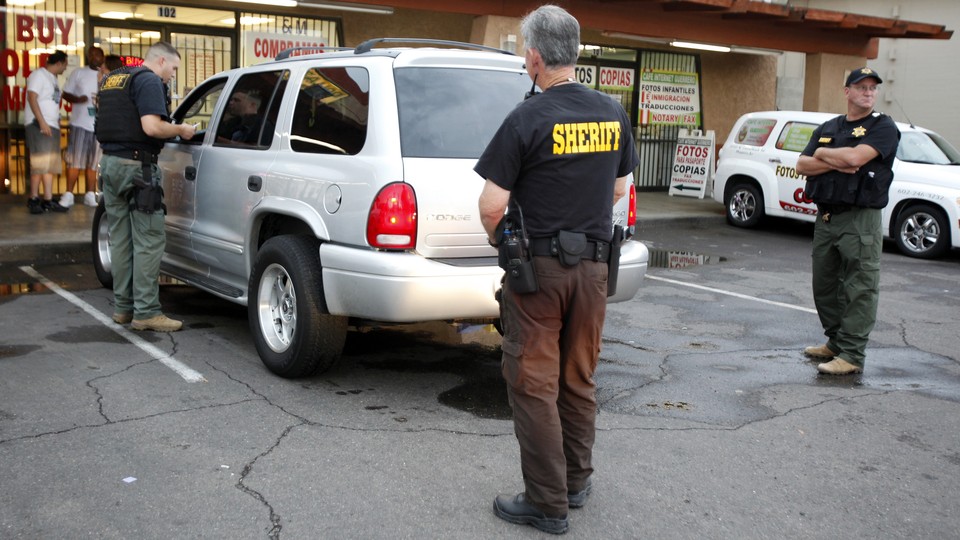 NEWS BRIEF Arizona's attorney general put new limits on a law that made the state a leader in tough-on-immigration legislation, which was criticized by immigrant-rights advocates.
Senate Bill 1070, which passed in 2010, has been tangled in a lawsuit brought by several immigrant-advocacy groups who say it created an environment of fear among the state's large Latino population by allowing racial profiling. To Arizona's conservatives, SB 1070 allowed local law enforcement to make the kinds of immigration checks that in their view the federal government seemed unwilling to do. The law served as a precursor to others like it introduced in dozens of states around the country. The most controversial section of the law, and the one Attorney General Mark Brnovich limited, was called the "show-me-your-papers" portion.
That section allowed Arizona officers to question a person's immigration status during any interaction. If the person could not produce ID proving legal presence in the U.S., he or she could be turned over to Immigration and Customs Enforcement and deported. What Brnovich has done is to clarify this section to officers with a nonbinding opinion filed Thursday in Arizona's Supreme Court. The opinion says officers should not make an arrest "based on race, color, or national origin" in an effort to check the person's immigration status.
Most advocates called the decision a win. The Phoenix New Times quoted American Civil Liberties Union attorney Cecillia Wang as saying:
The supporters and proponents of SB 1070 clearly envisioned a state in which police officers and sheriff's deputies could go after people they suspected of being undocumented immigrants.
But because it's a nonbinding opinion, it means law-enforcement departments can choose to ignore it. The opinion also reflects decisions already made by U.S. courts. One is from a separate lawsuit brought by the Obama administration, which went to the Supreme Court. The other was by an Arizona U.S. District Court that found Joe Arpaio, the top sheriff of the state's most populous county, engaged in racial profiling; he was ordered to stop his immigration sweeps that used the law as justification to round people up for deportation. The sheriff has waged a long legal battle, and ignored the court's order to stop pulling people over solely based on the perception of their immigration status. Arpaio now faces criminal contempt charges.
Essentially, the intent of the law remains unchanged. For that reason, while immigrant-rights groups saw the opinion as a victory, so too did one of the law's Republican sponsors.
State Senator John Kavanagh told The New York Times Thursday's agreement represented "a clear rejection of the notion that the law is racist."
But not all immigration advocates declared it a victory. Activist Sal Reza told the Times the law still allows any officer to interrogate someone for their immigration status as long as it's during a lawful stop, Reza said, "and we know what a lawful stop means here in Arizona."