Apple Pushes Back
Tim Cook, its CEO, described as "maddening" the European Commission's finding that Ireland should recoup 13 billion euros in back taxes from the tech giant.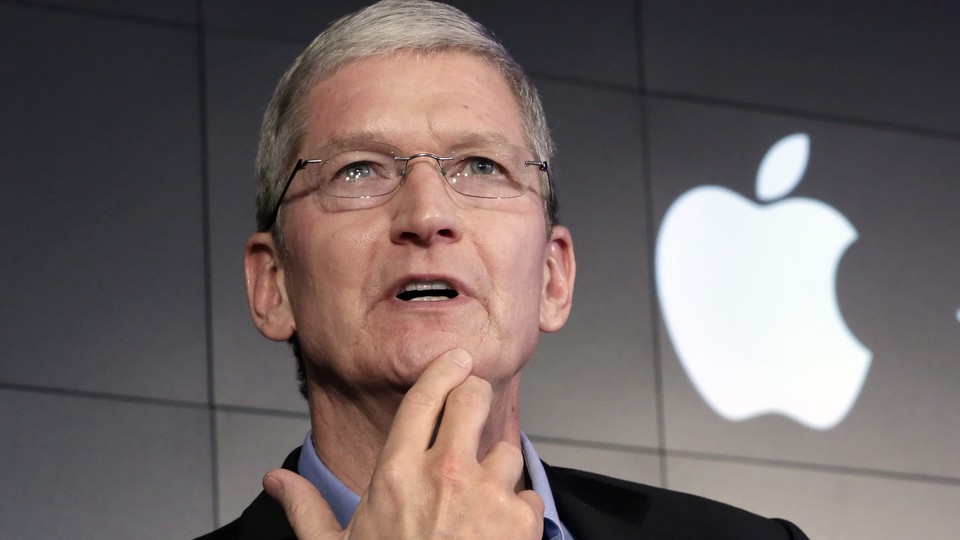 Tim Cook, the Apple CEO, has described as "wrongheaded" and "maddening" the European Commission's finding this week that Ireland's tax incentives to the tech giant were illegal.
The EC ruled Tuesday that Ireland gave Apple 13 billion euros ($14.5 billion) of illegal tax incentives, and ordered Dublin to recover that money. Both Ireland, which has made low corporate taxes a cornerstone of its financial policy, and Apple, one of hundreds of U.S. companies with operations in Ireland, have said they'll appeal the ruling. Cook, speaking to RTE, the Irish broadcaster, dismissed the idea the tax benefits were illegal and expressed confidence the ruling would eventually be overturned.
Here's more from his conversation with RTE:
It's maddening. It's disappointing. It's clear that this comes from a political place. It has no basis in fact or in law, and unfortunately it's one of those things we have to work through.

When you're accused of doing something that is so foreign to your values, it brings out an outrage in you, and that's how we feel. Apple has always been about doing the right thing.
Cook also dismissed the EC's contention that Ireland's "selective treatment" allowed Apple to pay an effective corporate tax rate of 1 per cent on its European profits in 2003 down to 0.005 per cent in 2014.
"It's a false number," he said. "I have no idea where the number came from. It is not true. Here is the truth. In that year, we paid $400 million to Ireland, and that amount of money was based on the statutory Irish income tax rate of 12.5 percent."
But Margrethe Vestager, the European commissioner in charge of competition policy, reiterated Thursday that the EC's decision was legal, pointing out that its assessment was based on the taxes paid by just one of Apple's subsidiaries in Ireland, Apple Sales International.
Tuesday's ruling is the largest penalty handed down in the EC's investigation into what it regards as undue financial deals granted by some EU nations. Last October, the commission found tax advantages that Netherlands gave Starbucks and Luxembourg gave Fiat Chrysler's financial unit were illegal.
The decision could provoke a dispute with the U.S., which has accused Brussels of unfairly targeting American companies over taxation.