The Pressure to Stay Silent About Torture in Thailand
Amnesty International has canceled a speaking event in Bangkok after receiving arrest threats from government officials.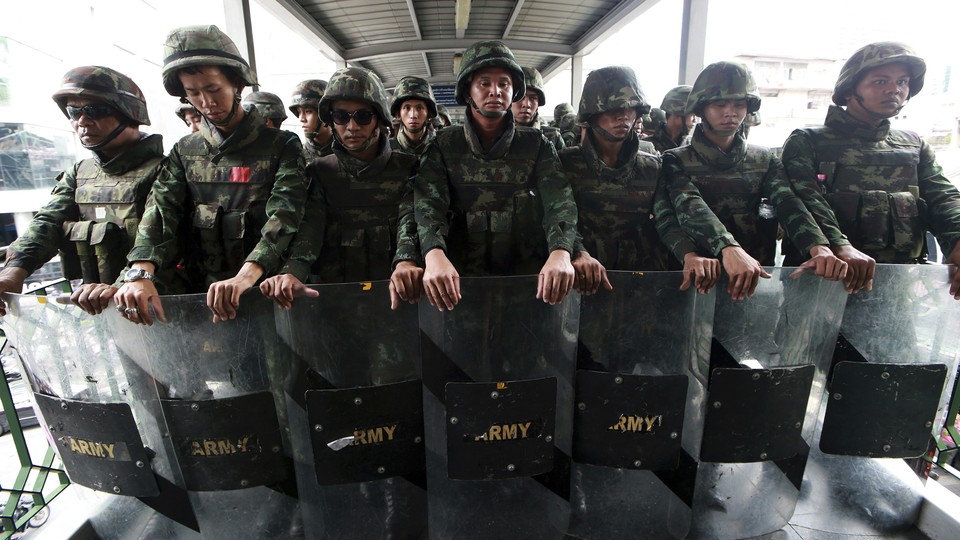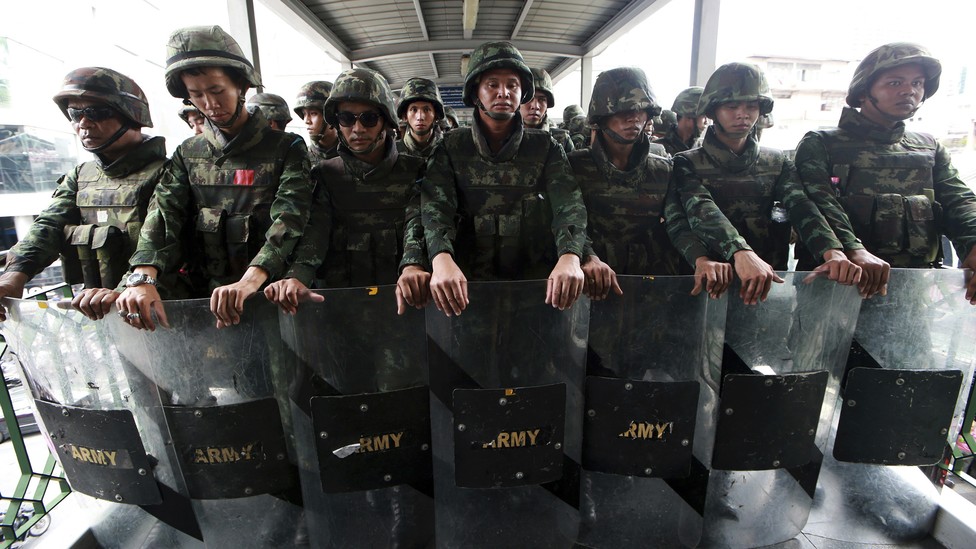 NEWS BRIEF Amnesty International had been scheduled to unveil research from the organization's latest report, which found that Thailand's military junta routinely tortured citizens, at a hotel in Bangkok Wednesday. But just as members prepared to give their speeches, police officers threatened them with arrest, the group said.
Police and men wearing jackets and tags identifying them as Ministry of Labour officials said the speakers would violate Thai labor law if the event went on. Amnesty International chose to cancel, and released the research online. The group claims it found 74 instances of torture, including suffocation with plastic bags, strangling by rope, waterboarding, and electric shock of the genitals, by the military against political opponents between 2014 and 2015.
Amnesty International condemned the threats of arrest. "The Thai authorities should be addressing torture, not human rights activists doing their legitimate work," Minar Pimple, the group's senior director of global operations, told the Bangkok Post Wednesday. "Instead of threatening us with arrest and prosecution, they should be holding the perpetrators of torture accountable."
The military took power of the Thai government in 2014, a decision it called necessary to establish stability after months of street protests. Demonstrations had grown after a movement of mostly poor and rural voters organized against Thailand's ruling royal class and wealthy elite. In August of this year, voters adopted a new constitution that ensures the military remains powerful after Thailand's general election next year. The constitution includes a provision that allows the military to remove any political leader from office without resorting to a coup, which was sold as a way to protect the government against corruption. About 60 percent of voters approved the new constitution, which many have attributed to a vote for stability—not necessarily confidence in the military—in a country that ranks among the world's top for coup d'etats.
Amnesty International's report said the 2014 military coup has allowed "a culture of torture and other ill-treatment to flourish across the country." It said the military now has legal authority to arbitrarily detain people for seven days at undisclosed locations. It's during this time, the report says, that the military has tortured these victims, most often political opponents. "Most victims are too afraid to speak out. When they come forward to complain, the courts tend to ignore them," the report claimed. "And yet, the same courts are willing to accept coerced confessions, even after they are retracted."