Who's Responsible for the Aleppo Aid Convoy Attack?
U.S. officials say only Russian warplanes could have carried out the airstrike that killed 20 people Monday.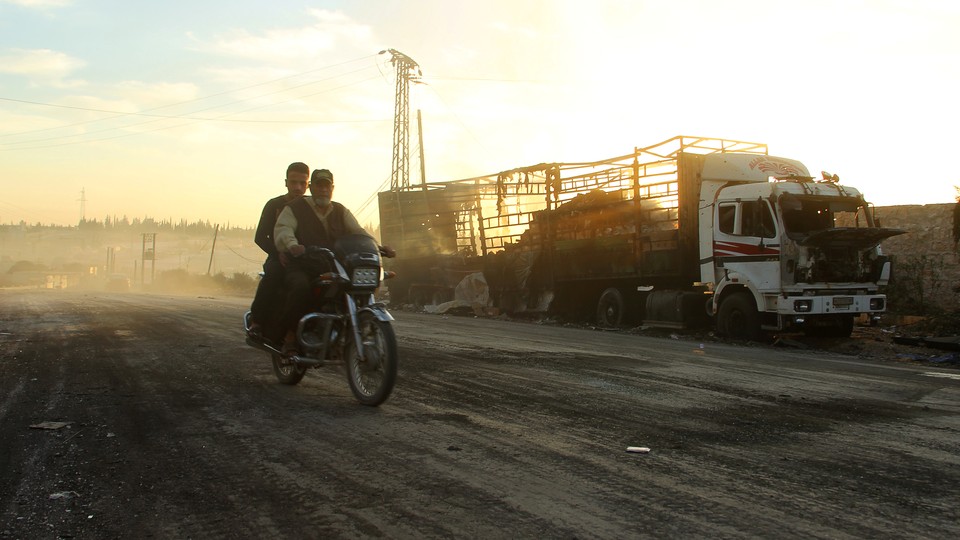 NEWS BRIEF Russian warplanes bombed the aid convoy that was heading to Aleppo, U.S. officials are now claiming.
The airstrike killed 20 people Monday, including the head of the Syrian Red Crescent, and destroyed 18 of the 31 trucks that were delivering medicine, water, and food to help 250,000 stranded civilians. The bombing came just after a weeklong ceasefire agreement, brokered by Russia and the U.S., came to an abrupt end.
Russia, for its part, claims that footage from its military drones shows the attack was carried out by Syrian rebels firing a mortar from a pickup truck. U.S. officials, however, told CNN that only a Russian warplane could have struck the convoy.
Ben Rhodes, the White House deputy national security adviser, also told CNN that it was clearly an airstrike that destroyed the aid convoy. Only Syria or Russia could have carried out that strike, he says. Rhodes, though, didn't say which forces struck.
Still, he argues that Russia did not hold up its end of the ceasefire agreement, saying:
We hold the Russian government responsible for airstrikes in this airspace given their commitment under the cessation of hostilities was to ground air operations where humanitarian assistance was flowing…

We have not seen good faith. This was an outrageous action. It raises serious questions about whether or not this agreement moves forward.
The United Nations announced earlier on Tuesday that it was suspending aid to Syria in light of the airstrike, saying it was a security precaution.