A Police Scandal in Oakland
Seven Bay Area police officers face criminal charges for their roles in a widespread sexual-misconduct scandal.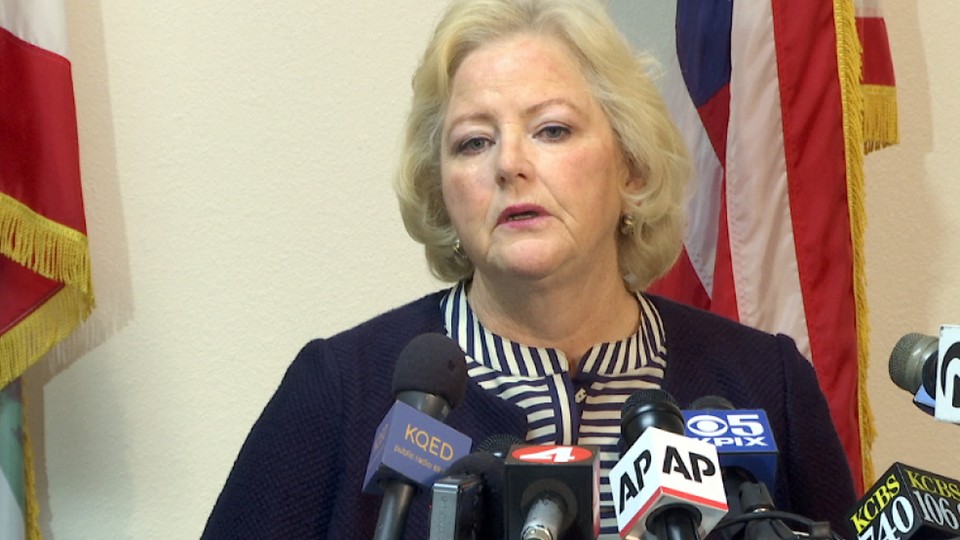 Prosecutors announced criminal charges Friday against seven Bay Area police officers for their roles in a sexual-misconduct scandal that rocked the Oakland Police Department and other law-enforcement agencies in northern California this summer.
Alameda County District Attorney Nancy O'Malley said the officers would face charges including forcible oral sex with a minor, lewd behavior, obstruction of justice, improper use of department computers, and failure to report sexual assault. Five of them are from Oakland, while the other two worked for the nearby Contra Costa County Sheriff's Department and Livermore Police Department.
Local investigators discovered the misconduct while investigating the suicide of Oakland police officer Brendan O'Brien in September 2015. During the investigation, a former sex worker who was 18 or 19 years old at the time claimed she had a sexual relationship with O'Brien.
The Los Angeles Times has more:
The scandal exploded in June, when the woman claimed in a televised interview to have slept with more than a dozen city police officers. Some of the sexual interactions happened when she was underage, she said, and the woman also claimed she had sex with some officers in exchange for information about planned prostitution raids.

The scandal soon widened, and members of four other East Bay law enforcement agencies were also accused of either having sex with the woman or engaging in other inappropriate conduct with her. Two Oakland police officers resigned as a result of the scandal, and three others were placed on administrative leave, city officials said at the time.
Fallout from the revelations also led to a massive shake-up in the Oakland Police Department's upper ranks. Chief Sean Whent resigned on June 9, citing "personal reasons." The East Bay Express, a local alt-weekly, reported the following day that Whent had been forced out by a federal monitor overseeing the department. Oakland Mayor Libby Schaaf tapped Ben Fairow, the deputy police chief for Bay Area Regional Transit, as Whent's interim replacement.
Six days later, Oakland Mayor Libby Schaaf suddenly announced Fairow's "immediate removal" from the post. Local news outlets reported shortly thereafter that he had admitted to having an extramarital affair over a decade earlier. She selected Paul Figueroa, a member of the department, to take over in Fairow's stead.
Two days later, Figueroa also stepped aside and went on leave. Neither he nor Schaaf gave a reason for the sudden departure. Schaaf then placed the city's police force under a civilian administrator until a permanent chief from outside the department can be found.