North Korea's Nuclear Test
Kim Jong-un's government carried out the country's fifth detonation Friday, raising regional fears.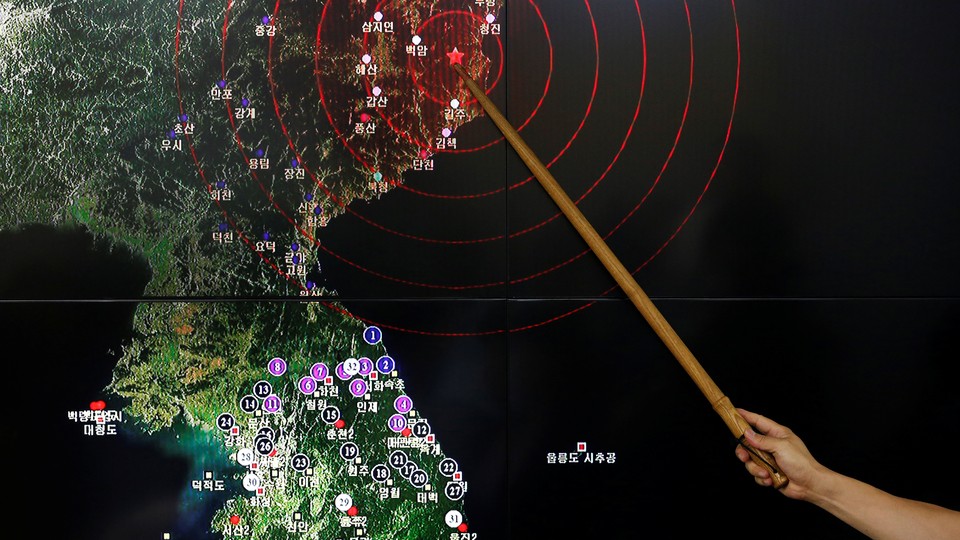 —North Korea announced it successfully carried out its fifth nuclear test, by many estimates its most powerful test yet.
—South Korea, Japan, and China have all criticized the test.
—We're live-blogging the major updates. All updates are in Eastern Daylight Time (GMT -4).
---
10:08 a.m.
President Obama, in a statement, called the test "a grave threat to regional security and to international peace and stability."
Today's test, North Korea's second this year, follows an unprecedented campaign of ballistic missile launches, which North Korea claims are intended to serve as delivery vehicles for nuclear weapons targeting the United States and our allies, the Republic of Korea and Japan. As Commander in Chief, I have a responsibility to safeguard the American people and ensure that the United States is leading the international community in responding to this threat and North Korea's other provocations with commensurate resolve and condemnation.
Obama said he'd spoken to the leaders of South Korea and Japan about the test, and "restated … the unshakable U.S. commitment to take necessary steps to defend our allies in the region … guaranteed by the full spectrum of U.S. defense capabilities."
---
6:36 a.m.
North Korea confirmed the test via a statement carried by the state-run Korean Central News Agency:
Scientists and technicians of the DPRK carried out a nuclear explosion test for the judgment of the power of a nuclear warhead newly studied and manufactured by them at the northern nuclear test ground under the plan of the Workers' Party of Korea (WPK) for building strategic nuclear force. …

The nuclear test finally examined and confirmed the structure and specific features of movement of nuclear warhead that has been standardized to be able to be mounted on strategic ballistic rockets of the Hwasong artillery units of the Strategic Force of the Korean People's Army as well as its performance and power. …

The standardization of the nuclear warhead will enable the DPRK to produce at will and as many as it wants a variety of smaller, lighter and diversified nuclear warheads of higher strike power with a firm hold on the technology for producing and using various fissile materials. This has definitely put on a higher level the DPRK's technology of mounting nuclear warheads on ballistic rockets.
China, North Korea's closest ally, criticized the test in a statement issued by its Foreign Ministry, saying it firmly opposes the test. The country's Ministry of Environmental Protection started radiation monitoring at the country's northeastern border with North Korea.
---
1:17 a.m.
NEWS BRIEF North Korea conducted its second nuclear test this year, the reclusive country's government said Friday.
The announcement came hours after seismologists detected a 5.3-magnitude tremor near the site of its previous nuclear tests. North Korea has carried out five detonations since its first successful one in 2006, including similar tests in 2009 and 2013.
Friday's test also marked the shortest interval yet between its previous test, which occurred in January.
The New York Times has more:
The [South Korean defense] ministry estimated the explosive yield as being equivalent to 10 kilotons of TNT, the most powerful detonation unleashed in a North Korean nuclear test so far, according to the official, who briefed reporters on condition of anonymity. The South Korean government estimated the North's last nuclear test, conducted in January, at 4.8 magnitude with an explosive yield of six to nine kilotons. (By comparison, the atomic bomb dropped on Hiroshima in 1945 exploded with 15 kilotons of energy.)

Prime Minister Hwang Kyo-ahn of South Korea called an emergency meeting of top security officials, while his boss, President Park Geun-hye, cut short a visit to Laos, the president's office said.
In a later statement, Park condemned the "fanatic recklessness" of Kim Jong-un's government. Chinese and Japanese officials also launched radiological testing protocols to determine whether any radioactive material from the test can be detected, according to the Associated Press.