Florida's Worsening Zika Outbreak
The number of those infected in the U.S. from mosquitos has risen from four to 14.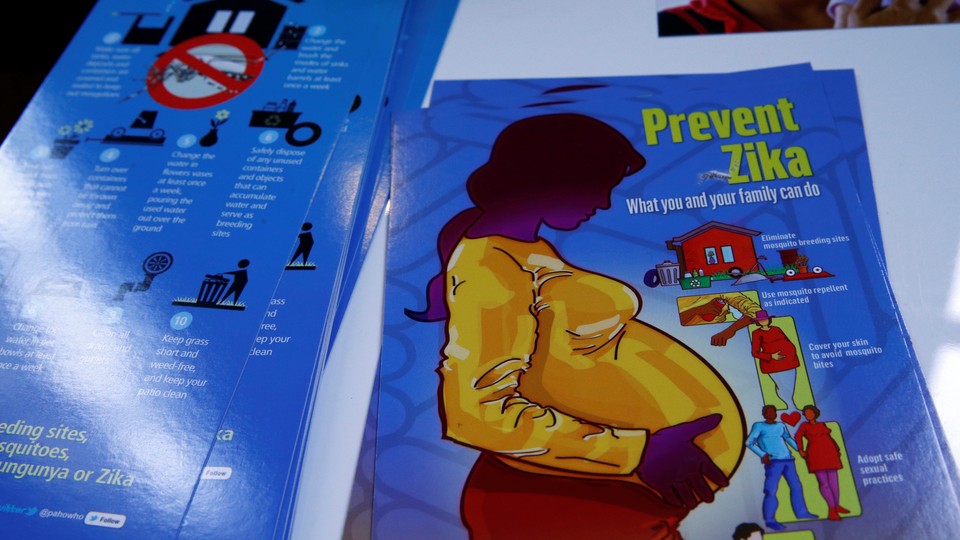 NEWS BRIEF Florida Governor Rick Scott added 10 people Monday to the list of those infected by Zika from a mosquito, and urged the Centers for Disease Control and Prevention (CDC) to intervene.
It has been just a few days since health officials confirmed four cases of Zika spread by a mosquito in the Miami area, the first inside the U.S. Health officials have now raised that figure to 14 people, many of whom showed no signs of illness and were only discovered by investigators who have been walking door-to-door asking for, and testing, urine samples. That leaves open the possibility that many more people could be infected and just don't know it.
Scott said the CDC is issuing a warning to pregnant women that advised against unnecessary travel to parts of Miami. The only confirmed cases of people infected with Zika by a mosquito has been limited to one area, the Wynwood neighborhood just north of downtown, and east of Miami Beach.
As my colleague Adrienne LaFrance reported last week, Florida was seen as the most likely state in the U.S. for a mosquito-borne outbreak:
Officials in Florida had anticipated a local outbreak, especially in recent days. They announced earlier this week that none of the four individuals with Zika had traveled to affected areas, a red flag for possible local transmission. In response, the FDA asked Miami-Dade and Broward to suspend blood donations. Public-health officials are reminding people, especially pregnant women, to protect themselves from mosquito bites. Bug spray containing DEET and clothing treated with insecticide are considered safe for pregnant women.
The mosquitoes that carry Zika, Aedes aegypti, prefer tropical climates. They only travel a few hundred yards in their lifetime so researchers say they believe the outbreak in Florida could have come from someone who traveled abroad and was later bitten by a mosquito, which then infected other people. This theory could change as health officials map more cases of mosquito-borne infection.
Scott said Monday he had asked the CDC to enact an emergency-response team to help collect samples from people. The areas of concentration are limited to three places in Miami-Dade and Broward counties. So far, Florida's Department of Health has handled the testing, while the federal government has offered support. Scientists have warned the government for a year about the possibility of mosquito-borne Zika inside the U.S., but Congress has done little or nothing to act on this information.