More Carnage in Yemen
ISIS claimed responsibility for Monday's suicide bombing in Aden that killed dozens of recruits to a pro-government militia.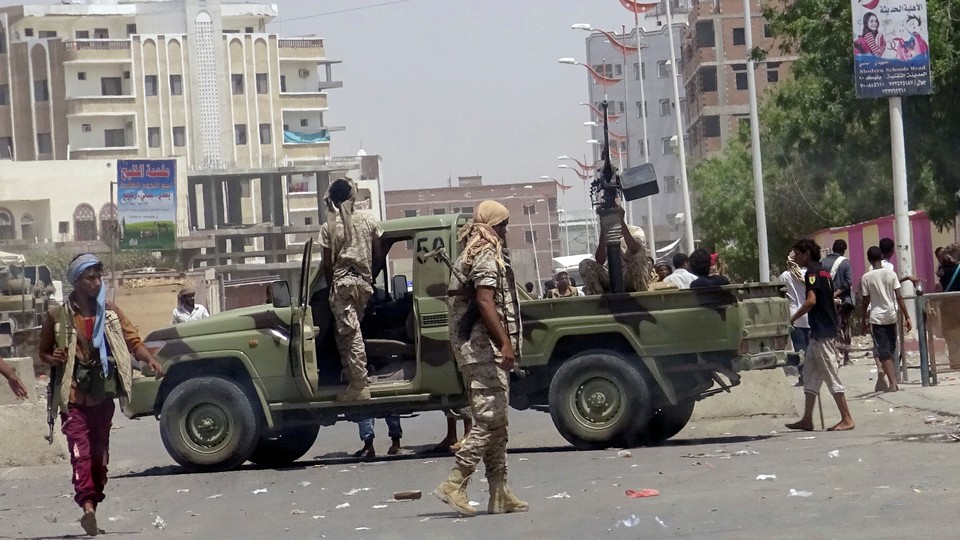 NEWS BRIEF A suicide bomber killed more than 50 people and wounded dozens of others Monday in Aden, Yemen. ISIS claimed responsibility for the attack that killed recruits to a pro-government militia.
Yemen has been in chaos since 2014 when the Houthis, a Shiite group allied with Iran, seized control of the capital, Sanaa. Saudi Arabia intervened militarily on the side of Abd-Rabbu Mansour Hadi, the deposed Sunni president. The conflict, which has killed an estimated 9,000 people, mostly civilians, has turned into a proxy war between the Saudis and their regional rivals, Iran. Add to this mix the Islamic State. The militant group has used the instability to gain a foothold in Yemen, striking major attacks throughout the south of the country.
Indeed, the suicide bomber in Monday's attack drove a car bomb into a militia compound in Mansoura, a district in the port city of Aden. Reuters cited an unnamed security source as saying, in the words of the news agency, "the attack targeted a school compound where conscripts of the Popular Committees, forces allied to … Hadi, were gathered for breakfast. Witnesses said the suicide bomber entered the compound behind a truck that had brought breakfast for the conscripts, who had queued for the meal." The New York Times adds:
The killed and wounded recruits, most in their 20s and 30s, were signing up for military training in Djibouti and Eritrea, another official said. There, the newcomers would have been prepared to fight Shiite Houthi rebels in the north, near the border with Saudi Arabia, he added.
Estimates of the death toll varied. Médecins Sans Frontières, the group known as Doctors Without Borders, said on Twitter that its hospital received 45 dead and 60 wounded. But Yemen's Health Ministry put the death toll at 54.