The Resumption of Hostilities in Yemen
Saudi-led airstrikes killed at least 13 people in the Yemeni capital after UN-sponsored peace talks broke down over the weekend.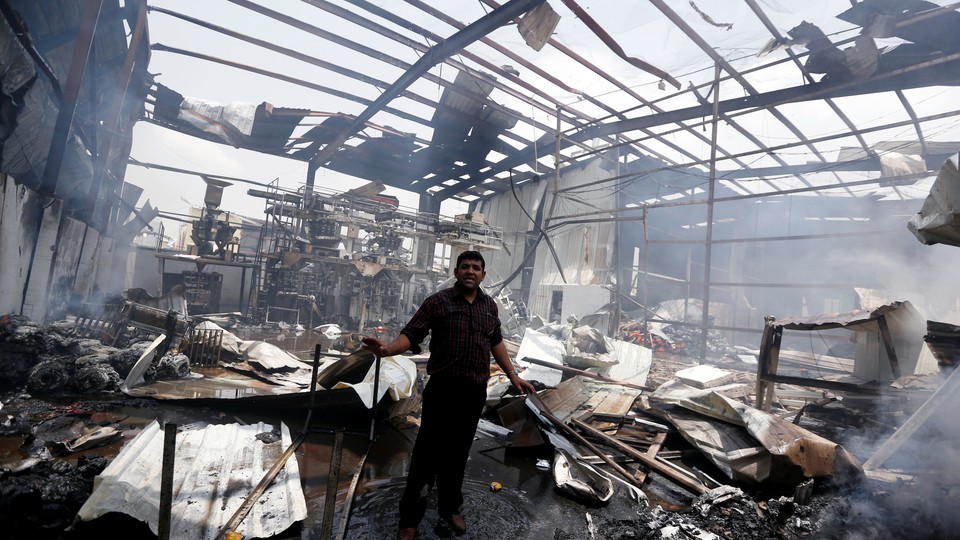 NEWS BRIEF At least 13 people were killed Tuesday in Saudi-led airstrikes on a potato-chip factory in Sanaa, Yemen, following the breakdown of United Nations-led peace talks over the weekend, Reuters reports.
The airstrikes on the Yemeni capital, which targeted Houthi rebels, are the first since April, when the UN-sponsored negotiations between the Saudi-backed government and the Iran-allied Houthis began. The negotiations broke down in Kuwait without an agreement Saturday after the Houthis and the party of former President Ali Abdullah Saleh announced the creation of a 10-member governing council to run the country—a move condemned by the UN, which called the decision "a clear violation of the Yemeni constitution."
Ismail Ould Cheik Ahmed, the UN special envoy for Yemen, reaffirmed peace talks would continue despite the one-month break and called on all parties to renew their commitment to the cessation of hostilities. He said:
We depart Kuwait today but the Yemen peace talks continue. The structure and mechanism will change during the coming weeks so that we give the parties space to consult with their leaderships. … We must continue to urge the parties to initiate a series of confidence-building measures and it is their duty to continue the releases of detainees and refrain from adopting unilateral measures
Additional attacks were reported Sunday night in eastern Sanaa, in which UNICEF, the UN children's organization, confirmed reports of at least four fatalities, though it did not say who was behind the attack.
Sanaa fell to the Houthis when the rebel group captured large swaths of the country in 2014. The Saudi-led coalition began launching airstrikes against Houthi-controlled areas in March 2015. Since then, the Office of the UN High Commissioner for Human Rights (OHCHR) estimates at least 9,000 people have been killed, mostly civilians. As of June, the UN reports that more than two million people have been internally displaced.