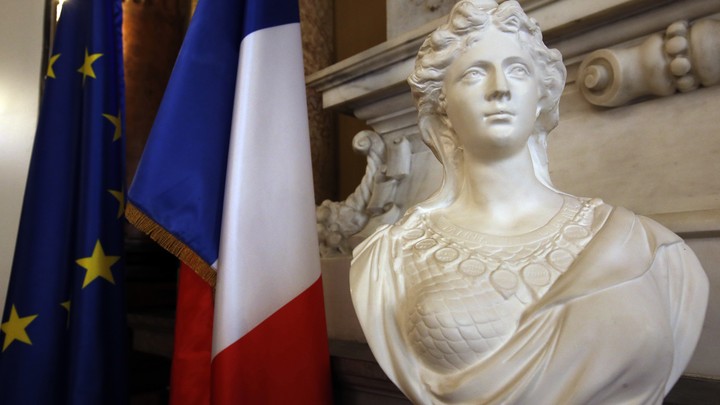 NEWS BRIEF French Prime Minister Manuel Valls's invocation of Marianne, the symbol of the republic, to explain his continued support for banning the burqini on French beaches has angered politicians and historians alike.
"Her breast is exposed because she is feeding the people," Valls said of the iconic French symbol Monday night at a rally for the Socialist party. "She isn't wearing a veil because she is free. That is the republic."
His comments came just days after a ruling by France's State Council Friday overturning the ban on the full-body swimwear favored by some Muslim women in the town of Villeneuve-Loubet. Although the high court's decision was expected to set a legal precedent for the 26 towns where a proscription of the swimsuit has already been in place, several French lawmakers, including Valls, insisted the ruling by the high court "does not end the debate" on the burqini.
Mathilde Larrere, a French Revolution historian, used Twitter to criticize the prime minister's use of the iconic revolutionary figure as an allegory for the burqini debate, arguing the image Valls was referring to, which was painted by Eugène Delacroix in 1830 in commemoration of France's July Revolution, was a symbol of freedom—not the republic. She further argued that no one at that time would have envisioned giving women civil liberties.  
6)En 1830, Delacroix peint sa Liberté qui n'est pas une République, mais 1 liberté (Eugène n'étant pas républicain) pic.twitter.com/pWNk2iUxBB

— mathilde larrere (@LarrereMathilde) August 29, 2016
Cécile Duflot, a Green Party minister of territorial equality and housing, called Valls's comments comical, highlighting the fact the iconic French symbol's head is also covered.
"À mon avis la principale qualité de Marianne c'est la persévérance" pic.twitter.com/fvS2mxehuv

— Cécile Duflot (@CecileDuflot) August 29, 2016
"In my opinion, the principal quality of Marianne is her perseverance," she tweeted.
Valls has been a vocal supporter of banning the burqini, which he described as "not compatible with the values of France and the Republic." Other French lawmakers have echoed similar sentiments, calling the swimsuit a symbol of Islamic extremism.
Religious dress has long been been a controversial issue in France, whose secularist laws prohibit displays of religion in certain settings. The issue resurfaced more recently following the burqini debate, and some lawmakers—including leaders of the far-right National Front party and Republican presidential candidate Nicolas Sarkozy—have called for a law banning the swimsuit altogether.
When asked Monday whether such a ban would be unconstitutional, Sarkozy said, "Well, then we change the constitution. We've changed it 30 odd times, it's not a problem."
We want to hear what you think about this article. Submit a letter to the editor or write to letters@theatlantic.com.