U.K. Interest Rates: A Record Low
The Bank of England cut rates from 0.5 percent to 0.25 percent in a bid to stimulate the economy after the Brexit vote.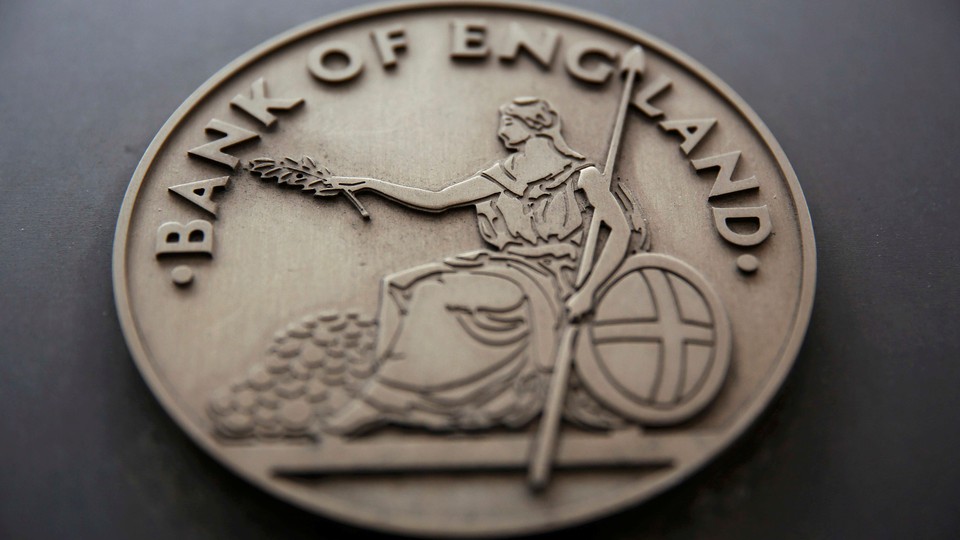 Updated at 7:29 a.m. ET
NEWS BRIEF Britain's central bank cut Thursday interest rates from 0.5 percent to 0.25 percent—their lowest levels ever since the Bank of England was established in 1694. The cut is also the first since March 2009, when the world was in the midst of the great recession.
The move Thursday is an attempt to boost the U.K.'s economy after the unease caused by the Brexit vote.
In addition to the 25 basis-point cut in the bank rate, the Bank of England also announced the purchase of up to £10 billion ($13.17 billion) in British corporate bonds; and an expansion of the asset-purchase scheme for U.K. government bonds of £60 billion ($79 billion). Also on the cards: a new term-funding scheme that will lend to banks at close to the 0.25 percent base rate. It's an attempt to encourage the banks to continue lending in times of economic uncertainty.
Following the United Kingdom's vote to leave the European Union, the exchange rate has fallen and the outlook for growth in the short to medium term has weakened markedly.  The fall in sterling is likely to push up on CPI inflation in the near term, hastening its return to the 2% target and probably causing it to rise above the target in the latter part of the MPC's forecast period, before the exchange rate effect dissipates thereafter.  In the real economy, although the weaker medium-term outlook for activity largely reflects a downward revision to the economy's supply capacity, near-term weakness in demand is likely to open up a margin of spare capacity, including an eventual rise in unemployment.  Consistent with this, recent surveys of business activity, confidence and optimism suggest that the United Kingdom is likely to see little growth in GDP in the second half of this year.
The central bank lowered its growth forecast for the U.K. in 2017 to 0.8 percent—that's down significantly from the 2.3 percent growth forecast in May. It's the bank's largest downward revision since 1992, when it began making the prediction.
Low interest rates are thought to be good for businesses and home-buyers because they can get loans at lower rates; those most likely to be hurt by them include savers and those with pensions that are linked to interest rates.