The Wedding Bombing in Turkey
The death toll in the attack in Gaziantep, which was carried out by a young boy, has risen to 54, more than half of them under age 18.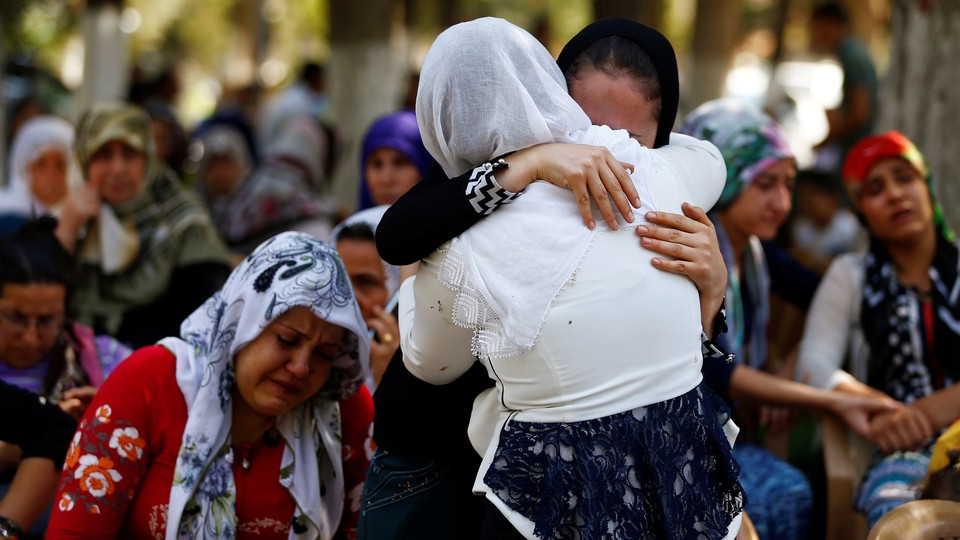 Updated on August 22 at 11:58 a.m.
NEWS BRIEF The death toll in the suicide bombing of a wedding celebration in southern Turkey has risen to 54, more than half of them under 18, as several victims died in the hospital Monday.
The attack occurred Saturday night in Gaziantep as guests danced in the streets. President Recep Tayyip Erdogan said Sunday the bomber was a boy between the ages of 12 and 14, but government officials backtracked Monday, saying they did not know whether the attacker was a child or an adult.
More than 60 people were wounded, including the bride and groom. Sixty-six people remain in the hospital, with 14 of them in serious condition, the BBC reported, citing Turkish media. Three people, critically wounded, died in the hospital Monday morning.
Erdogan blamed the Islamic State, which has been suspected of other bombings in Turkey, for the attack. The militant group has been known to use child attackers in bombings elsewhere, but has not claimed responsibility for this attack. Officials are awaiting the results of DNA tests on the remains of the attacker, whose identity is not known.
The Gaziantep bombing targeted a wedding celebration known as henna night, an evening during which the bride's hands are adorned in reddish-brown temporary tattoos. Henna night is attended by mostly female guests, and many women were among the dead. Most of the victims were children; 29 were under the age of 18, the BBC reported, citing Turkish media. More from the BBC:
One woman lost four children in the attack, the Haberturk newspaper reported. Emine Arhan told the title "if it wasn't for my only surviving child, I would have killed myself".
The first funerals were held Sunday.
The wedding celebration was for a member of the Peoples' Democratic Party, a pro-Kurdish political party in the country, Reuters reported. Kurdish militias have been key to the U.S.-led coalition against ISIS in Iraq and Syria.
Dozens in Turkey have been killed in similar bombings in the last year. Gaziantep is about 40 kilometers, or 25 miles, from Turkey's border with Syria, where Turkey has been bombing Islamic State targets since July 2015. Turkish forces are also fighting the PKK, a Kurdish separatist group that the Turkish government considers a terrorist organization, in the country's southeast.