Resetting Turkey's Ties With Russia
Recep Tayyip Erdogan's meeting with Vladimir Putin is an attempt to repair relations damaged by their support for opposite sides in Syria's civil war.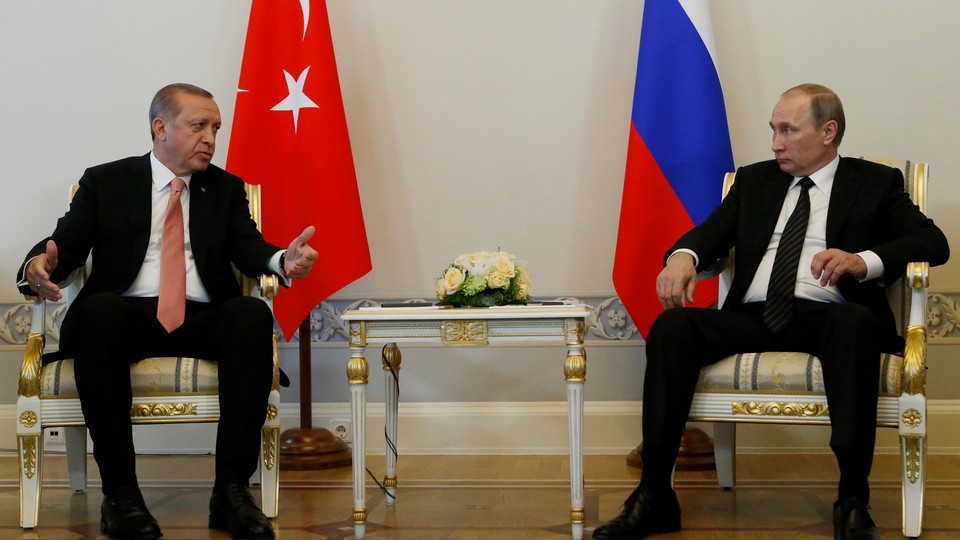 NEWS BRIEFTurkey's president, who is under fire in the West over his crackdown following last month's coup attempt, is meeting with Vladimir Putin in St. Petersburg on Tuesday to reset relations with Russia. Ties between the two countries have been acrimonious since last year when they found themselves on opposite sides of the civil war in Syria.
At the start of the meeting, which began with a handshake, Putin acknowledged their past differences, but noted that rapprochement was necessary.
"Your visit, which comes amid a very complicated situation in Turkey, indicates that all of us want to revive our dialogue and restore relations for the sake of the Turkish and Russian peoples," he said.
Erdogan, in an interview to TASS news agency before the meeting, said much the same thing: "This will be a historic visit, a fresh start. I believe that a new page will be opened [during]... the negotiations with my friend Vladimir."
Although it may seem like Erdogan's attempt to mend relations is a direct consequence of Western criticism of his crackdown on those in Turkey being blamed for the coup attempt, the overture, in fact, began in June. As we reported at the time, Erdogan, in a letter to Russia, expressed regret for the shooting down last November of a Russian jet near Turkish airspace (the two countries disagreed about which side of the Syria-Turkey border the plane was over). Putin described the plane's downing as a "stab in the back." Russia, in response, unleashed a barrage of invectives, as well as sanctions, against Turkey.
All that now seems like the stuff of history—though there is still the inconvenient matter of the Syrian civil war. Russia sides with Syrian President Bashar al-Assad; Turkey, which wants Assad gone, supports rebel groups, including Islamist ones, who are fighting Assad. But the Syrian leader remains firmly in power more than five years after the civil war began, and Turkey is diplomatically isolated. Its allies in the West have criticized Erdogan's crackdown (while Russia has not); the U.S., its major partner, has been cautious about saying whether it will extradite Fethullah Gulen, the Pennsylvania-based cleric Erdogan holds responsible for the coup attempt; and the U.S. is also supporting Kurdish rebel groups fighting Assad—groups Turkey regards as terrorists. Turkey needs allies, and Erdogan's visit to Russia, his first since last month's coup attempt, is a first step toward winning them over.