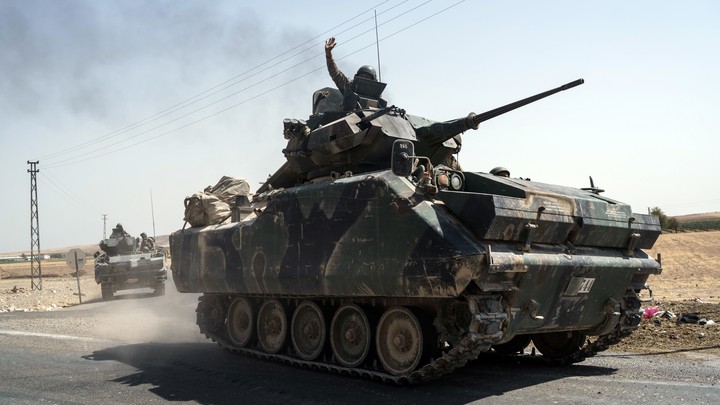 NEWS BRIEF The U.S. says fighting between the Turkish military and Kurdish fighters in northern Syria is "unacceptable."
DOD: We want to make clear that we find these clashes -- in areas where #ISIL is not located -- unacceptable and a source of deep concern.

— Brett McGurk (@brett_mcgurk) August 29, 2016
The Turkish military, and its allies in the Free Syrian Army, struck villages held by the Syrian Democratic Forces, a U.S.-backed group that is led by the Kurdish Popular Protection Units, or YPG. That comes after last week's development in which Turkish troops and their allies, backed by U.S. airstrikes, forced ISIS out of the Syrian city of Jarablus. The U.S. Defense Department was quick Monday to dissociate itself from Monday's strikes on nearby Kurdish villages.
The mostly Kurdish  Syrian Democratic Forces (SDF) have been one of the more successful anti-ISIS fighting units, having recently retaken the town of Manbij from the Islamist group. But U.S. support for the group, as well as SDF's military successes, have incensed Turkey, which views Kurdish groups with suspicion and regards some of them as terrorist organizations. Indeed one of the groups Turkey categorizes that way is the YPG, which is the main group within the SDF. Turkey regards the YDF as an arm of the outlawed Kurdistan Workers Party (PKK), but the U.S., which labels the PKK a terrorist organization, views it as distinct from the YDF, which it supports.
Last week Joe Biden, the American vice president, on a visit to Ankara told the Kurdish fighters in Syria to pull back to their traditional lands east of the Euphrates River or face losing U.S. support. (The SDF said it did.) That followed Turkish troops, backed by U.S. airstrikes, venturing into Syria to strike militants. The moves were seen as an attempt to mend a rift between the two allies caused by Washington's support for the SDF, as well as what President Recep Tayyip Erdogan's government views as insufficient support from the Obama administration following last month's failed coup. Monday's remarks by the Pentagon could exacerbate those tensions.
Turkish officials said Monday the "YPG "will be targeted until it moves east of Euphrates." The Kurdish group said Turkey was trying to establish a hold inside Syrian territory.
We want to hear what you think about this article. Submit a letter to the editor or write to letters@theatlantic.com.