Trump's Reshuffle
The GOP presidential nominee has hired a senior executive from Breitbart News and promoted a senior aide in an attempt to jump-start his foundering campaign.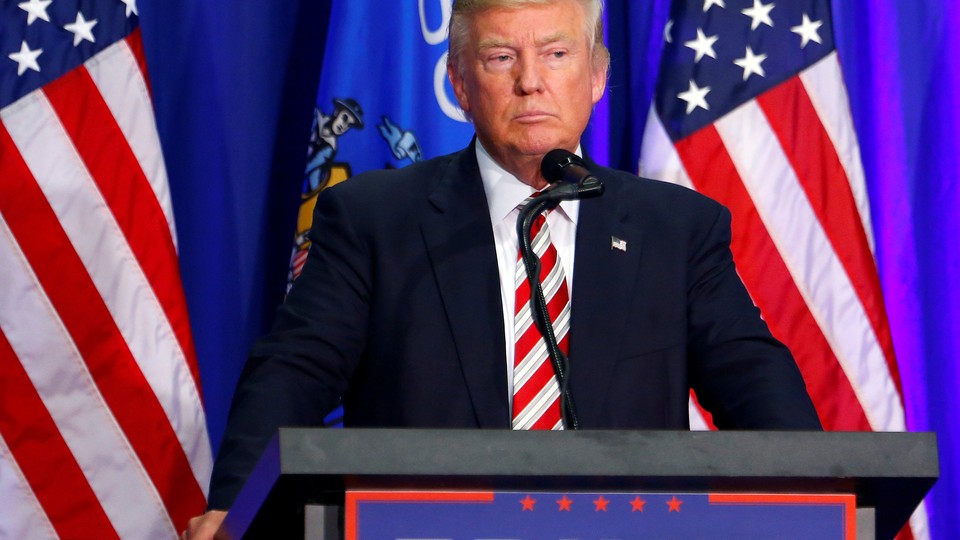 NEWS BRIEF Donald Trump has hired a senior executive from Breitbart News and promoted a campaign adviser to a top position in an effort to jump-start his presidential campaign, which has been foundering in recent days.
Under the changes announced Wednesday, Stephen Bannon, Breitbart's executive chairman, will become chief executive of the GOP presidential nominee's campaign, and Kellyanne Conway, the Republican strategist and pollster, who currently is a senior adviser on the campaign, will become the campaign manager. Paul Manafort, who has come under scrutiny for his reported ties to Ukraine's former Moscow-backed leader, will retain his title as campaign chairman, though it's unclear whether he will continue to wield the same kind of influence in the new regime.
The news comes the day Trump is scheduled to receive his first intelligence briefing at the FBI's offices in New York, an election-season tradition for the nominees from both parties.
The reshuffle also comes a day after The New York Times reported that Roger Ailes, the recently ousted Fox News chief, is advising Trump ahead of the presidential debates (Hope Hicks, Trump's spokeswoman, denied the report). If confirmed, it would mean executives with ties to two of the leading conservative-leaning news organizations are supporting Trump. Breitbart has been favorable in its coverage of the GOP presidential nominee.
The debates are where the Trump campaign is hoping to make up for ground lost to Hillary Clinton, the Democratic nominee, in most national and swing-state polls that show her up by wide margins. Trump himself has resisted efforts to "pivot" before a general election, saying he wants to maintain the same persona that won him the Republican nomination against better funded and more favored rivals.