Who Wants to Buy Truman Capote's Ashes?
The author's remains will be sold at auction next month, along with the clothes he was wearing when he died in 1984.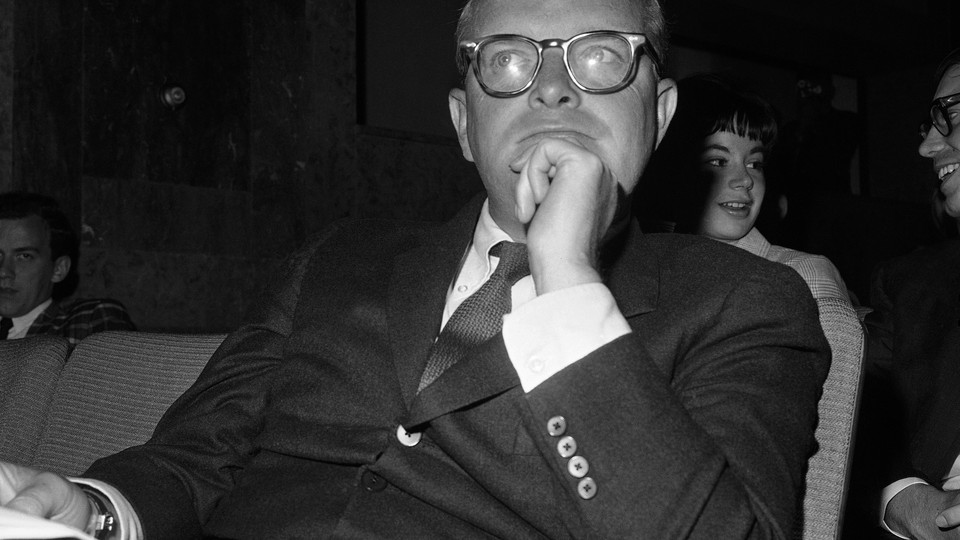 Truman Capote knew from a young age, he once told The New York Times, that "I was a very special person, and I had to have a very special life."
The author of Breakfast at Tiffany's and In Cold Blood did indeed lead a special life, both as one of the most famous postwar American authors, and as a New York socialite and friend of the famous. Near the end of his life, Capote moved from New York to live in Los Angeles with the late Joanne Carson. After Capote died on August 25, 1984, some of his ashes stayed with Carson, in a carved wooden box, in a room she kept as intact as a shrine.
Capote's ashes were stolen and salvaged twice while in Carson's care. And after her death last year, her estate put the remains up for auction. The bidding is scheduled to open September 23, and starts at  $2,000. The Los Angeles auction house in charge, Julien's Auctions, has valued the ashes to be between $4,000 and $6,000.
Here they are:
Also for sale are a bunch of Capote's trousers and collared shirts, as well as the polo and swimsuit Capote was wearing when he died. In death, Carson often said she found comfort in speaking to Capote's ashes. One night in 1988, after her 57th birthday party, Carson walked into Capote's old room to bring him balloons and noticed the ashes were missing. Carson later told People magazine she "felt cold water running through" her heart when the realization sunk in. But six days later, the ashes mysteriously returned. Carson said she heard a car speed away from her home, and when she went outside to investigate she found Capote's remains coiled up in a garden hose.
The ashes were later stolen again, but little is known about the incident. After that, Carson kept Capote's ashes at a Los Angeles cemetery, near the remains of Marilyn Monroe, one of Capote's favorite Hollywood stars.
Darren Julien, the CEO of Julien's Auctions, the auctioneer handling Capote's remains, told Vanity Fair last week that while it's unusual, the sale of human parts is not unprecedented. Most notably, Napoleon's penis—or what is believed to be his penis—was auctioned in 1977 and now resides in a private New Jersey home. Actor William Shatner sold his kidney stone in 2006.
Julien said he understands how some people may see the auction as disrespectful. But Capote wouldn't think so, he said. "Truman Capote loved the element of shock," Julien told Vanity Fair. "He loved publicity. And I'm sure he's looking down laughing, and saying, 'That's something I would have done.'"