The Uzbek President Is Hospitalized for a Stroke
Islam Karimov suffered a hemorrhagic stroke over the weekend, fueling speculation over the likelihood of a transition of power in the country.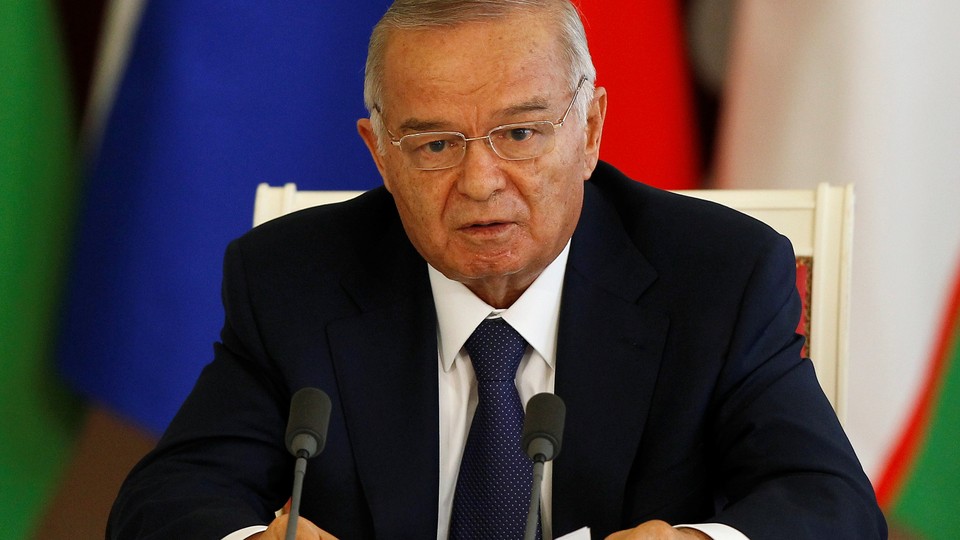 NEWS BRIEF Uzbekistan President Islam Karimov has been hospitalized after suffering a hemorrhagic stroke over the weekend, the leader's daughter said Monday.
"His condition is considered stable," Lola Karimova-Tillyaeva, Karimov's daughter and an Uzbek diplomat, wrote in an Instagram post. "At the moment it is too early to make any predictions about his future health. My only request to everyone is to refrain from any speculations, and show respect to our family's right to privacy."
Reports of Karimov's poor health were first announced Sunday by the country's Cabinet of Ministers, the Associated Press reports. The government statement on Karimov's health did not elaborate on the specifics of his condition, saying only that Karimov, who is 78, is "receiving inpatient treatment" that "will require a certain amount of time." The statement was fairly unprecedented; Uzbekistan is rated among the "worst of the worst" countries in terms of repression by Freedom House, a U.S. non-governmental organization tracking democracy, political freedom, and human rights. The country is known for discouraging expression that may be considered threatening to the stability of government.
"It's been important for all authoritarian rulers to project strength at all times," Steve Swerdlow of Human Rights Watch told the BBC Monday. "Certainly any vocalization that Karimov's power is not absolute has been seen as a threat to the entire system."
The announcement comes days before the country's 25th independence day celebrations Thursday, in which Karimov has traditionally performed a dance.
Karimov's health has long been the subject of speculation. His limited public appearances during the country's 2015 presidential election fueled rumors about his ailing condition, though the government had never publicly commented on the subject until Sunday's announcement.
Monday's announcement has prompted questions over who would succeed Karimov in the event of a transition of power, as well what such a transition would mean for the country. Foreign Policy has more:
But Karimov's hospitalization, and the increased likelihood of political succession in Uzbekistan, comes as the country, and Central Asia as a whole, faces some of the greatest economic and security challenges in post-Soviet history.

"There will be losers from Karimov's demise no matter how smoothly succession takes place," Erica Marat, an assistant professor at the National Defense University, told Foreign Policy. "With no pre-set procedures of succession and a complete lack of experience in holding open elections, anyone who comes to power will continue the same level of political repression or engage in even harsher methods."
Karimov has led the country since he was first appointed the former Soviet republic's Communist party chief by Mikhail Gorbachev in 1989. After Uzbekistan achieved independence in 1991, he was elected its first president.