The U.S. Accepts 10,000th Syrian Refugee This Year
The Obama administration said it has reached its goal of taking in thousands of refugees from war-torn Syria one month ahead of schedule.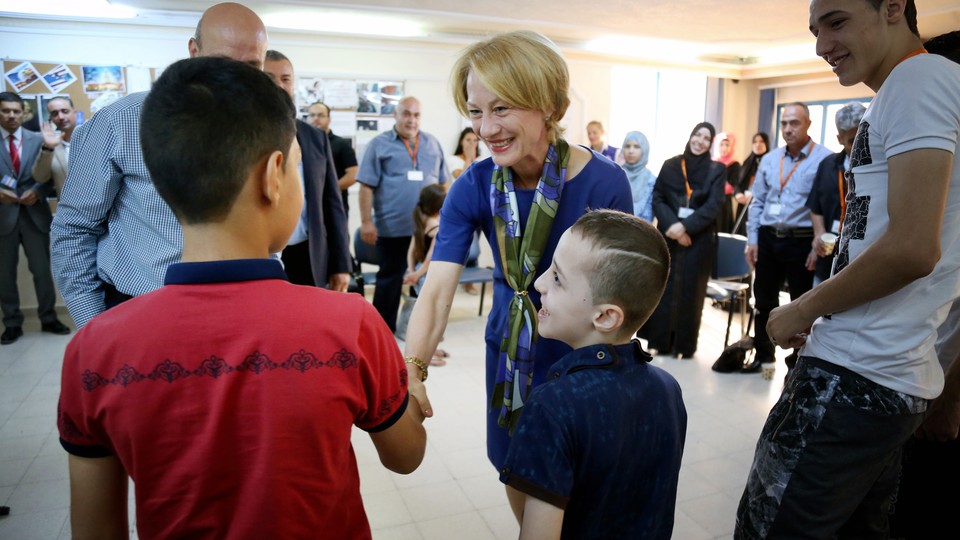 The United States has now accepted 10,000 Syrian refugees into the country in the last year, the White House said.
National security adviser Susan Rice said in a statement the 10,000th refugee touched down Monday afternoon. The arrival marks the completion of the Obama administration's pledge, made last September, to accept that number of refugees from the war-torn country by the end of next month.
Over the last year, the U.S. government has resettled Syrian refugees in dozens of states; Michigan and California have taken the most, with 570 and 500, respectively, according to Time. On Monday, Rice thanked the "generous communities throughout our country that have continued to open their arms to these new neighbors, demonstrating the values that have made our nation great."
Rice said the U.S. will admit at least 85,000 refugees from various countries this year. In the 2015 fiscal year, the U.S. admitted 70,000 refugees.
The Obama administration announced last fall it would accept 10,000 Syrian refugees by the end of fiscal year 2016, which is September 30, in response to Europe's migrant crisis, the worst of its kind since World War II. It also allocated $4 billion to humanitarian groups working with refugees. In fiscal year 2015, the U.S. accepted 1,500 Syrian refugees.
Last fall, Europe's refugee crisis prompted many countries to evaluate their asylum-seeking policies, particularly regarding Syrians, who make up the bulk of those applying for asylum in the European Union. Germany, the favored destination for many people fleeing the Middle East and Africa, instituted an open-door policy. The country accepted about half a million Syrian refugees in 2015, and expects to accept about 300,000 in 2016. Britain committed to taking in 20,000 Syrians over the next five years, and France pledged to admit more than 30,000 Syrians over the next two years. Canada has resettled more than 30,000 Syrians since last November. Australia, which is known for its strict immigration policies, vowed to accept 12,000 refugees from Syria and Iraq in addition to the 13,750 humanitarian visas it already grants annually.
Other European countries have instead attempted to shut out refugees and migrants. Hungary last year constructed a razor-wire fence along its borders with Serbia and Croatia, and now plans to build a more permanent wall. Sweden and other Scandinavian countries that initially welcomed refugees have been trying for months to stem migration by rejecting asylum claims and deporting refugees. In January, The Guardian wrote:
[Sweden's] interior ministry has called on police and migration authorities to prepare for a sharp increase in deportations, and to arrange charter flights to expel refused asylum seekers to their country of origin. Sweden is also approaching other EU countries, including Germany, to discuss cooperation to increase efficiency and make sure flights are filled to capacity, it said.
Obama's program to resettle Syrian refugees received significant support when it was announced last September; 51 percent of Americans backed the plan, according to a poll by the Pew Research Center. Back then, Democratic presidential nominee Hillary Clinton called the program "a good start," and said the U.S. should accept 65,000 refugees. A month later, after the ISIS attacks in Paris, Republican presidential nominee Donald Trump said allowing Syrian refugees into the country could be a "Trojan horse" that would grant terrorists entry to the U.S. Last December, Trump called for a blanket ban on Muslims entering the U.S.
Americans' opinions on accepting refugees shifted after the Paris attacks, according to polling from Bloomberg. Following the assault, 53 percent of Americans said they believed the U.S. should stop accepting refugees altogether.