The Photograph That Captures France's Debate Over the Burqini
Four police officers fined a woman on a Nice beach for wearing the swimsuit favored by some Muslims.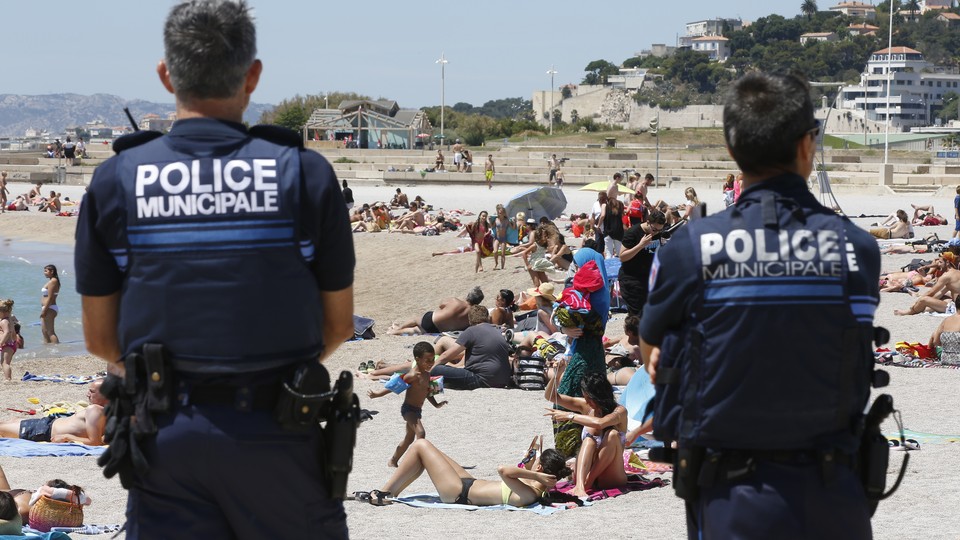 NEWS BRIEF These images of four police officers fining a woman for wearing a burqini on a beach in Nice is the latest salvo in the debate in France over the bathing suit favored by some Muslim women.
The images taken Tuesday show four policemen approaching a woman lounging on the shores of the Promenade des Anglais, where the burqini ban has been in place since last week. Subsequent images show the woman—who is wearing a long-sleeved tunic, leggings, and a headscarf—removing her top layer of clothing as three policemen stand overhead, and one kneels down to issue a ticket.
The ticket, according to Agence France-Presse, said she was not wearing "an outfit respecting good morals and secularism." The fine for defying the ban is 38 euros. One witness to the incident told AFP some onlookers were applauding the police and shouting "go home" to the woman and her daughter.
The authorities in Nice aren't the first to begin ticketing those sporting the full-body swimwear on French beaches. In Cannes, at least three women were issued fines, and six others were told to leave the beach to avoid being ticketed.
The burqini ban was first adopted in Cannes, whose mayor called the full-body swimsuit a "symbol of Islamic extremism." Since then, at least 15 towns across the country have implemented bans prohibiting people from wearing the swimwear on French beaches.
The swimwear gets its name from the Burqini swimsuit brand; the brand name has been used to refer generally to full-body swimsuits of that style, and the ban applies to all.
France is officially secular and forbids displays of religiosity—including headscarves, yarmulkes, and large crosses—in public institutions, such as public schools. Whether the burqini qualifies as religious garb has prompted a nationwide debate. The fine issued to the woman in Nice and the reported reason for the fine—not wearing "an outfit respecting good morals and secularism"—has parallels with penalties issued in conservative Muslim societies to women whose clothes are deemed "immodest"—though those punishments are markedly more severe.
Since the ban's implementation in France, the Burqini brand—which was started in 2006 by Australian-Lebanese designer Aheda Zanetti—has seen a sharp increase in sales; not all buyers are Muslim.
"I can tell you that online on Sunday, we received 60 orders—all of them non-Muslim," Zanetti, who says she usually receives 10 to 12 orders, told AFP Tuesday. She said many of her customers purchase the swimwear for its sun protection.