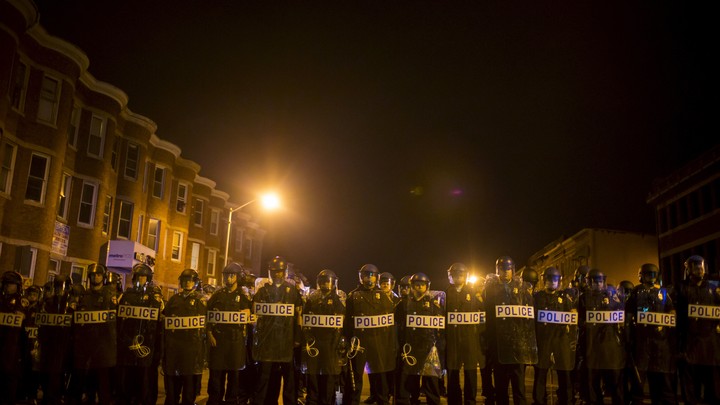 The Baltimore Police Department routinely violated the constitutional rights of citizens, used excessive force, and discriminated against African Americans, the U.S. Department of Justice said in a detailed investigation released Wednesday.
"The relationship between the Baltimore Police Department and many of the communities it serves is broken," the 163-page report states. "Officers seemed to view themselves as controlling the city rather than as a part of the city. Many others, including high ranking officers in the Department, view themselves as enforcing the will of the 'silent majority.'"
The document lays out, in often sickening detail, the many ways Baltimore police abused the law, the people they were meant to serve, the public trust, and their own brothers in arms. In the wake of the failed prosecution of six officers for the death of Freddie Gray, the report serves as a reminder that rather than an isolated crime, the Gray case was symptomatic of a force that regularly arrested people for insufficient reasons, or no reasons at all, and used excessive force against them—but particularly, and uniquely, black citizens of the city. The Justice Department makes clear that African Americans in Baltimore were targeted and abused by the police, making this report a twin to the department's report on Ferguson, Missouri, which my colleague Conor Friedersdorf wrote indicated a "conspiracy against black citizens."
The inquiry is the product of more than a year's worth of investigation. In the aftermath of Gray's death in April 2015, Mayor Stephanie Rawlings-Blake sacked police Commissioner Anthony Batts and asked the Justice Department to intervene. Attorney General Loretta Lynch, in her first week on the job, agreed to the request. In response to the scathing report, the city is expected to agree to a consent decree or memorandum of agreement with the Department of Justice, promising to address the problems. Other deeply troubled departments, including Cleveland and Ferguson have reached similar consent decrees, which can cost tens of millions of dollars to implement.
The report applauds the mayor and current Commissioner Kevin Davis for cooperating. One of the more striking elements of the report is that there's little disagreement about the dire straits in Charm City.
"Almost everyone who spoke to us—from current and former City leaders, BPD officers and command staff during ride-alongs and interviews, community members throughout the many neighborhoods of Baltimore, union representatives of all levels of officers in BPD, advocacy groups, and civic and religious leaders—agrees that BPD has significant problems that have undermined its efforts to police constitutionally and effectively," the report states.
President Obama and other leaders have noted that police are often asked to grapple with problems they are neither hired nor equipped to answer, from entrenched poverty to public-health crises to systemic racism. The report does not stint on those issues, including, for example, a history of redlining. But it also makes clear this "does not excuse BPD's violations of the constitutional and statutory rights of the people living in these challenging conditions." Indeed, "BPD's law enforcement practices at times exacerbate the longstanding structural inequalities in the City" [emphasis added].
It's impossible to sum up the breadth of the report succinctly, but these are a few of the most surprising, troubling, and disturbing findings. They involve not only racial disparities, but dismissive attitudes toward sexual assault, violence against the mentally ill, and a culture of retaliation against whistleblowers.
Constitutional Violations
The report comes down hard on "zero-tolerance" policing, a variation on the "Broken Windows" style that was laid out in a 1982 Atlantic article and was until relatively recently in vogue in major cities around the nation:
Starting in at least the late 1990s, however, City and BPD leadership responded to the City's challenges by encouraging "zero tolerance" street enforcement that prioritized officers making large numbers of stops, searches, and arrests—and often resorting to force—with minimal training and insufficient oversight from supervisors or through other accountability structures. These practices led to repeated violations of the constitutional and statutory rights, further eroding the community's trust in the police.
Police frequently arrested people for minor offenses. More recent city and department leadership have rejected that policy, but the report documents how that message hasn't made it down to mid-level commanders and officers on the beat:
Many BPD supervisors instruct officers to make frequent stops and arrests—even for minor offenses and with minimal or no suspicion—without sufficient consideration of whether this enforcement strategy promotes public safety and community trust or conforms to constitutional standards.
Many of BPD's stops lack the reasonable suspicion required to justify them, and many of the arrests they make are unconstitutional, too: They either lack a warrant and probable cause, or officers failed to inform people they were engaged in unlawful activity. In many cases, they also end without a citation or arrest. Strong evidence of the flimsiness of many arrests comes from the fact central booking and local prosecutors rejected more than 11,000 charges between 2010 and 2015.
Just how often are police stopping or arresting people for rinky-dink violations, or for no reason at all? Over a four-year-plus stretch from January 2010 to May 2014, police reported more than 300,000 pedestrian stops. But the report doubts that figure, noting that stops are one area where Baltimore cops consistently failed to document their actions. "In short, our investigation suggests that BPD officers likely make several hundred thousand pedestrian stops per year in a city with only 620,000 residents," the report says.
Those stops are highly localized, though:
From 2010–2014, BPD officers in the Western and Central Districts recorded more than 111,500 stops—roughly 44 percent of the total stops for which officers recorded a district location. Yet these are the two least populated police districts in Baltimore, with a combined population of only 75,000, or 12 percent of City residents. These districts include the City's central business district and several poor, urban neighborhoods with mostly African-American residents. In these districts, police recorded nearly 1.5 stops per resident over a four-year period. [emphasis added]
One African American man was stopped 34 times during that stretch, all in the Western or Central districts, while several hundred others were stopped at least 10 times. Seven were stopped more than 30 times.
"BPD officers made 520 stops for every 1,000 black residents in Baltimore, but only 180 stops for every 1,000 Caucasian residents," the Justice Department report notes.
Baltimore police routinely trample on First Amendment rights, arresting "members of the public for engaging in speech the officers perceive to be critical or disrespectful." Supervisors have encouraged "facially unconstitutional" arrests for trespassing. One shift commander emailed a template for such arrests to officers and a sergeant. Even worse,
the template contains blanks to be filled in for details of the arrest, including the arrest data and location and the suspect's name and address, but does not include a prompt to fill in the race or gender of the arrestee. Rather, the words "black male" are automatically included in the description of the arrest. The supervisor's template thus presumes that individuals arrested for trespassing will be African American. [emphasis added]
This is, as explored below, barely the start of racially discriminatory enforcement.
The Justice Department also found a pattern of police arresting people as part of effectively speculative roundups:
Local prosecutors described this practice to Justice Department officials as BPD officers making arrests without probable cause on the street, then hours later deciding to "unarrest" when detention and questioning failed to uncover additional evidence.
Discriminatory Policing Against African Americans
Even as the report finds widespread abuses within the department, it leaves no doubt that it is black Baltimoreans who bear the brunt of this abuse. This is true of both stops and arrests. In both cases, African American pedestrians and drivers are both stopped at numbers that far outweigh their share of the population. They are also more likely to be searched—even though "BPD officers found contraband twice as often when searching white individuals compared to African Americans during vehicle stops and 50 percent more often during pedestrian stops."
Black citizens represent the vast majority of those stopped in predominantly black neighborhoods (93 percent of stops vs. 90 percent of the population in the Eastern District); mixed neighborhoods (83 percent of stops vs. 57 percent of the population in the Central District); and mostly white ones (66 percent of stops vs. 23 percent of the population in the Southeast District).
Unsurprisingly, these statistics lead to discrepancies in arrest rates, too: "African Americans similarly accounted for 86 percent of all criminal offenses charged by BPD officers despite making up only 63 percent of Baltimore residents." Blacks particularly dominate the arrest rates for minor and procedural violations. For example:
87 percent of the 3,400 charges for resisting arrest
89 percent of 1,350 charges for making a false statement to an officer
84 percent of the 4,000 charges for failing to obey an order
86 percent of the more than 1,000 charges for hindering or obstruction
83 percent of the roughly 6,500 arrests for disorderly conduct
88 percent of the nearly 3,500 arrests for trespassing on posted property
The report notes that charges against blacks are declined at "significantly higher rates" than charges against people of other races, indicating that blacks are being over-arrested.
Other charges seem to be reserved entirely for African Americans. Of 657 people arrested for "gaming" or playing "cards or dice," 99 percent were black. The report drily comments, "Although we are not aware of any data tracking the precise rate at which people of different races play cards or dice, it is extremely unlikely that African Americans comprise 99 percent of those doing so."
As a result of these discrepancies, blacks are five times more likely to be arrested for drug offenses, though "survey data shows that African Americans use drugs at rates similar to or slightly exceeding other population groups." While disparate arrest rates are a problem in many cities, Baltimore blows the competition away: "For each of the three years we examined, Baltimore drug arrests of African Americans were between 200 and 500 percent higher than the comparison cities."
A further consequence of all this is that blacks are more likely to be subject to the use of force by police:
The consequence of the large racial disparities in stops, searches, and arrests may also manifest itself in what may be disproportionate use of force against African Americans by BPD. We found that African Americans accounted for roughly 88 percent of the subjects of non-deadly force used by BPD officers in a random sample of over 800 cases we reviewed.
The report says Baltimore has made no effort to track its own data to find or combat discriminatory policing. In fact, there was evidence the department tried to bury allegations of use of racial slurs by officers:
In the approximately six years of complaint data we received from BPD, we found only one complaint that BPD classified as a racial slur. This is implausible. By manually reviewing and performing text searches on BPD's complaint data, we found 60 more complaints that alleged that BPD officers used just one racial slur—"n****r"—but all these complaints were misclassified as a lesser offense.
It's not just African Americans who contend with police abuses. The report finds that BPD uses "excessive force" against people with mental-health disabilities, and "unreasonable force" against juveniles.
Rough Rides
Central to the Gray case was how the 25-year-old was mortally wounded. He appeared to be healthy when arrested and placed in a police van, but his spine was nearly severed by the time he was removed less than an hour later. A judge ruled that prosecutors failed to prove that police had intentionally harmed him by driving recklessly—a practice known as a "rough ride"—but there has been evidence of rough rides in Baltimore and other cities in the past.
The Justice Department said it could not gather enough evidence to determine whether rough rides are common, but it said that the department "routinely fails to properly secure arrestees in transport vehicles ... fails to keep necessary records," and needs to better monitor vans. While many vans are equipped with video cameras, "Many of these cameras ceased to function shortly after the vans were put in use, however, and have not been repaired."
Excessive Use of Force
The report finds a practice of police using excessive force, especially against people who are either restrained or who pose no threat to officers or anyone else. The report adds:
Officers also use heavy-handed tactics when civilians simply refuse to obey their commands and escalate encounters by resorting to force too quickly, including against individuals who are not being arrested for any crime, with mental health disabilities or in crisis.
The story is told with the aid of several harrowing anecdotes. One apparently mentally disturbed man was tased using "drive-stun" mode, which the manufacturer says requires safe distance. But Baltimore had no guidance on use. The man had to be taken to the emergency room afterward, and two officers were also injured.
In another case, an officer choked a suspect who he believed was trying to swallow bags of drugs that were evidence:
The use of force on Brandon's neck—a handcuffed detainee who did not pose a threat to officer safety, and who was being arrested for what the officer's described in their own report as a "street level drug transaction"—was excessive and unreasonable. Although some force to prevent the destruction of evidence or to protect Brandon may be reasonable, the sergeant's application of pressure to Brandon's throat was a use of lethal force that was not justified by the possible destruction of evidence or even the potential threat to Brandon of swallowing the narcotics.
Police seem to often endanger themselves. In one case, an officer pursued a man whom he believed fled when he saw police. The officer believed the man was carrying a weapon based on the way he ran, and chased the suspect into a home. "If Andrew had been armed, the officer's choice of tactics—forcing entry without backup—could have resulted in the officer being shot," the report notes. The officer eventually tased the man twice. "After taking him into custody, the officer discovered that Andrew was not armed, had no contraband, and was eventually determined, at a later, unknown time, to have an open warrant."
One officer tased a man simply for swearing in an "aggressive" manner:
Although the report is not altogether clear on what the officer meant by "aggressive," the report does make clear that the man's "mouth"—his words—constituted the weapon or means of attack. Indeed, this report appears to indicate the officer felt he was justified in tasing an individual—a high level of force—for this reason. Moreover, the report noted that the individual's "trademark" was "[e]xplicit word this place." If this was in fact the officer's justification for tasing this individual, it is grossly insufficient, and it would violate both the First and Fourth Amendments.
One man was stopped without reason, detained without basis, and had to be taken to a hospital. He was not charged with any crime. Nonetheless, the report notes,
The sergeant who responded to the scene confirmed that the involved officers tased the man twice and hit him in the face with their fists, yet the sergeant's report of the incident concluded that the "officers showed great restraint and professionalism."
The Justice Department also criticized BPD for firing guns at moving vehicles, which it said is "highly dangerous, ineffective, and may be constitutionally impermissible."
Strip Searches
The department repeatedly engaged in improper strip searches, the report finds. In one incident, a woman was pulled over by two officers, one male and one female. She was instructed to strip.
The female officer then put on purple latex gloves, pulled up the woman's shirt and searched around her bra. Finding no weapons or contraband around the woman's chest, the officer then pulled down the woman's underwear and searched her anal cavity….The search occurred in full view of the street, although the supervising male officer claimed he "turned away" and did not watch the woman disrobe… Officers conducted this highly invasive search despite lacking any indication that the woman had committed a criminal offense or possessed concealed contraband.
In fact, the officers found no wrongdoing, and the woman was released without being charged. In another case, a teenage boy reported that an officer "pulled down the teenager's pants and boxer shorts and strip-searched him in full view of the street and his girlfriend." He filed a complaint, but that was not the end of the ordeal:
The teenager recounted to us that, shortly after filing the complaint, the same officer approached him near a McDonald's restaurant in his neighborhood, pushed the teenager against a wall, pulled down his pants, and grabbed his genitals. The officer filed no charges against the teenager in the second incident, which the teenager believes was done in retaliation for filing a complaint about the first strip search.
Mishandling of Sexual-Assault Cases
Officers evinced an appalling attitude toward alleged victims of sexual assaults, the report found, based on conversations with victims and advocates, as well as documents. Officers engaged in victim-blaming and tried to discourage pressing of charges. For example:
Officers and detectives in BPD's Sex Offense Unit often question victims in a manner that puts the blame for the sexual assault on the victim's shoulders—for example, with questions suggesting the victims should feel personally responsible for the potential consequences of a criminal report on a suspect or for having engaged in behavior that invited the assault. In their interviews of women reporting sexual assault, for example, BPD detectives ask questions such as "Why are you messing that guy's life up?" BPD officers and detectives also asked questions suggesting that they discredit the reports of victims who delayed in reporting the assault to the police.
One advocate reported hearing a detective in the Sex Offense Unit say that "all of our cases are bullshit."
Complaints and Retaliation
Why have these practices been allowed to flourish within the department? One potential explanation is that Baltimore has effectively cut off any route for the airing of grievances, either from the public or from inside.
"BPD discourages members of the public from filing complaints against officers through the procedural requirements BPD has imposed on filing complaints, and BPD officers and supervisors have actively discouraged community members from filing complaints," the report states. If people do make it over those hurdles, "BPD investigators frequently misclassify those complaints or administratively close them with little attempt to contact the complainant."
Officers who might serve as whistleblowers are discouraged from doing so by the threat of retaliation. Several officers who had complained told the DOJ they believed they had been targeted. One especially egregious case is worth reporting in detail. A detective felt two officers had used excessive force. Despite a warning from a third cop that "If you're a rat, your career here is done," the detective filed a complaint.
The detective faced significant retaliation for exposing this misconduct. The detective recounted that, after reporting the incident to prosecutors, fellow officers frequently called him a "rat." A sergeant left pictures of cheese on the detective's desk. The detective also told us that a lieutenant denied his transfer request to a violent repeat offender squad because the detective "snitched." The lieutenant allegedly said that the detective was "not the right fit" for the unit because they "have to do things in the gray area." And on two occasions, no one in the detective's unit responded to his calls for backup. The retaliation intensified as the officers' trials approached. In November 2012, the detective found a dead rat on his car with its head severed under his wiper blades. Shortly thereafter, a BPD sergeant allegedly told the detective "you better pray to God you're not the star witness" against the officers.
The man eventually moved to a different agency, and the department settled a lawsuit in 2016. But his experience had a chilling effect in other cases:
In one case, an officer in a specialized drug unit observed one of his fellow officers plant drugs on a suspect after a foot chase. The officer decided not to report the misconduct because he did not want BPD officers to "do me" the way they treated the detective.
* * *
The Baltimore report fills out a trifecta alongside similar documents from Cleveland and Ferguson. In each case, the Justice Department was brought in following the death of a black man at the hands of police that had resulted in outraged demonstrations in the streets: in Cleveland, Timothy Russell and Malissa Williams (though the shooting of 12-year-old Tamir Rice shortly before the Justice Department announced its findings overshadowed that case); in Ferguson, Michael Brown; and in Baltimore, Freddie Gray. In each of those cases, criminal prosecutions did not result in convictions, and, in fact, only the Gray case resulted in charges.
The protests and riots in Baltimore last spring—and the way the police handled or mishandled them—offered some sense of the broken relationship between Charm City and its police. But for anyone tempted to take the failed prosecution in the Gray case as an indication that things weren't as bad as they seemed, or that African Americans are not badly victimized by police, the report should dispel those possibilities. Identifying the problems is different from solving them, however, and the report shows the enormity of the task Baltimore faces now, first in rebuilding its department and then in rebuilding trust with its black residents.
This article is part of our Next America: Criminal Justice project, which is supported by a grant from the John D. and Catherine T. MacArthur Foundation.
We want to hear what you think about this article. Submit a letter to the editor or write to letters@theatlantic.com.