France's Burqini Debate in 10 Quotes
Nice joined the growing list of municipalities banning from their beaches the swimsuit worn by some women.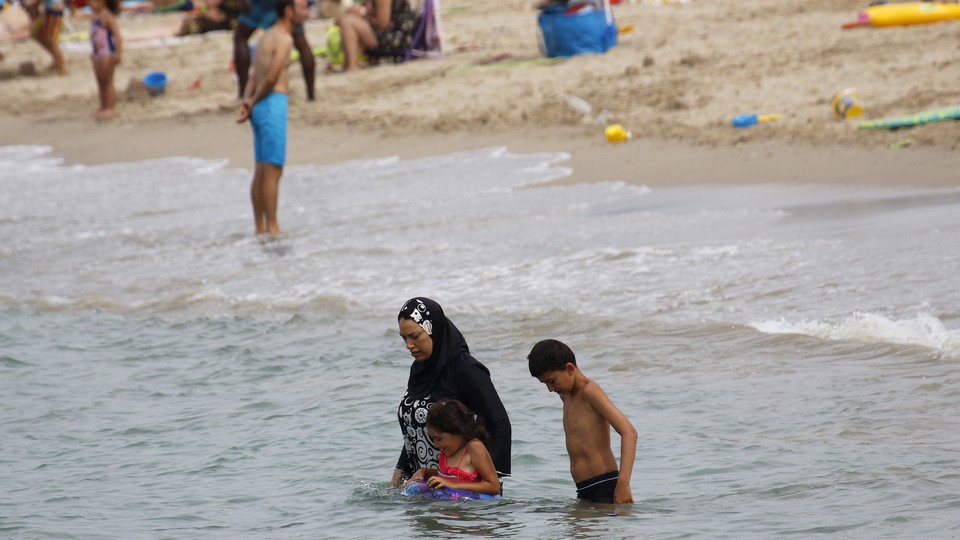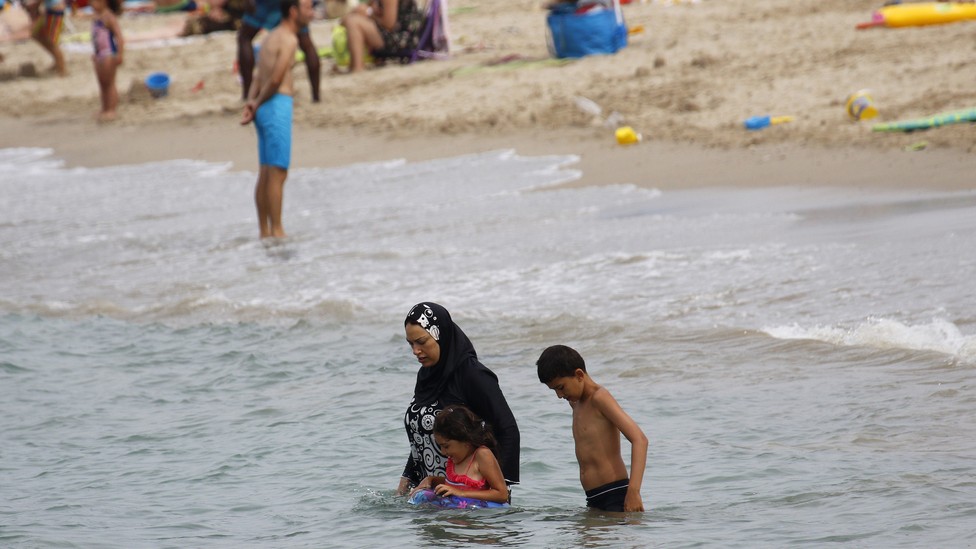 The coastal city of Nice added itself Friday to the growing list of French municipalities banning the Burqini from their beaches, Le Monde reports. The swimwear favored by some Muslim women (you can find a brief history of it here) has already been banned in several places throughout the country. And as the ban continues to spread, so too has the debate over whether it belongs in French society.
France, which is officially a secular country, bans public displays of conspicuous signs of religion, including the wearing of headscarves, kippas, and large crosses. Whether the Burqini qualifies as a religious sign is a matter for debate—a debate that comes as France has failed to stop several high-profile terrorist attacks carried out by Islamist militants since early 2015. These 10 quotes from those opposed to the Burqini, as well as those who believe the government should not interfere in mandating what people can wear, offer an insight into the conversation on the issue in France.
"There is the idea that, by nature, women are harlots, impure, that they should be completely covered. It is not compatible with the values of France and the Republic. Faced with these provocations, the Republic must defend itself. Today, Muslims in France are taken hostage by these groups, these associations, these individuals who advocate for wearing the Burqini and would have you believe that the Republic and Islam are incompatible."
—Manuel Valls, the French Prime Minister, to La Provence

"[#burkini] an unnecessary controversy which maintains the confusion on the real issues of our struggles. Intolerance must not change camps."
—Samia Ghali, a French senator and Muslim, on Twitter

[#burkini] polémique inutile qui entretient les confusions sur les vrais enjeux de nos combats. L'intolérance ne doit pas changer de camps.

— Samia GHALI (@SamiaGhali) August 4, 2016

"I voted to ban the burqa in public places. There is no reason why it should be tolerated on the beach. It's a matter of consistency."
—Daniel Fasquelle, deputy mayor of Le Touquet, to La Voix du Nord

"[The Burkini] was created by Western Muslim women who wanted to conciliate their faith and desire to dress modestly with recreational activities. What is more French than sitting on a beach in the sand? Here we are telling Muslims that no matter what you do even we don't want you here."
—Rim-Sarah Aloune, a French-Muslim researcher at the University of Toulouse, to the Associated Press

"Support the Mayor of #Sisco and his anti-#burkini order. Firmness against Islamist provocation is the best way to avoid violence."
—Marion Le Pen, a National Front lawmaker, on Twitter

Soutien au maire de #Sisco et son arrêté anti-#burkini. La fermeté face aux provocations islamistes est le meilleur moyen d'éviter violences

— Marion Le Pen (@Marion_M_Le_Pen) August 15, 2016

"[The Burqini ban is] a serious and manifestly illegal infringement of several fundamental freedoms: freedom of opinion, religion, dress, to come and go. … Today, it is the beaches. Tomorrow it will be  the streets."
—Patrice Spinosi, a lawyer with the League of Human Rights (Ligue des droits de l'Homme), at a public hearing Friday

"Those who mock the #burkini 'debate' pretend not to see the provocation behind this simple bathing garment...#blindness"
—Sonia Mabrouk, a French-Tunisian journalist, on Twitter

Celles et ceux qui moquent le "débat" #burkini font semblant de ne voir dans cette provocation qu'un simple vêtement de bain..#aveuglement

— Mabrouk Sonia (@SoMabrouk) August 17, 2016

"[The Burqini ban] will accentuate tension within French society. We are teaching the French public to associate a woman in [a] Burqini with the terrorist who assassinates."
—Leyla Dakhli, a French-Tunisian professor of Arab history, to the Associated Press

"The preservation of our social pact and our Nation requires the Government to take all measures to fight against radical communitarian practices."
—Christian Estrosi, the President of the Regional Council of Provence-Alpes-Cote d'Azur, in a letter to Valls

#burkini : j'ai écrit à @manuelvalls pr demander que l'Etat prenne ses responsabilités pr lutter c/ communautarisme pic.twitter.com/TUMWEHX4W7

— Christian Estrosi (@cestrosi) August 17, 2016

"It touches on fundamental freedoms. I do not see the disturbance in public order from a woman who goes swimming dressed. … This government is too busy chasing innocent Muslim women to fight against terrorism."
—Marwan Muhammad, director of the Collective Against Islamophobia in France, to iTELE