The Allegations Against a UN Contractor in Gaza
Israel has accused him of helping Hamas. It's the second time this month Israel has accused someone with an international organization of helping the group.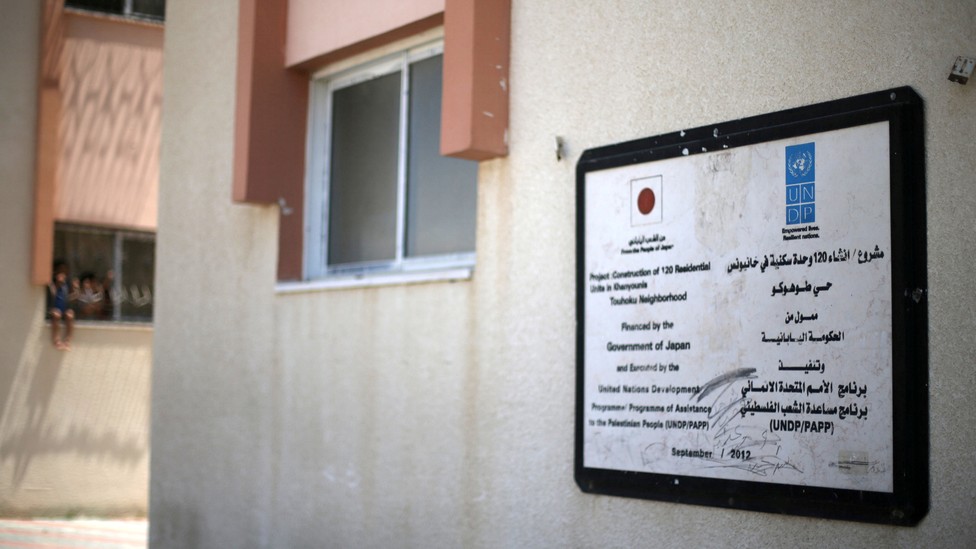 NEWS BRIEF Israel announced its arrest of a United Nations Development Programme (UNDP) official Tuesday who allegedly misused his role to siphon aid to Hamas.
Wahid Al Bursh, a 38-year-old contractor from Jabaliya refugee camp in northern Gaza, was detained by Israeli passport control when he was returning to the coastal strip through the Erez crossing in early July. The Shin Bet, Israel's internal security agency, alleges Al Bursh joined the UNDP under the instruction of Hamas, which governs Gaza and which Israel and the U.S. regard as a terrorist organization. Haaretz has more:
According to the Shin Bet, Bursh abused his power to help Hamas, either by renovating their houses or informing them of such renovations when they held benefit for the group. ... The Shin Bet also accuses Bursh of creating a makeshift jetty in Gaza for Hamas using UN resources."

The investigation," the Shin Bet said, "exemplifies the manner in which Hamas takes advantage of international aid agencies' resources, intended to serve as humanitarian aid for Gaza's civilian population."
Hamas spokesman Sami Abu Zuhri denied the accusations, saying, "These (allegations) are par for the course of an Israeli plot to restrict the work of international relief agencies operating in Gaza in order to tighten the Gaza blockade."
UNDP said in a statement that it would conduct a thorough internal review of the allegations.  Here's more:
UNDP is greatly concerned by the allegation from the Israeli authorities with respect to the UNDP contractor who has been providing professional services within the rubble removal project. The rubble removal project was established to respond to the consequences of the 2014 hostilities in Gaza. … [it] is considered essential for the recovery and reconstruction of Gaza following the conflict. Mr. Al Bursh should be accorded all due legal process and has the right to a fair trial.
This is the second time this month Israel has accused someone with an international organization of helping Hamas, which both Israel and the U.S. view as a terrorist organization. Last Thursday, Israel charged Mohammad El Halabi, World Vision's Gaza operations manager, with funneling $43 million to Hamas's military wing. Halabi's attorney dismissed the charges, and World Vision said it had no reason to believe the allegations were true, though it said it would review the evidence.
An estimated two-thirds of Gaza's 1.6 million population relies on some sort of foreign aid. The UN warned in 2015 that the coastal strip, which has been under a joint Israeli-Egyptian blockade for a decade, could be uninhabitable by 2020.