The 10,000 Civilians Killed in Yemen
The United Nations' estimate of the death toll of the country's 18-month civil war exceeds previous reports.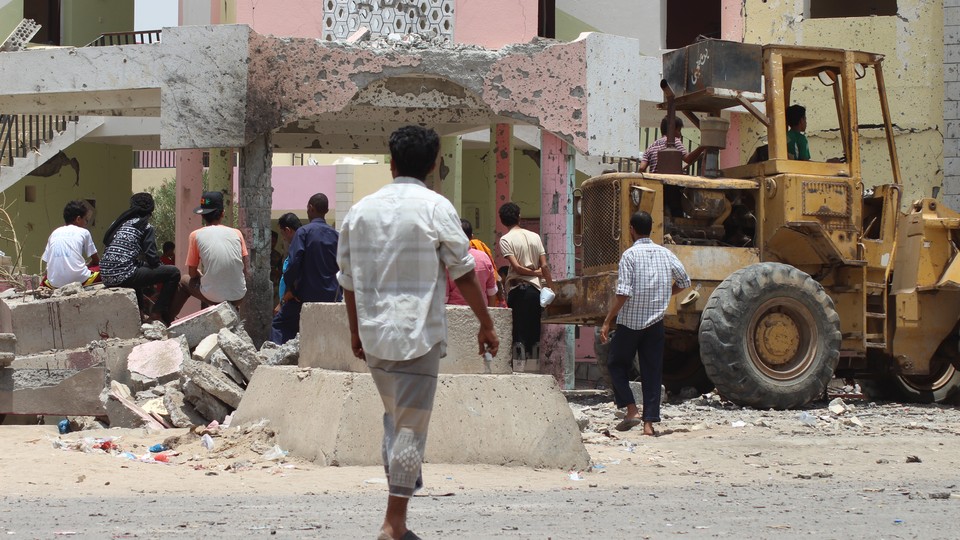 NEWS BRIEF The United Nations said Tuesday at least 10,000 civilians have been killed during Yemen's 18-month civil war, an estimate that surpasses previous reports.
Jamie McGoldrick, a UN humanitarian official and the agency's representative to Yemen,  said the new estimate is based on statistics from medical facilities in the country—a number that may rise as many people are often buried without official records, Reuters reports. Previous estimates ranged between 4,000 and 9,000 casualties.
"We know the numbers are much higher but we can't tell you by how much," McGoldrick told reporters Tuesday at a news conference in the capital city of Sanaa. "The figures we have are probably incomplete because we take the numbers from functioning health services, and in some of these areas there are no functioning health services."
Medical facilities, where they exist in the country, have not been immune to the escalation in hostilities. A Médecins Sans Frontières (Doctors Without Borders) hospital was bombed in northern Yemen this month, killing 11 people and wounding 19. The medical charity said it was the fourth attack against one of their facilities in less than a year, further endangering the already limited access to health care in the country.
McGoldrick added that the conflict has caused the internal displacement of at least 3 million people, and forced at least 200,000 to leave the country. More than half of the country's population—26 million—is in need of food aid.
Hostilities in the war-torn country resumed last month after UN-sponsored peace talks between the Saudi-backed Yemeni government and the Iran-allied Houthi rebels broke down in Kuwait without an agreement. A Saudi-led coalition of nine countries began launching airstrikes against Houthi-controlled areas, including the Yemeni capital, in March 2015.
On Monday, McGoldrick called on relevant authorities to reopen the Sanaa airport, which was ordered closed last week by the Saudi-led military coalition after air strikes resumed. He cited the need for humanitarian and medical assistance:
In Yemen, in addition to fighting and insecurity, the continued closure of Sana'a airport to commercial flights is having serious implications for patients seeking urgent medical treatment abroad, given the inability of the national health system to treat all medical cases, particularly chronic or life-threatening diseases such as cancer. Initial statistics from the national airline indicate that thousands of people cannot leave while many others remain stranded outside of Yemen, facing financial hardship and administrative hurdles due to expired visas.
Last week, UN Human Rights Chief Zeid Ra'ad al-Hussein called for an internal investigation to respond to Yemen's humanitarian crisis, which he said has been allowed to continue "absent any form of accountability or justice." The UN Human Rights Council previously voted in 2015 to defer an investigation into human-rights violations by all involved parties.